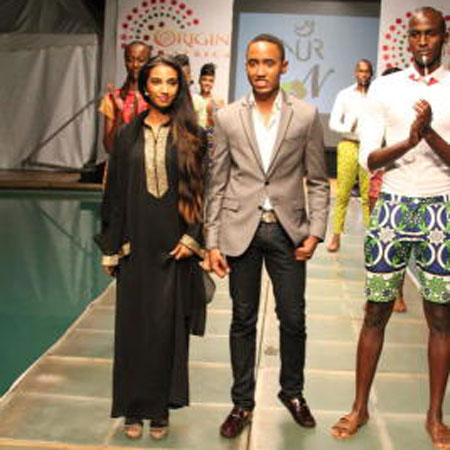 The annual Nairobi Fashion Week, a glam affair that happens to be one of the biggest fashion shows on the continental calendar, is up and running and top African designers are here to pitch their designs.
The showcase is one of many that are revolutionising the local industry that has now attracted many young designers such as the president's son Muhoho Kenyatta, who is only 18.
Muhoho Kenyatta
Fashion Line: Nomadic
The 18-year-old is proving his critics wrong after what was a memorable showcase at the Africa Origin Exhibition and Fashion show this month featuring a youthful, colourful palette. The label that started this year got good feedback thanks to his generous use of local fabrics fused with contemporary pieces, which appealed to the younger generation. In his unisex line, Mo - as his friends call him - offers formal, casual and beach wear sold in exclusive stores.
Sara Karay
Sara Karay has made her mark on the Kenyan fashion industry since releasing her debut collection last year. The young fashion designer who is also a student at the United States International University in Nairobi, does an excellent job of blending earthy elements with mother nature's destructive elements. The inspirations behind her collections are the classic element of earth, air, fire and water.

Her style is unpredictable as she aims to stand out. Constantly evolving and moving away from the Kenyan trend of incorporating solely Ankara fabric in her work, Sara Karay is different from her peers in the industry. Her design aesthetic ranges from prints, especially animal and tribal prints, loud but tasteful colours to subtle hues.

Firyal Nur Al Hossain
Fashion Line: Nur
Daughter to the Cabinet Secretary for Foreign Affairs Amina Mohammed, the upcoming designer in collaboration with Muhoho, managed an exhilarating show lined up with authentic African and statement pieces for her clothing line, Capsule. Her line, which means light in Arabic, has got the likes of Kim Kardashian and Kanye West placing orders after her Paris fashion week showcase recently. Tohether with the First Son, she bagged the Showcase Designer of the Year Award in the Emerging Designer category.
Ivy Chege
Fashion Line: Riri Jewellery
Their beautiful handcrafted jewellery came from a passion that two sister - Ivy Chege and Njuhi Chege - discovered after their studies abroad. The fashion line name, pronounced as 'ree ree,' means divine beauty, allure or glory. Only two years old, the jewellery line offers a wide range of statement pieces from head chains and back chains to hair accessories. Their unique pieces are made from a variety of materials including horns, bones, glass and semi-precious stones.
Sarah Mirie
Fashion Line: Sarah Mirie Collection
Showcasing her collection for the first time at Nairobi Fashion Week, the Kenyan Swede specialises in handmade African jewelry and accessories. With a Bachelors and Masters in human rights, her creative side saw her venture into the world of art. Starting out as a T-shirt designer, the birth of Mambo Serious in 2009 saw her achieve her passion for fashion and arts while breaking into the creative world of fashion. Her unique designs influenced by her African roots are fun, playful and youthful, traits that describe her.
Iona MacCreath
Fashion Line: Kikoti
Born in 1996, the beautiful young designer is following in the footsteps of her respected mother Ann McCreath of KikoRomeo. Her keen interest in fashion came early as she helped her mother design items for her label. Her desire to create an affordable line for the youth and to stop poaching begot Kikoti. Brought up in Kenya and Scotland, the talented designer, who is pursuing her dreams at the prestigious Saint Martin's University of The Arts in London, names each style after an elephant with a percentage of sales going to conservation.
Yvonne Odhiambo
Fashion Line: Afrostreet Kollektion
Started by three models Yvonne Odhiambo, Gloria Baraza and Melanie Wachie the fashion house opened its doors in 2012 showcasing its first collection the same year at Nairobi Fashion Market. Using African prints with denim, animal print and other Western fabrics, the line offers clothing, shoes and accessories targeting the modern woman who wants to stand out.
Wanyoike Lewis
Fashion Line: Wanyoike Lewis
The young Nairobi University graduate was thrown into the world of designing after orders from friends started pouring in when he started to design his own clothes while in his second year. That is how Ledida fFashion came to be. That was before the multi-talented designer, who dabs as a stylist, decided to go it alone last year. Making his debut at the Kenya Fashion Week this year, the 23-year-old's designs are best described as daring, bold and dramatic making the inventive collections memorable.
Victoria Chimwemwe
Fashion Line: Ankara by Chimzy
ABC in short, the line was started last year by Victoria Chimwemwe who has managed to curve a niche fusing African prints with other fabrics that appeal to younger women. She uses Ankara, leso and kitenge with leather, stretch and other fun materials boasting chic, elegant and edgy designs. In her 20's the budding designer offers luxury pieces forthe perfect fit.
Maryanne Mackenzie
Fashion Line: Enzie Porter
After her friends started seeking her services, Maryann who stumbled into design after having difficulty finding clothes her size put her sewing skills to good use. Started a few years ago, her tailored pieces fuse contemporary and African fabrics to create masterpieces, specialising in bridal wear and elegant wear.
Sheena Chiteri
Fashion Line: Sheena_C
Doubling in fashion design and illustration, the talented Catholic University alumni boasts a timeless and iconic label. Her attention to silhouette and drape bring out her feminine creations that are characterised by sensual, fun and exquisite designs like no other. The young company creates pieces translated from Western designs with a touch of Africa.
Glady's Macharia
Fashion Line: Loyangalani
With a fashion design degree from Academia Italia in Italy and silversmith training at a specialised school, her quality workmanship falls nothing short of perfection. Having worked as a designer for Ermanno Scervino, her love for fashion saw her return to Kenya in 2011 to start her design line. With the help of local artisans from Kibera, handmade wax sculptures are transformed into unique pieces cast in recyclable brass, sterling silver and precious stones popular with the likes of Gina Din and Diana Opoti.
Waithera Kibuchi
Fashion Line: Waithera Kibuchi
In her early 20's it comes as no surprise she was the best fashion design student last year while studying at the University of Nairobi followed by a win at the 2013 FAFA where she bagged the Emerging Designer award in the women's wear category. Her background in textile is evidenced by her combination of popping colours, fabrics and accessories. Playing with drape and aesthetics, she delivers beautiful clothing giving it an unusual flair.
James Muna
Fashion Line: Bora Wear
Starting out as a kitenge T-shirt designer, the Cornell University graduate who grew up in the US stared designing quality signature belts before branching into men's apparel label. His products incorporate locally available materials like leather, brass and traditional African fabrics creating vibrant luxury pieces.
Manciny Migwi
Fashion Line: Eqo-Chic
Manciny got her nickname from her love of a Melrose Place character and the name stuck. Starting out professionally in 2012, she ventured into eco-friendly bags and her brand Eqo-Chic began. Her unisex clothing brand grew into two other distinct lines; Urban Gentleman that is made for the modern man and Nyadhi that offers an interpretation of contemporary African designs.
Katungulu Mwendwa
Fashion Line: Katungulu Mwendwa
Among a growing number of local designers who have showcased in New York, her captivating designs traverse the borders of futuristic, modern and luxurious art reflecting her eclectic personality. One of the FA254 finalists this year, her unique approach to mixing unusual cuts, shapes, textures and forms places her a notch above the rest.
Azra Walji
Fashion Line: Azra Walji
Young and stylish, her designs denote glamour, sophistication and elegance with a keen detail to embellishment, colour and tasteful design in ethnic prints. A natural artiste and sister to esteemed designer Jamil Walji, she specialises in evening wear, pret-a-porter and haute couture.
Boseph Kariuki
Fashion Line: Gjoes Wear
At 24, the freshly minted fashion house makes local fabrics youthful, adding excitement and creativity. From his perfectly fitting suits to Ankara inspired bodycon dresses, the style conscious designer cum stylist offers an abundance of colours and earthy accessories bringing a stylish upscale facet to his designs.
Sisi King
Fashion Line: ZikoAfrika
Established by another group of sisters, Sisi and Eleanor King (of Kenyan and British heritage) coupled their love for fashion and started ZikoAfrika this year. Their intricately designed pieces are inspired by their African roots with a splash of European charm. Also a FA254 finalist, their handcrafted accessories are based on innovation and creativity from locally available materials.