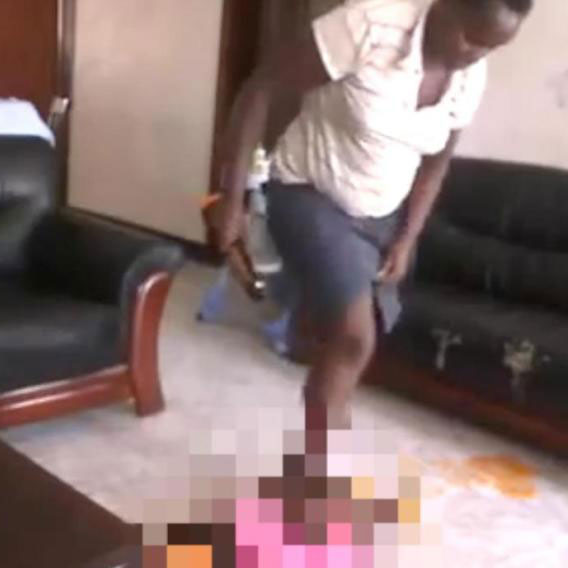 Jolly Tumuhirwe. That is the name of the Ugandan monster maid who was in the news lately. No one would wish to have her as a house help.
Jolly, which is an ironical name, savagely tortured a helpless, one-and-half-year-old girl in her care. It required a certain level of braveness to watch the YouTube video of her cruelty to the end.
Many termed her actions inhuman, heartless and straight from hell. If you missed the video, which has since been pulled down, here is a quick a breakdown.
It starts with the maid seated on a leather sofa as she feeds the girl, before suddenly unleashing a vicious slap, followed by another thunderous smack as she feeds on the child's food.
Overwhelmed by the slaps and a mouth stuffed with food, the girl vomits. This provokes the monstrous house help, who responds by violently throwing the girl to the floor, before smacking her behind with a flashlight.
The house help goes on to step on the child several times then carries her to another room beyond the nanny camera's lens.
But the footage is enough to awaken the killer instinct in any parent in reaction to the brutality meted on the helpless child.
According to Ugandan media, the housegirl was initially charged with torture but the case has now been changed to attempted murder after medical records confirmed she is of sound mind.
After the video went viral, there was a rallying cry for parents to ensure they nurture good relationships with their house helps.
While Tumuhirwe has been widely condemned, parents have also been asked to be considerate of their house helps by appreciating the work they do and treating them humanely.
The video, according to psychologist Julia Kagunda of Personal Development Centre in Nairobi, should be a wake-up call for parents.
According to her, families need to rethink the manner in which they engage with their house helps, since it is mostly the housegirls who raise the little ones as their parents slave away to put food on the table.
"You may have noticed that many children today are dysfunctional, and are likely to resort to drugs as a way of coping. There is therefore a need for strategic rethinking of how parents should engage with their children. Left to the house helps, who sometimes can be abusive, the children may grow up traumatised and this can be detrimental," the psychologist warns.
No justification
But nothing can justify the brutality witnessed in the video as Mwanaisha Abdalla (Nyota Ndogo) argues, "If a housegirl is unhappy, she should just leave her employer.
It's not like she is stuck there. Children are innocent in whatever disagreements she may have with the parents," says Nyota Ndogo, who was once house help before becoming a household name in the Kenyan music scene. She is still in touch with her former employer who occasionally visits her.
According to her, parents should not be questioned about how they treat their domestic workers.
"Parents need to do a background check on anyone they wish to employ. Some of these girls are mentally unstable," Nyota Ndogo says, adding that her experience as a housegirl informed the relationship she has with her housegirls.
"I have had several housegirls, but none of them left in bad terms. One of them wanted to leave because she was pregnant, but instead, I gave her a salary raise. I knew she needed the money even more as she was about to become a parent."
According to Mueni Wambua, a pastor at Nairobi Baptist Church, housegirls behave according to how they are treated.
"A common trait runs through many homes. More often than not, we treat our house helps like second-rate humans," Mueni told The Nairobian.
"I am sure that since the video, the sale of the nanny cameras has soared. Every family now wants to spy on their housegirls. But suppose the shoe was on the other foot?
What if our house helps were to watch us when we are away from them and listen in on the things we say about them or what we tell our children about them?
Worse still, what if by some stroke of fate, they could see the attitude in our hearts even as we extend our fake kindness and smiles to them?
Mueni, who is a mother of two, considers her house girl Mwikali a good friend.
"I am grateful for my Mwikali and the five years we have been together. Actually, I now see her as a co-worker because her diligence allows me the freedom to serve. I am at the forefront as it were, but she is in the background as my reliable support system. As a matter of fact, if it were not for her, my ministry may even been impossible as I need someone to take care of my eight-year-old," she says.
Levina Adhyambo, who works as a house girl, has no complaints and is happy with her employer.
Perfect match
"We are a perfect match with the family I work for. I remember sometimes back when I told them that I wanted to be a great chef and they bought me a laptop on my birthday to help learn how to make Chinese food online," says Levina.
She says that the family has even offered to sponsor her studies in China so that she can pursue her dream.
"I'm very happy with these people. The children have even nicknamed me 'Nana,' which means 'elegant' in Chinese. They have my best interest at heart and I am also totally mindful of them."
However, very few families can claim to enjoy such a warm relationship with their house helps.
For the longest time, as pointed out by the pastor, the house help has been seen as a second-class citizen and is often mistreated.