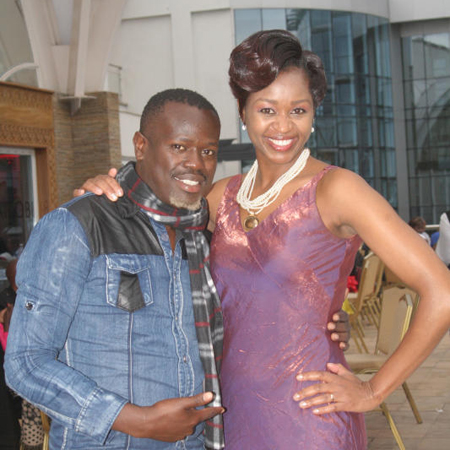 Gospel artistes Ole Willy (left) with Esther Wahome during the wedding reception of Rufftone and his wife Krystal at the Boma Hotel,Nairobi. July 27th,2014. Photo/Elvis Ogina (Nairobi)
You were the first gospel artiste to endorse an alcohol-related beverage. Did this affect your reputation as a gospel artiste?
Yes it did. It was like a battle between me and the church. This is when I learnt how hypocritical the church can be. Some pastors condemned my choice, while friends and colleagues in the gospel industry talked about me in hushed tones. But ironically, the same pastors would still invite me to their churches to sing, while the so-called friends still wanted to be associated with me because I was famous.
How did you land the deal?
I can only say that it was by God's grace. I had just released 'Kuna Dawa,' which was very popular even in nightclubs. I think I was the most popular artiste at that point.
Did you think of what it would have done to your career?
When East African Breweries approached and told me it was a non-alcoholic brand, I did not see any problem with that. I went through the training on how Malta Guinness was brewed and I was quite sure that it was non-alcoholic.
Having grown up in church, did your pastor support the move?
Well, at first he was skeptical about it. I however explained to him that it was a non-alcoholic drink and he understood. He supported me fully.
What about your family. Did they look at you differently?
My husband was my biggest supporter. He was the first person I told after talking to EABL and he encouraged me to go for it. He is the only person who matters where my personal decisions are concerned.
Did you receive any bashing from your fans?
Of course, not everyone was happy about it. Most people could not get over the fact that a gospel artiste was working with EABL. If they had done their homework, they would realised that 'Guinness' simply means 'greatness' in West Africa.
Do you ever regret the move?
I'm proud that I did this because it opened doors for other gospel artistes to get endorsement deals. Besides, this was not the first time I was being put on the spotlight. My dress code was also under scrutiny.
Tell us about your bold fashion statements in your videos and awards ceremonies.
I knew I had to do it. I had to be the bridge between the religious and secular world. Before I did the 'Kuna Dawa' album, there was a very huge gap between the gospel and secular worlds.
Gospel artistes were not taken seriously outside the church and that made it very hard to preach the word of God. I decided to break away from that to create a platform for other upcoming gospel artistes. I wanted to show the world that you can be God-fearing and still look cool. Of course this attracted a lot of criticism from Christian circles. Besides, it's not like I walked naked.
A photo of you in a bikini emerged after your participation at the Mrs Universe Kenya. How did you deal with all the criticism?
Did people expect me to swim in my trousers? I did not get what the fuss was all about. But then again, I did this to encourage women to feel comfortable in their own skin. I was also in a contest as a human being and not a gospel artiste. Besides, at the beginning of my career, I knew that everything I did had to have a positive outcome.
Do you think you fully achieved what you wanted after all the controversies?
I'm very proud of myself. Gospel artistes can now live off their music mostly because gospel music is on demand and promoters are willing to work with us. Besides, isn't Groove Awards the most respectable (music) awards in Kenya? That's because Christianity is no longer associated with stiffness and boredom.
Now that you mention your career, how do you manage to remain relevant for 20 years?
What most people don't know is that I was discovered by the Kassangas while singing in a church in Nyeri. They then brought me to Nairobi and recorded my first album and took it to KBC where it featured on 'Joy Bringers.' I was only 17 years old then. They were my mentors and taught me a lot about music and how to manage myself in this industry. They laid a very good foundation for me.