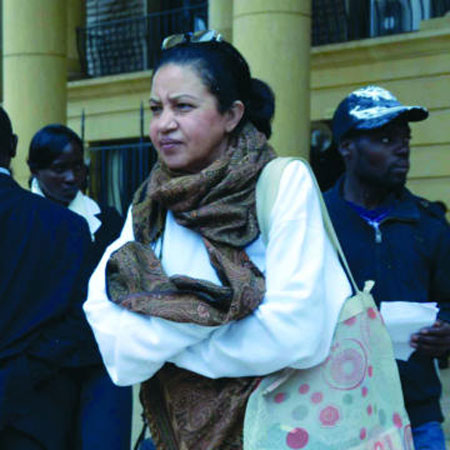 Lynette Lucy Buddery Photo: Courtesy
City billionaire Pius Ngugi who recently appeared at a Nairobi court on child upkeep charges replied to the woman suing him through his lawyers.
Part of the case filed by Lynette Lucy Buddery is as a result of a letter from an upmarket school that allegedly refused to admit their daughter over fees arrears.
In a letter from the school dated January 4, 2014 Ngugi is advised that:
"This is to remind you that school fees for your daughter amounting to Sh434,857 remains outstanding in your account. Please note that if the balance is not paid by Saturday, February 1, 2014, then unfortunately she will not be allowed to attend classes. She should therefore not be sent to school on Monday, February 2, 2014."
However, in his defense, Ngugi, through his lawyers Mbugwa, Atudo & Macharia Advocates, argues that he made arrangements for Buddery to acquire a piece of land in Kisumu on to which four apartments were to be erected soon after their daughter was born.
"My intention was that the rental income from the property would be used for our daughter's maintenance. I would estimate that the plaintiff should collect approximately Sh150, 000 per month in rent from the property," pleads Ngugi.
He also says Buddery has no reason to file a suit merely because fees were late on one or two instances.
"I have made enquiries with the school's management, and I have been informed that she was not expelled from school for nonpayment of fees, and was never in any danger of being expelled," he claims in his affidavit dated April 23, 2013.
Pius Ngugi says he has always met his share of financial and other material needs for their daughter, including medical expenses, clothing and food.
He accuses Buddery of consistently failing to discharge her financial and material obligations to the child, instead, has in numerous instances misappropriated, wasted and diverted to her own use, funds he provides for the upkeep and maintenance of their daughter.
"I know the plaintiff misuses a considerable amount of the maintenance money on consumption of alcohol," he claims.
Ngugi has noted that the Sh805,000 per month Buddery is seeking is an exaggeration and out of his means.
"I am old and may soon pass on. I do not have any income or resources that would enable me to pay the grossly exaggerated annual sum of Sh9.6 million for the maintenance of my daughter," says Ngugi, adding that indeed their daughter is already a privileged child given the school fees he is already paying for her.
"Her mother may well destroy her by encouraging her to entertain unrealistic fantasies about the quality of life she should live," he submits.
A copy of marriage certificate shows that Pius Mbugua Ngugi, 26, then a bachelor, and Josephine Mwangi, 23 (at the time), were married after banns by S. Burninghan C.S.S.P. and is part of Ngugi's exhibits to show who his true wife is.