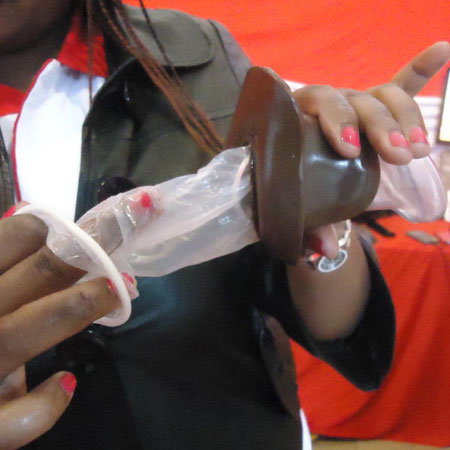 Euphoria condoms Brand Marketing Manager Sarah Muthoni. Photo:File
To some Nairobians, condom use is as easy as putting on socks. No instructions needed. But they could be wrong, dead wrong.
A study conducted by the National AIDS and STI Control Programme (Nascop) reveals that about 70 per cent of men in Kenya are clueless when it comes to sheathing properly.
Yet, the protective sheaths have been vouched for in fighting sexually related diseases like Aids that prevalence is currently at 6.04 per cent.
An estimated 1.59 million people are living with HIV/Aids according to the latest Unaids report released on July 22.
Nairobi leads with 6.8 per cent HIV/Aids prevalence. It has 177, 552 people infected.
This is staggering, considering that about 20 million condoms are used in the country every month.
And women are no better.
There have even been anecdotes, on how instructions to use the condoms can hilariously backfire if taken literally.
Such has been the staple of jokes to rib women in Western Kenya, who after being shown how to use the rubber, enthusiastically wear them over their fingers (as was demonstrated) during sex with their husbands, later complaining that the condoms are defective because they still end up getting pregnant!
What is worrying is the ignorance amongst men, for whom these products are meant, and who tend to have a greater say on whether or not to use protection. This has spurred the head of Nascop, Dr Nicholas Muraguri to initiate a campaign to educate men on proper condom use.
Using protection is crucial in the fight against sexually transmitted diseases like HIV/Aids, whose prevalence currently stands at 5.6 per cent among adults in Kenya, with an estimated 1.2 million people living positively.
Liverpool VCT Health Programme Officer Stanley Ngara admits that many people, particularly men, think condom use is just about unwrapping the rubber and rolling it on.
He says that though many are aware of the importance of using protection, most men still blunder their way around the rubber during intimacy.
"Matters are made worse by the misguided perception that condoms make sex less pleasurable. This is ill-advised, since sex is more psychological than physical. As a matter of fact, condoms can prolong intimacy by reducing sensitivity in men," says Ngara.
He advises men not to be embarrassed about broaching the subject of proper use of condoms, considering what is at stake, health risks and socio-economic repercussions - if condoms are not properly used. "Even if your partner is not open to the idea of using a condom during sex, it is advisable to discuss it rationally and eventually come to an agreement," he adds.
Sheila Rita, a Preventive Officer for the Sex Workers Outreach Project (SWOP) argues that negotiation between partners should precede intimacy.
Through SWOP campaign, Rita says that sex workers have learnt the ropes, and will advise clients to use the rubber properly, besides always being armed with one so that there are no excuses.
Ngara points out that unfortunately during the heat of the moment, some people may overlook crucial steps that are necessary for a properly-worn condom. "...Timing is key, and the woman would let you know when she is ready, or you can clearly read the signs," says Ngara.
He notes that there are many instances of people failing to check the status of condoms in a rush to put them on, which may leave air bubbles that are likely to cause condom bursts during intercourse.
"The condom should unroll smoothly and easily from the rim on the outside. If for instance you have to struggle or if it takes more than a few seconds, it probably means you are trying to wear the condom inside-out," he advises.
"Storage of condoms also matters a lot. They tend to deteriorate faster when stored in back pockets, wallets, or the glove compartment of vehicles," warns Ngara, who distributes between 5,000 to 10,000 condoms daily in Nairobi.
The Nairobian spoke to several 'night nurses' who admitted that some male clients part with more to enjoy unprotected sex, while others avoid the rubber because they just can't figure out how to wear and use them correctly.
"We prefer assisting them to put on the condoms and keep on checking that they are intact, because sometimes they slip off without their knowledge. We can make it fun and pleasurable for them so that they don't mind using the condoms," said one of the sex workers we talked to.
Rita says that regular seminars with sex workers have enlightened them on the proper use of condoms as well as how and when to use oil or water-based lubricants.
Ngara insists: "The man wearing the condom doesn't always have to be the one putting it on. Intimacy can be heightened if the woman does the honours, besides fostering trust."
Population Services Kenya Field Monitor Emmah Donatha says that condoms should not be seen as a damper to great sex.