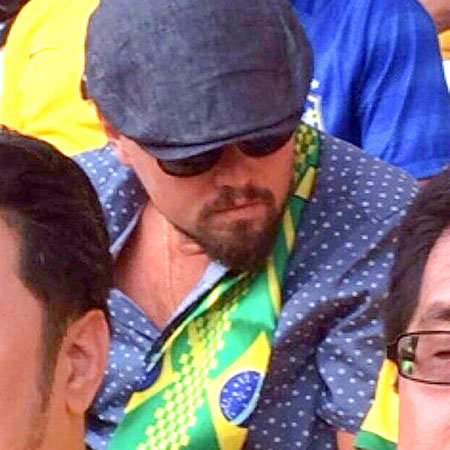 Actor leonardo DiCaprio in Brazil Photo:www.laineygossip.com
He's only in Brazil as a spectator but Leonardo DiCaprio has scored , FIFTY times.
The Hollywood playboy, who's living a real-life Wolf of Wall Street moment at the football tournament, hand-picked 50 women to party with him in Buzios. FIFTY!
Thirty were flown in specially, put up in a swanky hotel and fed and watered all at his expense,how very generous. The other 20 live in the wealthy tourist resort which is 100 miles east of capital Rio.
The single actor, 39 – who has been dating lingerie model Toni Garrn for a year – hired out Pacha nightclub for his lady-filled bash after checking out Brazil's opening match against Croatia.
Our source says: "Leo had bottles and bottles of Dom Perignon champagne going around.
"He really had gone all out on it and spared no expense. It was a really lavish party.
"Some of the girls taught him a dance to Valesca Popozuda's hit Bejinho no Ombro – Little Kiss on the Shoulder – and he loved it so much he kept asking the DJ to play it again and again.
"He didn't really cosy up to any one girl in particular. He was really sociable and kept wandering from one woman to the next.
"He seemed keen to have a good time with all of them.
"At 4am he took some of the girls back to his borrowed £400million superyacht which was anchored nearby. They were still partying at 6pm on Saturday evening."
Leo's luxury liner has eight floors, three pools and two helipads – just the two. Among guests were former Brazilian Big Brother star Marien Carretero and Playboy model Mari Silvestre. Leo has also been hanging out with Fugees rapper Pras Michel.
The Wolf of the World Cup, then...
Related Topics