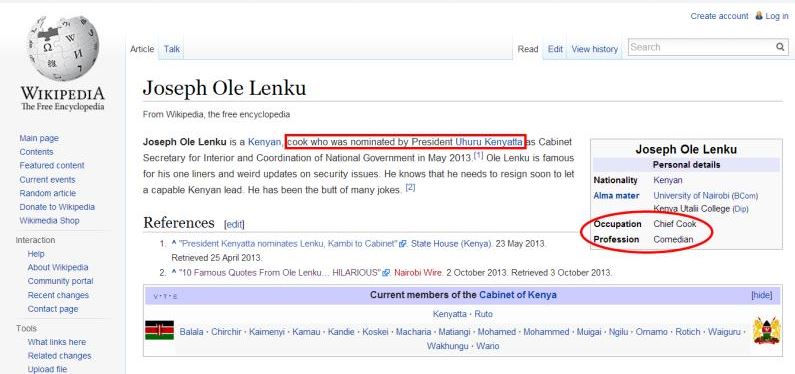 A cheeky editor made the first entry on Wikipedia for the Cabinet Secretary for Interior Security on May 17.
The volunteer wrote an opinionated profile of Joseph ole Lenku, describing him as a 'cook' and 'comedian' early morning on Saturday May 17.
The post was available for about seven hours, the period hundreds of internet users shared a screenshot of the Wikipedia post on social media, before it was updated.
Wikipedia crowd sources its information, and millions of volunteers write and edit its content.
It sometimes takes months or years before an article is fully authenticated.
The Ole Lenku article was described as a 'stub', meaning the post was yet to be verified by multiple and credible sources.
The entry described Ole Lenku's occupation as a 'chief-cook', obviously deriving from his background in the hospitality industry.
The post further read: "Ole Lenku is known for his one-liners and weird posts on security issues. He knows he has to resign soon to let a capable Kenyan lead. He has been the butt of many jokes." The post went viral and was shared online through Twitter, Facebook and WhatsApp.
The crowd-sourced encyclopedia has updated a more sanitised version on Ole Lenku.
Currently, his occupation is rightly indicated as Cabinet Secretary. The derogatory references too have been removed.
The reforms undertaken under his watch, such as the leasing of 1,200 police vehicles and revamping the 999 hotline number are indicated.
Also in the entry, he is described as one who initiated a new medical and life insurance scheme for police officers, and launched a new police housing scheme that will add 2,000 more households to the police.
His job is now described as challenging.
His gaffes, which are often met with stern criticism, are indicated in the new entry as well.
These challenges include terrorist attacks, notably the Westgate Mall attack that killed 69 people in September 2013.
Wikipedia is among the top 10 most visited websites in Kenya, which include Google search engine and Standard Media.