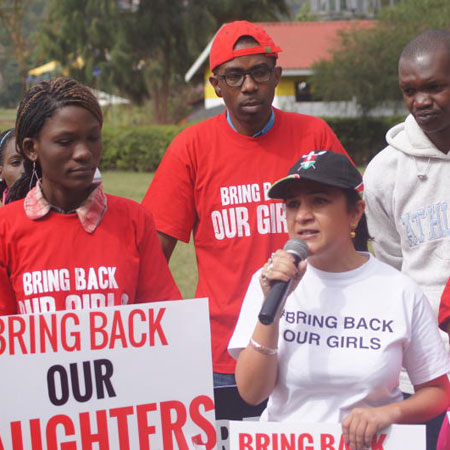 On April 15, more than 200 girls were kidnapped from their school in Chibok, Nigeria allegedly by Islamist militant group Boko Haram. In a show of solidarity, people from all over the world are speaking out through the #BringBackOurGirls campaign to condemn the kidnappings. Kenya is not left behind.
African Women's Development and Communication Network (FEMNET), Africa UNITE Kenya Chapter, Akili Dada, among others conducted a demonstration from Uhuru Park's Freedom Corner to the Nigerian High Commission to express their support for Nigerian families affected. Several dignitaries including nominated MP Sunjeev Kaur Birdi were present and spoke strongly against these kidnappings.
"No woman or girl-child should ever face trauma such as this. I stand united with them and all the citizens of the world in the name of solidarity to release these innocent girls," Birdi said.
The demonstration is among the first of the movement that is aimed at bringing global action. FEMNET vowed to continue working with ECOWAS, AU as well as UN to support the cause as well as address Boko Haram-related issues in Nigeria.
Photo: Courtesy