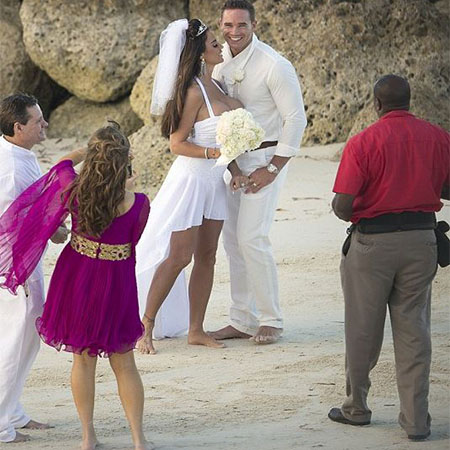 Couple during their wedding          Photo: Courtesy
Recently, during the long Easter weekend, a Nairobi businessman tracked his wife in Zanzibar, where she had travelled for a leisure holiday, only to find her with his best friend, the same man who was the Best Man during their glitz wedding two years ago.
The lady who works with a leading multinational humanitarian organisation had told the husband that she had planned to have a 'girls' weekend out with her close friends from Friday to Monday.
He had interrogated her about the timing of the holiday considering holidays are many a times regarded as family moments, that throwing suspicion that something cynical was going on in their marriage affair.
Having learned of the Zanzibar leisure beach hotel she had been booked in, the man too took a flight to the Island where he confirmed his fears. Here was his wife and his best friend sharing romantic moments, a shocker that has now rocked the marriage, now seemingly hooked on their one-year child. A video footage has the evidence of the busted moment.
According to sources close to the couple, the woman was on a revenge mission. When the husband confronted the two, she reportedly gave him evidence on his cheating ways, even producing photos of on romantic outings with her close friend in Dubai.
The source told MondayBlues that the lady was only pulling the move to hint to him that "what goes around, comes around".
Now, the two are back home, reuniting under the council of a pastor who is leading their healing process.
A similar scene occurred a few days ago when celebrity Katie Price reportedly found out about the affair between her husband, Kieran Hayler, and her best friend, Jane Pountney, after she saw a message on his phone.
According to MailOnline, the former glamour model already had suspicions about the pair but had her worst fears confirmed when she read a Whatsapp message from Jane on Kieran's phone.
The damning message read: 'Has she left yet. Can't wait to see you.'
According to The Sun on Sunday newspaper, Katie had been on the lookout for evidence that Kieran was having an affair but never suspected that it would be with her best friend.
The pregnant star caught the pair in a passionate embrace during their recent holiday to Cape Verde in West Africa. Jane has since admitted the affair.