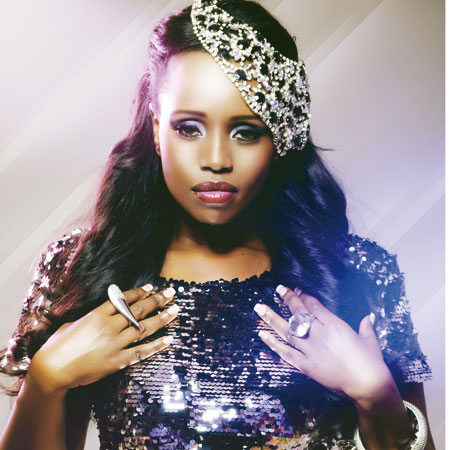 Award winning artiste Cecilia Wairimu aka Amani
 "Spinster: a woman who wants to be free from a masculine bondage, so she remains unburdened…by virtue of not wading into the gene pool she never has children who might betray her to the home for the aged…"
Okay, that definition of 'spinster' is so 1945, let's use 'bachelorette' for eligible women who seem to have what it takes to get hitched, but have put brakes on being domesticated. They  reckon, perhaps, that marriage is an institution; and who would want to live in an 'institution?'
Never mind some seem to have a stab at youth, although they shot beyond it when France last won the Fifa World Cup with players sporting names like Lilian Thuram.
In her 1815 novel, Emma- the story of youthful hubris and perils of misconstrued romance- English writer Jane Austen tells us that a "single woman, with a very narrow income, must be ridiculous, disagreeable, old maid! The proper sport of boys and girls; but a single woman, of good fortune, is always respectable, and may be as sensible and pleasant as anybody else."
Oh! how things have changed over the patina of time dear, Jane. Past a particular age, single women are not "sensible and pleasant" despite not needing men to rectify their existence. Their only pleasing solitude is being exempt from the passions with which others are tormented by being in the so-called relationships.
As that character in Sex & The City purrs: "Maybe some women aren't meant to be tamed. Maybe they just need to run free till they find someone just as wild to run with them."
Anyway, The Nairobian gave you a list of 10 eligible bachelors last week; here are the city's top 10 bachelorettes this week:
1. Emma Too  (Mid 30s)
 The 1998 Face of Africa finalist grew up with the scriptures seeing as it is, her grandpa was a pastor. In a previous interview, the graduate in architecture, revealed that men find her intimidating, preferring instead, to hit on her friends courtesy of  her 'stay away face.'
Emma, the MD of Prime Homes and Gardens, however, gets some 'un-wanted love from foreigners.' "When I was in South Africa," she told ModernGhana in 2008, "I was continually being chatted up by petrol station attendants, cleaners, construction workers; so by the time I got home, I had been hit by so many guys I didn't want to go out with. Here, I don't get bothered."  
The landscaper and interior designer who loves sleeping in men's boxers, confessed that honesty is one of the keys values that her ideal man should have. She once dated     lawyer James Gitau Singh — one of the owners of Bacchus and Rafikiz restaurants and pubs.
 2.Bidanya Barasa (Mid 30s)
The 1999 M-Net Face of Africa Kenyan representative is currently Tetra Pak's marketing manager. The last time she spoke about a man in her life was three years ago when she was diagnosed with colon cancer.
"We had been dating for about a year before I got diagnosed, and after the cancer I found myself questioning if this person was going to be in my future and would he add value to my life. The answer to most of my questions was no, so we ended things amicably," she said in an interview.
The international business administration alumni of USIU and Pepperdine universities  also stated that she was single, but is excited and open to future prospects. "I would like to settle down and get married when the time is right. I want to have two children; twins if possible. A boy and a girl would be good," she told True Love in 2011.
Efforts to find out if the daughter of successful businesswoman Jennifer Barasa is dating again were futile. Her close friends term her as very 'secretive.' 
 Janet Mbugua (29)
 Janet Mbugua has this husky voice and comely looks that may tempt even the Pope. A while ago,  the alumni of USIU was rumoured to be dating publisher-cum-politician Gor Evans Semelang'o, the new chair of Youth Enterprise Fund. 
Gor told Standard reporters, at the time, that he is enjoying close friendship with Janet and suggested that they were an item.
 "We were at Carnivore for the Mr and Miss Catholic University ceremony. We had a blast. Janet and I are tight. I wouldn't mind taking goats and bulls to her family if I was ever asked to," Semelang'o supposedly remarked.
"She is really pretty. She has a very warm heart. I mean everyone likes her..."The controversial businessman soon took to his Facebook account to deny the allegations.
4. Debra Sanaipei (33)
The UK trained lawyer is  the most enduring face of Miss Tourism Kenya so far, since winning the crown in 2001. Debra's love life has been kept under wraps till earlier this year when news broke that the beauty queen was getting hitched to Michael Okwiri, the vice president in charge of corporate communications at Airtel Africa. The couple  announced their high-end exclusive wedding, will be in April.
She was once rumoured to be dating entrepreneur 'Sir' Henry Otiende (now married to Aisha) but both the claims, insisting that they were BFFs. By the way, those young girls who used to present roses to retired President Moi at the airport and state functions were Sanaipei and her sister!
 5. Naisula Lesuuda (28)
The Daystar University communication graduate is one of the youngest Senators and recipients of the prestigious presidential Order of the Grand Warrior (OGW) for her efforts in bringing peace among warring pastoralist communities and using journalism to highlight social issues.
At 26, she received the International Labour Organization Wedge Award 2011 for Outstanding Professional Woman. Lesuuda's humanitarian activities seems to have over shadowed her love life. When contacted by The Nairobian on her ideal man the soft spoken senator — who was once rumoured to be dating  a political journalist with a media house on Mombasa Road — said: "I cannot comment about my private life. Just let me be!"
 6. Diana Kethi Kilonzo (36)
Brilliant lawyer by any standards, Kethi burst into national prominence during her eloquent  spurring at the Supreme Court petition occasioned by the 2013 March Presidential Elections.  Women, who 'hate' when their own shines could not help but admire Kethi conducting her courtroom  legal opera.
Men on their part, did not care two hoots whether Kethi was a toto mama… neither did they bother who got her paged, falling over themselves and offering their hand in anything with a whiff of affair with her through social media. Even when her Master's degree was said to have been called back by her alma mater, The University of Nairobi, her fans stood by her-despite her failed bid to win the Makueni Senatorial seat held by her late father.
It is still under wraps who Mama Mumo is dating.
 7. Janet Wanja (29)
 This volleyballer, who played at the 2004  Athens Olympics, has 'spiked' scandals and stood strong. From nude photos, to rumours that she was bedding coaches to keep her position at the national team, Janet, who hates men who can roll if they fall, is said to have a thing for odieros  although she claims that she prefer miros.
" Men are all the same. As much as money is important, I prefer real love rather than richness. Everybody needs money to survive, but I prefer real love. I would rather be alone, than be with a rich man who doesn't love me. I am serious about that. With real love, nothing else in a relationship can be difficult," the former student of volleyball powerhouse Mukumu Girls High School, Kakamega, said in a previous interview. Janet, who was raised in a military barracks, also knows that she is attractive and thus understands how to handle her admirers.
"I know I am beautiful. I am used to attention from men. As a public figure, I try to be courteous at all times. Being a celebrity doesn't pay my bills," says the girl who swears that she'd never date an athlete!"
8. Lupita Nyongo (30)
Before her American film debut in Steve McQueen's 12 Years a Slave, as Patsey, Kenyan actress Lupita was almost a normal Kenyan girl. Lupita's love life has not been so clear as the alumni of Yale Drama School was once rumoured to be dating Kenyan based-Greek filmmaker Alexandros Konstantaras, who is now married to actress Lizz Njagah. The two denied the claims after being confronted by Lupita's family.
 9. Eve D'Souza (34)
 The jack-of-all-trades took over radio nearly a decade ago, but also found the time to venture into television. She worked for TNA political party as the communications director before the March General elections and  together with Janet Mbugua started, MoonBeam, a  production outfit.  
Eve was once linked to DJ Stylez (Allan Muigai who is engaged to Wanjiku Wanyoike) but quickly rubbished the rumours claiming that they were just friends. The alumni of Aga Khan High School, Mombasa and Catholic University where she majored in English and English Lit, is mostly in the company of former radio co-host, Uganda's Gaetano Kagwa.
 10. Cecilia Wairimu (33)
 She is not only an award-winning musician but also the only Kenyan who has recorded a song with R-Kelly.  The USIU  international business administration graduate, popular as 'Amani'  is still single. She was linked to a "little known dude" read her long-term boyfie  before they split in late 2008. She shared a series of collabos with Tanzania's AY (Ambwene Allen Yessayah) but the two insisted they were just friends when rumour mills started yarning 'this and that'.
In a press interview, Amani once said  she wished to have a relationship similar to her parents. "I also must admit that I really admire their closeness despite being married for almost 30 years. I just realised that I date men who look like my dad because I'm looking for him in them."
Do you agree with the list? Send your views to