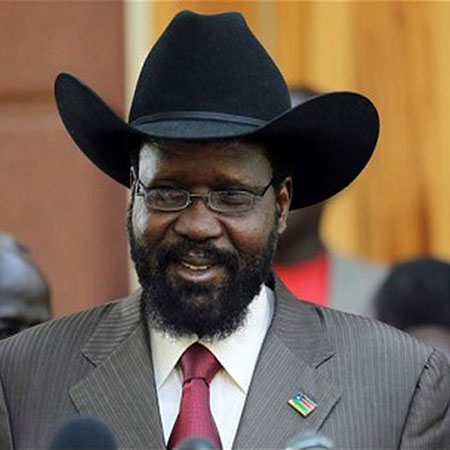 President Salva Kiir          Photo: Courtesy
South Sudan has warned the media against reporting on the private affairs of the nation's President.
This comes after The Nairobian exposed the tension in the President's family. The Nairobian had reported that the President's 23-year-old son, Manut Kiir Mayardit, was briefly detained by Muthangari police station in Nairobi after he allegedly assaulted his sister while drunk.
Four generals of SPLA
And then came Aluel William Nyuon Bany who claimed to be a customary wife of the president. Aluel is the daughter of the late Sudan People Liberation Army (SPLA) leader William Nyuon Bany, who alongside Dr John Garang, Salvar Kiir and Arok Thon Arok, were the top four generals of the movement in its early days.
He died in 1996, leaving several children, most of who live in the United States today.
Now a sister to Aluel, who requested anonymity, has come out warning Aluel not to mar the name of their family for her personal interests.
"In our culture, marriage is sanctioned by two families and we don't remember the marriage she claims ever happening," she told The Nairobian.
"Aluel seems to be using the family name and that of the president for her personal interests and we want her to stop."
A family in-law has also decried the media's invasion to the privacy of the president.
"I have noticed that some sections of the media and commentators have decided to focus mainly on the private life of the president and his family. This is a clear violation of our constitution, particularly provision of article 22, which states that the privacy of all persons shall be inviolable. No person shall be subjected to interference with his or her private life, family, home or correspondence," Thiik Giir said in an interview with Sudan Tribune on April 14.
"President Salva Kiir is a humble leader (yet) the media and some commentators have continued to invade his privacy without consequences, but if it were other countries like Sudan, the people (journalists) who do this would have definitely paid for it," he said.
Depicting nation badly
Kiir's relative claimed said the media was taking advantage of president's humility "because they know he wants a common understanding between the government, media and the opposition, but failed to know that criticism should be objective to avoid depicting this nation badly to outsiders".
More than a million people have been displaced after clashes broke out in December when Salva Kiir accused his sacked deputy Riek Machar of plotting a coup. South Sudan seceded from Sudan in 2011 after more than 20 years of conflict.
Presidential spokesperson Ateny Wek Ateny said he was not aware of the reports of a meeting which the president had convened over the weekend with his family members after media reports in Kenya that police authorities arrested the Kiir's son after his mother alerted them to his violent behaviour.