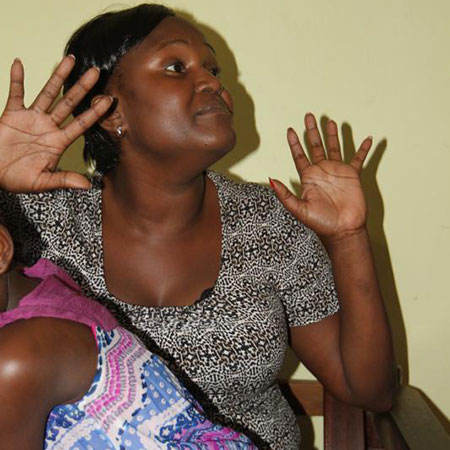 Dola Kabarry's wife, Consolata Olilo
Benga musician Dola Kabarry has been embroiled in a war with his wife's former husband over a child.
Kabarry, whose real name is Kevin Omondi Migot, was accused by Joshua Abidha, a Kisumu based landscape designer, of colluding with his wife, Consolata Olilo, to steal his six-year-old daughter.
Olilo had the child with Abidha before she was remarried to Kabarry.
Kabarry, famous for hit songs such as Wacho Awacha (Continue yapping), Adundo Mum (Sweet heart mummy), Sella and Pamela Atoti (Pamela mistress) dodged journalists at Central Police Station in Kisumu, where they had resorted to solve the matter.
Kabarry car vrooming
Abidha said he married Olilo in 1999 and stayed with her for 11 years before they separated after serious allegations of adultery. This prompted separation which resulted to the woman getting married to Kabarry in 2010.
The couple then moved to Nairobi.
"We had lost trust in one another," said Abidha "and had decided to stay apart. I had three children with her and we mutually agreed that she takes the second born girl and I remain with the first born, a boy, and the last born, a girl."
On Tuesday April 15, however, Kisumu's Nyalenda estate residents were treated to drama when Kabarry and Olilo went to Abidha's house to pick the last born to move in with her in Nairobi.
Neighbours who noticed strange movement at Abidha's compound called him from the construction site where he works. He took a motorbike only to reach the scene to find Kabarry's car vrooming away with Olilo and their daughter aboard.
Abidha then mobilised other boda operators who chased after the car.
Kabarry, who feared for his life as the angry boda operators shouted, "tuchome hiyo gari" (let us set the car ablaze), quickly turned to Central police station to seek refuge.
He dropped Olilo and the child at the station's gate and drove off to avoid the wrath of the crowd, which was already growing bigger. Police then picked Olilo and the girl and took them to the Gender and Children's Department office within the station, where they spent hours recording a statement.
Her ailing widowed mother
Olilo said she had officially ended her marriage with Abidha and had been married to Kabarry.
"I love Kabarry so much and nothing, even the media will get him out of my life. I feel secure and in the presence of a man when I am with him. He has paid dowry unlike this man (Abidha) and he has all the rights over me," said Olilo.
She accused Abidha of mistreating her for the 11 years they were married.
According to Olilo, her ailing widowed mother had lured her to get married to Abidha when she was in Form Two. She claimed her mother wanted Abidha to pay her school fees.
She said he only paid her fees up to Form Three and made her a housewife. When her mother died she moved in with Kabarry. "The child under contention is Kabarry's. We got the baby while with Abidha but she is Kabarry's," Olilo said.
Abidha, who has since married another woman, said she is not interested in repossessing Olilo but was just annoyed by the former wife going with Kabarry to his house to pick the child.
"I have always allowed Olilo to come and see the children but the extent of her coming with the musician to my house to steal the child is quit annoying," said Abidha.
Kabarry spoke to The Nairobian on phone and denied attempting to steal the child since his wife agreed with Abidha that they take the girl to Nairobi where she could get a better education.
"I am the one who has been taking care of the child's need and was just being responsible to take her to a good school," said Kabarry, adding that he had recorded statement with the police, accusing Abidha of organising a gang to kill him.
Building home in Bondo
He said he did not run away from reporters but was avoiding confrontation with Abidha who had vowed to attack him.
Kabarry explained that he had accomplished all the traditional requirements of having Olilo as his wife, including paying dowry and building her a home in Bondo, Siaya.
Kabarry said he married the woman one year after divorcing Abidha and that "I will be going to court to have him charged for threatening my life, and my wife will be going to court to have the issue of the child's possession sorted."
Related Topics