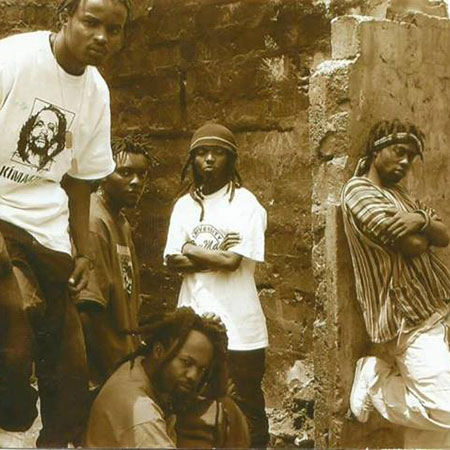 The larger ukoo fulani maumau members    Photo: Courtsey
At the turn of 2014, a rugged looking dreadlocked man in baggy faded designer outfits walked out of Industrial Area Remand Prison after six months in the slammer.
As he stepped into the sun, a state-of-the-art fuel guzzler hooted at the gate. The officers rushed to open them wide as they saluted another young man sporting bling bling as he rolled down the windows.
The jaded remandee stopped for a while to witness the spectacle — as beautiful girls in tight outfits alighted from the car ready for a video shoot- behind bars.  
The two men have something in common having made their names in music. But that is where their similarities end.
While one of them is a successful artiste, the other one is a washed up former rapper, a has-been.  
John Vigeti, the talented rapper, formerly of the famous Kalamashaka trio, had been in Industrial Area for a side mirror theft.
Interestingly, the bling guy was rising star Jaguar, who was in the same prison to shoot a video of his song, Kioo (mirror), which is part of a wider project aimed at rehabilitating people like Vigeti.
The irony is that Jaguar was once a drug addict living in Dandora before becoming clean and rediscovering his musical talent — although he cannot match Vigeti's prowess — while Vigeti is struggling with addiction with no permanent abode.
Jaguar cannot hold a candle to Vigeti, musical talent speaking. But the Kigeugeu hit-maker was wise, choosing to focus on the business end of things while Vigeti and Kalamashaka nosed south, musically and financially.
"We are trying to help Vigeti beat the addiction. Plans are already underway to take him to a rehab," Gospel award-winning hip-hop star Juliani who was mentored by Kalamashaka as he grew up in Dandora said, adding that, "the only problem is locating his (Vigeti's) whereabouts since he cannot be reached on phone."
The saddest part of the once trail blazing group's members are in bad shape except Kamau' Kamaa' Ngigi who resides in Seattle, Washington, USA, after beating drug addiction.
'Kamaa' nowadays gives public lectures in prestigious American Universities on hip-hop culture in Africa. He escaped the drug addiction as a member of Black Panther Movement — a conscious Black American movement. He recently released a solo album, Amka after tying the knot with an Afro-American beauty.
Vigeti roams the estates between Mathare and Dandora while Robert 'Otterraw' Matumbai once tried his hand in Koch FM, a community radio in Korogocho slums as a presenter and is currently found hustling in Umoja.
"I have been trying to help these talented Kenyans who inspired a generation and made them dare to dream from the ghettos across Africa," enthuses Jaguar. "It is time for the industry to help their own," he adds.
Only a decade ago did Kalamashaka inspire Gidi Gidi (now a radio host with Jambo FM) and Majimaji, now head of Ghetto FM, among other countless stars.
 Kalamashaka were high fliers, being probably the biggest musical export from Kenya's Dandora slums with their 1997 hit song, Tafsiri Hii. From Stockholm to Amsterdam, the capitals of Europe were their stomping grounds. They curtain raised for Coolio and Lost Boyz tours of Kenya.
'K-Shaka' as Kalamashaka were nicknamed, were the poster boys for Benson&Hedges when they launched the cigarette brand in Kenya.
By contrast, Jaguar was a struggling artiste who could not even get studio time.
So why this reversal of fortunes? Just what happened to Kalamashaka?
At their peak the trio of 'Kamaa', Vigeti and 'Otterraw' ruled the airwaves locally, besides being number one on Africa's music show Channel O.
Invaded bars and the brains
Incidentally, Kalamashaka is Kiswahili for 'one who has eaten trouble.' This group grew to become a socially conscious movement to create a pan African youth synergy with their hard hitting politically and socially charged lyrics.
K-Shaka did not ask for permission, but invaded every disco, bar, and the brains of thousands of youths. Tafsiri Hii  basically captured their dreams, asserting that though life in Dandora was deemed hopeless, one day they dream to conquer the world. And conquer they did.
From the dumpsites of Dandora, Kalamashaka, were on demand worldwide, they did collaborations with Ded Prez the American hip-hop rappers and curtain raised for the likes of Coolio.
K- Shaka, were now international.
"We were more than just music," explains Mwaura Mahugu aka Mwas, who managed the business side of Kalamashaka and their social networking from 2001-2005. "We liaised with NGOs through the hip-hop movement to help the community not just in Dandora. Kalamashaka not only brought out social conscious music to Kenya but also youth empowerment."
As K-Shaka grew big they mentored other Eastlands rappers, forming a commune called Mau Mau Camp. They then reached out to the Coast where they joined hands with the Mombasa rap commune, Ukoo Flani, to formed Ukoo Flani Mau Mau, which later reached out to incorporate Tanzanian hip-hoppers.
K-Shaka couldn't reap millions
Producers fell all over themselves wishing to work with them. They got a lot of airplay, however, this was not translating into money in the pocket.
Then, the Music Copyright Society of Kenya and its royalty collecting mechanisms were not in place; which meant that Kalamashaka could not reap millions from their songs which flooded radio, matatus and clubs.
K-Shaka fell out with their producers and managers and finally disappeared from the limelight fighting addiction as Jaguar stepped to the plate.
RELATED ARTICLES