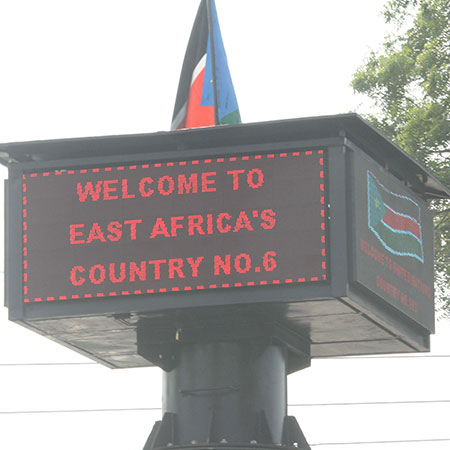 [email protected]
Is it land of opportunity or death for Nairobians?
Migrant workers in Africa's newest nation say xenophobic Sudanese have made their lives difficult as they seek to make money to send home.
In the country whose citizens lived as refugees in Nairobi for decades, dozens of Nairobians have died, some jailed and others deported after losing their property to people who are still having a hangover from a civil war that Kenya helped to end in 2005.
And the reasons for deaths or imprisonment have mostly been petty, according to Kenyans who have spoken to The Nairobian.
Nairobians, known mostly to have a carefree lifestyle, have earned the wrath of xenophobic Sudanese for being too free with the country's women.
Amorous Kenyans found with Sudanese women in Juba have been caught have ended up in jail or have been slapped with impossibly huge fines.
Hot, violent country
South Sudan is a violent country. The climate is unfriendly. Temperatures are extremely hot (40 degrees upwards) and when it rains, it pours, the thunder frightening and ear shattering. Yet, Nairobians brave all these and more to send bread back home.
The floods are an annual menace, more so in the Bahr el Ghazal region to the Northwest of the country. States in the Greater Upper Nile region are swampy and movement during the rains is only by air. Malaria and waterborne disease are commonplace. Individuals walk around with guns and can shoot at will.
Working in South Sudan comes with attendant hazards. When you have a white-collar job, the locals feel you have taken their rightful jobs.
"They are eager to take up specialised jobs even when they are not qualified. So they target you, waiting for you to make the slightest mistake so they can edge you out," complains Mamadou Camara, a Niger national, who has worked with Action Against Hunger in various states in South Sudan.
"Sometimes they set you up and can accuse you of anything from embezzling funds to sleeping with a local woman, a 'capital offence' outside Juba."
'Court of old men'
South Sudan is yet to set up a functional modern judicial system, with justice often dispensed by conniving old men seated under a tree. These men have lived through five decades of war and are cold and vindictive.
If you cause an accident, for instance, hit a cow on the road; you will pay a 'fine' of at least 100 cows. That is when they are being reasonable. Normally, furious villagers who have minimal tolerance to misdemeanour from foreigners can shoot you.
Two years ago, a Kenyan driving an NGO vehicle knocked down a woman with a child in the notorious Lake State. The woman survived, but the child died. The man was asked to pay $100,000 (Sh8.5 million) and was tied to a tree for two years till the money was raised.
For Walter Maina, a Catholic Brother who started a school in Northern Bahr el Ghazal, locals wanted to control his lucrative school but he was adamant that they must be trained first.
One night, his school was attacked and he was arrested and accused of impregnating a schoolgirl, an accusation he vehemently denied, saying he had been framed. He was remanded for three weeks.
"You are only given one meal, beans mostly, and water once every day. You are chained to another prisoner by the feet and you must move together, whether going to the toilet or wherever," says Maina. It took a malaria infection for him to be released after all diplomatic efforts with the community failed.
Finally, he was sneaked out of the country, leaving his school for the locals. "I will never step back in that country," swears Maina.
Riskiest state
Lake State is one of the riskiest states for foreigners who seduce local women. Kenyans who do not 'zip up' have ended in jail or being slapped with impossibly huge fines (normally more than 100 cows or $ 100,000 dollars – Sh8.5m).
A Kenyan NGO director was caught in bed with a local married woman. The well-respected boss was at first whipped in public and then slapped with a fine of $100,000 (Sh8.5m). He came back home penniless, without a single investment.
For Kenyan men separated from their spouses, only commercial sex workers, their compatriots, Ugandans and other nationals, married or not, provide comfort. While men are known to cheat anyway, what has been shocking lately is the audacity of married women working in South Sudan.
Kenyan prostitutes
"Kenyan women are considered prostitutes by locals here. They drink and sleep around publicly that it no longer raises eyebrows," says Cate Awuor, who works with a UN-funded NGO in Northern Barh el Ghazal's capital Awiel.
"Some women are married, and even have children. I know those who have up to four children, even infants back at home. They send money back home to their husbands and children. Some of the money is obtained from men," says Cate who has stayed in South Sudan since 2010.
According to sources, there are women who have ended up infecting their husbands with Syphilis, or worse, on returning home from South Sudan.
"We know of colleagues who end up marrying locals or other nationals in spite of having spouses back home. Adultery here is not just a male pass time. Women from all walks of life are willing participants," says Cyprian Ogot, who works with a Catholic Mission in Juba.
The most spoken about case is about a woman who dropped her husband of 15 years and married a rich South Sudanese man.
The toughest and the riskiest trade in South Sudan is prostitution. Commercial sex workers are mainly from Kenya and Uganda. Eritreans are known to ply their trade among fellow nationals. Lately, young women from the Equatorial tribes around Juba have also taken to prostitution. Their clientele is mostly Kenyan and Ugandan men who are sexually starved and cannot get the local women. For prostitutes, South Sudanese army men are a big headache.
"They are violent, and take offence when you tell them to use protection. I have been slapped a couple of times, and even threatened to be shot dead by locals, especially those in SPLM (Sudan People's Liberation Movement) who walk around with guns," Irene, not her real name, told The Nairobian.
"When you explain to them about HIV/Aids, they claim that there is cure in Loliondo," adds Irene, in reference to a village in Arusha where Tanzanian pastor Ambilikile Mwasapile in 2011 distributed a concoction of herbs and water which he claimed could cure all diseases.
Related Topics