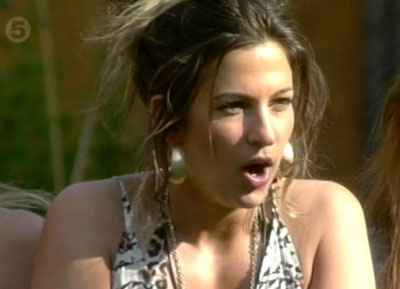 Charlie  Photo: Courtesy
After five days living in luxury in the secret safe house, Gina Rio and Dexter Koh were given their final treat from Big Brother - getting to choose which nominated housemate would be saved from eviction.
The house were shocked to discover Gina and Dexter had been watching their every move in a separate residence, but were even more on edge after being told the two would have the power to save one person.
And after much anticipation, Gina and Dexter decided to save Charlie Travers and welcome her into their safe house, but in her place, they put her mother Jackie up for eviction.
However, once Big Brother told them their selected housemate would have to come live with them in the safe house.
'In that case Charlie, I like Callum but I don't feel like living with him in a confined space,' Gina decided.
Dexter agreed with the choice but still recognised how different it will be with a third person: 'It's pretty difficult, we've just got used to living with each other now so bringing another person into that environment will be quite jarring to say the least.'
Later in the day, Gina and Dexter were revealed to the housemates in the garden, where they sat behind a red velvet rope next to a Jacuzzi, sipping on summer cocktails.
There, the two were instructed to reveal the housemate they'd like to save, and Dexter told the house Charlie would not face to public vote 'because she seems like she's having a hard time and hopefully being in the safe house will improve her time here.'
Then Big Brother asked for Gina and Dexter to select the housemate who would take her place in the public vote, for which they chose Jackie who said 'she knew that was going to happen.'
Now that Gina and Dexter can interact with the housemates, the latter took the opportunity to share some wisdom with a few, starting with Daley Ojuederie.
The two had been watching the growing relationship between the boxer and Hazel over the last few days and were unimpressed with their behaviour considering the girlfriend Daley has waiting at home.
'I know you are confused in your head you need to get clarity. Keep strong and do what you are doing… don't eat the cake and regret leaving something nicer behind,' Dexter said.
Daley responded by saying: 'My mind is playing games with me and I am already thinking I don't have a girlfriend if she is my girlfriend then I f***ing love her.'
However Gina wasn't so nice when Daley wanted her opinion of what she saw: 'It's not right. I wouldn't agree with it.
'I felt uncomfortable like I couldn't watch. It's your business. I know it's hard in this house because you want a kind of womanly bond sometimes…To be honest I wouldn't carry on with what you are doing.'
But any further action may not be enough to save Daley's relationship as on Big Brother's Bit On The Side,as Katie Coriette told Emma Willis how upset it was to watch her boyfriend get close to the Irish model, eventually breaking down in tears on the sister show.
-Daily Mail