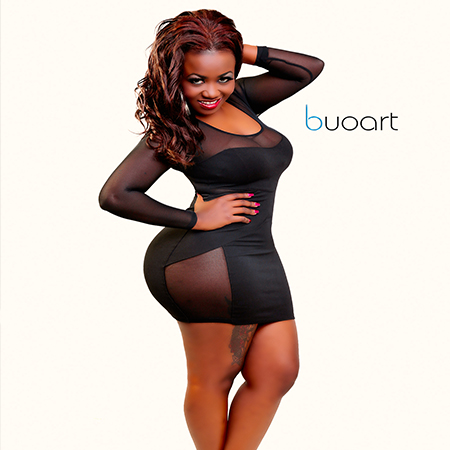 Vera Sidika flaunts her body Photo: Buoart
After Pulse used the bootylicious Risper Faith as the cover girl during one of the publications last year, the Mount Kenya University student hit unprecedented popularity becoming the talk of town.
"Is that booty real or has the picture been airbrushed," curious callers, especially male folks, inquired with many seeking her private number.
She was the new Vera Sidika in town. Vera, the video vixen, also made her public debut through the Pulse cover girl page before landing her video role in the much talked about You Guy (Dat Dendai) P Unit hit featuring Collo.
Since, just like Vera, Risper has landed lucrative commercial deals and has also been awarded TV roles as an actress.
And as she enjoyed her spot in the limelight, a newcomer in the name of Corazon Kwamboka made her debut, also through the Pulse cover girl page. The voluptuous University of Nairobi Law student who is endowed with a curvaceous and sexually attractive figure, complete with killer hips, has since stolen the show with hundreds of her admirers going gaga about her derriere.
"I've always had a big butt and smaller upper body considering I have Ugandan genes but I added some weight after high school," Corazon confides when asked about her below the waist investments, the bottom that some curious eyes argued had been enhanced through the use of drugs.
"It is true that men ogle at my bottom, but they look at other women too. I'm a size 14 or 16 down then my upper body is a size 8 because I have a small waist," the wasp-shaped soft-spoken beauty reveals.
"Smaller girls want what I have," she concludes.
And it is this new curvaceous girl trend in town that has every girl doing whatever it takes to develop her own as men too switch from the stereotyped model slim girl who was the hit some few years ago.
They range from surgical bottom and breasts enhancers to vitamin pills, silicon body shapers, butt lifters, butt pads and other accessorising efforts. Body contouring is quickly becoming a booming business in town, a practice that has perfected what the gym started as young girls look for overnight body transformation. Donning a crop top revealing her navel ring with jeans, this 20-something girl turns heads — perhaps the reaction she strives for — as she walks into Java Coffee house where we have scheduled our interview on this subject.
Her face passes for any ordinary girl but not the rest of her perfect curvaceous self. Standing at 5'7, she introduces herself and we get straight to it as everyone's eyes start to wonder towards us.
"The truth is I didn't have the Coca-Cola figure naturally so I went out and bought one," informs the second year university student.
With a cheeky twinkle in her eye, she goes on:
"I can't leave the hostel without my padded underwear and gel bra. That's my secret"
So why should she fake her looks? "I'm a petite girl with a flat tummy but besides that, my body is almost straight. This affected my self-esteem a lot when I was in high school. When I joined campus, I got smarter after hearing and seeing what ladies were using to enhance their physical image and that's how I started this transformation process," she says, with a smile.
"Now, I get attention from many men. They can't avoid trying to date me," she remarks as she goes ahead to reveal that many of her university female colleagues are purchasing all sorts of paraphernalia to enhance their backside.
Elsie, a 22-year-old university student, who prefers to go under the title of a 'model' attributes her choice to use butt and bra enhancers to celebrities like Beyoncé, Nikki Minaj and Kim Kardashian, whose bodies have been glamourized in the Hollywood scenes — oblivious of the procedures and tricks they go to enhance their image with the recent entry of big bootied girl trend.
"These curvaceous girls have it all. Look at Vera and Risper Faith who became so popular after launching their 'careers' on the Pulse magazine. They are now making big money and have entered the celebrity glamour league. Lately, having a big behind pays," she notes.
According the young university student, after acquiring the image they want to portray, they go to a professional photographer and post the pictures they take to entice their would-be target clients like musicians looking for video vixens or even guys looking for quick fix dates.
"I post my photos on Facebook and I always get job offers to model. Even in rave guys walk to me besides wanting the obvious," she says with a smirk on her face.
That said she has a confession, she uses Health Aid Hip and Thigh Formula together with Dr James Hip Up and Buttock Gel that she purchased at a salon for Sh2,500 and Sh1,500 respectively to enhance her looks.
A walk in local beauty stores around the city reveals that these gels and lotions are well stocked. Their prices vary with the cheapest going for Sh600.
"The most common products we sell are Dr James and the Hip and Thigh cream and pills," Nancy, a local retailer based in River Road confides and upon further inquiry confirming that over 90 per cent of the buyers are young girls probably in their 20s or early 30s.
Talking to Doris of Natural Enhancement, she argues that their range of products that include creams and capsules are also popular among girls who want to enlarge their hips and butt.
Our investigations showed some of these products that should be sold through a doctor's prescription are now being sold over the counter without a doctor's recommendation. Most of the creamy products that go for between Sh300 and Sh500 are applied twice a day. For desired results, the cream has to be applied in circular motion and at specific times while keeping off some food that might interfere with absorption of the ointment, otherwise the process might backfire on you.
What is worrying is the fact that most of these products lack comprehensive information such as manufacturer details, country of origin and complete list of ingredients. Most claim to be made of a blanket label of 'natural ingredients' making traceability and verifiability next to impossible. According to Dr Duah, a local pharmacist in Nairobi, these products have no scientific proof to deliver on their promises.
"These manufacturer are playing on women's ignorance and desperation. Even surgical procedures to enhance your breasts and back side have risks that people rarely get to hear. They are not 100 per cent safe as many assume," he remarks.
Given their high level of steroids some of the risks include fluid retention in the tissues where the products were used, stimulation of hormones affecting the size causing cells to grow abnormally, which could lead to cancer, high blood pressure, peptic ulcers and osteoporosis amongst others.
"Some products, like Nitro whose main ingredient is mercury, are carcinogenic and can cause hormonal imbalance. The best way to ascertain what they contain is to do a lab test then analyse each element that the product contains because it is difficult to know for sure what they are exactly made of," Dr Ongech, a gynaecologist, gives his expert opinion.
And it is not just the ordinary girls who are trying to change their shape but also local celebrities among them musicians, actresses and female TV anchors.
In fact, don't be flustered; some of those TV sirens whose body shapes we all adore during the News hour are consumers of these body enhancement products.
Sources tells Pulse that a big number of our celebrated TV hosts now depend on body shapers.
?These Shapewear bodysuits, which are now available in local retail shops with price tags standing at Sh4,000 per pair, for most of them, are designed to fit your body naturally while enhancing your curves and accentuating your naturally beautiful attributes. According to a popular News anchor that did not want to be named, the TV beauties are now using body suits to reduce the body's size and cinch in all the right places to give their body instant and smooth curves.
According to the TV beauty, these body suits can be worn under any attire and it all depends on what shape the wearer's needs are.
Related Topics