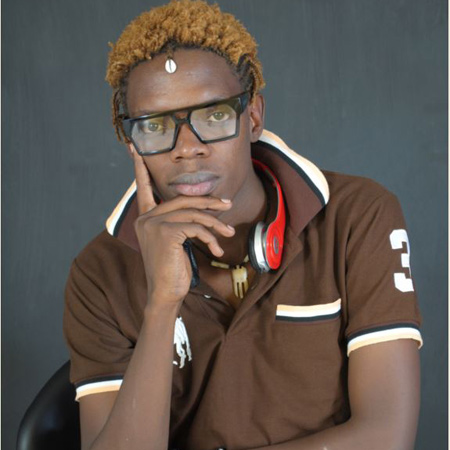 Comedian Fred Omondi
It's been two years since you were on air hosting your own show and we expected you to be one of the key people last year milking the local comedy cash cow, but you went all silent, what happened?" I enquire as my subject, comedian Fred Omondi, takes a breather at a less populated section of the lounge while Antonio, Terence and Jose, his companions, take over the show.
On the side, here at Tribeka Lounge, the black draped waiters and waitresses flutter differentially and with instinctive humility. This is Fred's Kicheko comedy night date with them. 
"I never left the Crazy Comedy show. The contract got terminated. I have been working on major projects since then that will hopefully jumpstart this year. I'm bringing it all back home (KTN)," he answers.  "That's great and all, but how have you been making ends meet?" I ask. "I have been doing several part time jobs.
I have also been doing most of my shows in Rwanda and Uganda. What people don't know is that the TV show gave me a huge platform and I capitalised on it," he states.
Even as he puts on a brave face dismissing reports that his acting career is on the rocks, it is rather evident that Fred Omondi's career got derailed after making an exit from TV, that after he had ditched popular comedy brands that had been responsible for his success.
And after that, he hit a free fall as controversy of his girlfriend battering allegations made it into showbiz headlines. Then there was another small matter of this mischievous hater who was spreading rumours that Fred was HIV positive — a rumour the comedian challenged.
For the best part of last year, the comedian who is the small brother to Erick Omondi, was clearly a stressed man. Close friends told Pulse that he spent his little money on alcohol and drinking parties before he supposedly went broke. He downgraded from living in his posh and spacious house at the leafy suburbs of Kileleshwa and rented a small house in South B where he started putting up with a friend.   
Was he running out of ideas or did ignorance play a role in this fall? Being the ladies man he is, some good chunk of Fred's cash was chopped by women who used to spend nights in his house eating life with a big spoon. 
 "I think it is by fate that you are here. At least now I can clear the air," Fred enthuses.  "Let me start by saying that the three-bedroom house in Kileleshwa is still mine. A friend gave me a good a deal on it and I bought it at around Sh7 million. I decided to rent it out and live in City View apartments next to Mater Hospital.
"I wanted to live at a convenient place where I can do businesses effectively.  I wish I had brought you the papers. And on top of that I have two rides; a BMW convertible and a Wingroad. On the matter of my so called love for the girls, I am a focused single guy and a proud father. I love my child, Shanice to death. She is the best thing that ever happened to me. Some people just want to destroy my reputation despite the fact that I have mentored some of them," he attests as he recomposes himself.
"And what of the Eric Omondi bit?  I reiterate. "Eric is my best friend. We hang out all the time. He is worth millions. Now tell me, if he heard I was in trouble, do you think he would just sit there and watch? I have never asked him for a loan whatsoever because I want to make my own success. Besides, unlike his show, my show did not fail.
People used to call me Eric's brother and it really pissed me off but I created my own niche and nowadays they call me Fred Omondi. All I can say is that I am okay and everything is going as planned," he concludes.