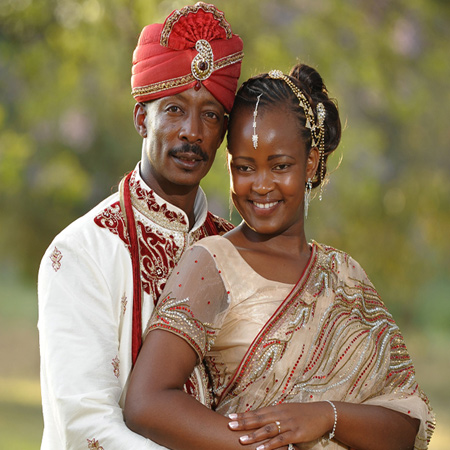 Kirwa and his wife Cate Ndumi during their wedding last year
With nostalgia, Christopher Kirwa flashes back. He is in 1996, the year when as a naïve and ambitious showbiz lover he organised a Mr and Miss Rift Valley beauty pageant in Eldoret, his native town.
The mention of Aqua Bonsu and Mitchell Cuthbert, who were then the event sponsors throws me off. Swiftly, he fast tracks the narration to 1999 roping in Dimples Entertainment, the then big name behind the awakening of the Miss World Kenya. Then, a prolonged pose.
"I joined Miss World Kenya in 1999 under Dimples Entertainment as a production manager. Esther Muthee was then crowned the first Miss World Kenya after several years of no competition. I later joined Miss Tourism Kenya and went ahead to produce all provincial heats. It was the return of big beauty events in Kenya and I was right in the middle of it. It was a grueling, but self fulfilling task," thoughtfully, he reminisces.
"After two years, I joined Miss World Kenya as an event manager. You know the big names the pageantry produced then; Nelly Gadhii, Maryanne Kariuki, Juliet Achieng', Cecilia Mwangi and Janet Kibugu, just to mention a few. Glamour was back in the events, beauty and fashion world, and so with its share of drama moments," he humbly journeys through, unfolding truths that seasoned him, the little known Kenya Broadcasting Corporation (KBC) producer, into the most sought after events manager in Kenya.
Back then, even though beauty pageants were not as many as they are today, the few that were there held a great degree of professionalism and the winners were treated with dignity. Government ministers formed part of the cream of dignified personalities who actually attended the crowning gala nights. And with that, the beauties got hooked up with real money deals; jobs and glamour living for that matter, some living life on the first lane.
As opportunities continued to open, Kirwa found himself scaling high as he got engaged in the production of the first ever Kenyan bridal fairs; Sherehe Bridal and Samantha Bridal. Then he pioneered the Miss Malaika South Sudan beauty pageant, an annual South Sudan beauty show that saw the reigning queen scoop the top African accolade during last year's Miss World finals held in China.
"Basically, the Miss South Sudan was an affair created to celebrate the independence of South Sudan. We held the ceremony at the then Toona Tree Restaurant. It went with a unique concept. It was a show on its own level; quite a memorable affair," he sighs.
Setting his sight high, the rather humourous and social extrovert went ahead to start a new fashion concept dubbed the Sports Fashion show in 2007, a pomp filled show that showcased top sports celebrities such as Conjestina the boxer, Bungei the 800 Olympic Champion and Janet Wanja the volleyball beauty, in a different light as they hit the runway with a fashion attitude.
"My life has been revolving around beauty pageantry and events creation. I have judged all the big beauty events you can think about. I have also emceed a hundred and one entertainment shows, some of which I can hardly recall," Kirwa, who now runs his own events and production company called Double CK Production, remarks.
"Event management in Kenya has grown, that is not disputable. But we need to do more. Let's go back to basics, do a checklist, follow the checklist and be on top of things. Remember, you are only as good as your last event," he tones with a veterans gesture.
"When it comes to matters beauty pageantry, the challenges are enough, but let's start by investing in long term plans. Countries like India and most of South America countries plan ten to 15 years ahead when it comes to producing models. That is why they rate so high during international competitions. We should not dream of beating them doing things like we do," he quips.
"We should know how to package our events, how to brand them and how to produce them for TV. How do you hold a beauty ceremony for an entire night and expect quality production."
Besides, some of Kirwa's fond memories include his encounter with celebrated singer Koffi Olomide back in 1996 when he hosted him during the launch of the then Cactus Pub at Green Corner in Nairobi. "My involvement in the 1999 Gregory Isaac's tour was quite amazing too. But the entire experience I have earned along the way is priceless. This is what I want to pass over to the next generation of events organisers before I retire," he concludes.