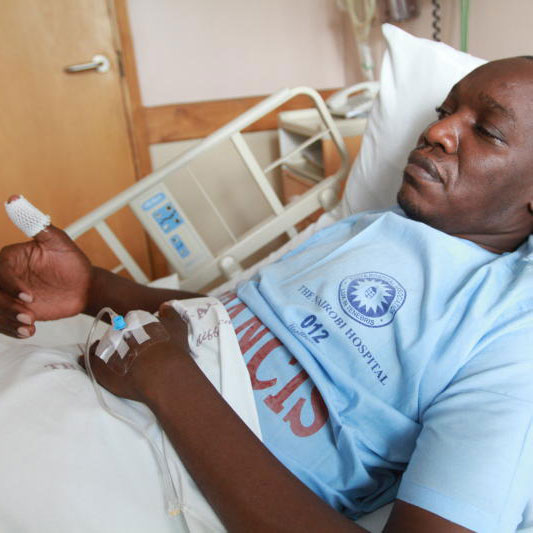 Dagoretti north mp Simba Arati recuperating at Nairobi hospital yesterday 20-12-14 after he is alledged to have been bitten by fellow MP in parliament on Thursday.He developed tetanus .Photo Tabitha Otwori
Dagoretti North Member of Parliament Simba Arati opted not to fight back when Bahati legislator Kimani Ngunjiri allegedly tackled him down and bit his finger on December 18 in Parliament.
Arati told The Nairobian he did not anticipate such an attack from his colleague he deems a friend.
He said after the assault he didn't bother to retaliate, but focused on how to get medical assistance promptly. Ngunjiri did not respond to text messages sent by The Nairobian and our calls to him went unanswered.
Before the attack, the two were reportedly talking at the Speaker's Gallery before the TNA legislator allegedly pushed him down the stairs, pursued him and bit his thumb, leaving him bleeding profusely.
Chaos broke out at the gallery after some Jubilee MPs flushed out Cord senators who were following the House proceedings.
The ensuing fight saw Jubilee MPs exchange blows and kicks with Cord legislators and Senators. "I don't know what came of him. I was caught unawares, but his intentions were to bite off my finger. He has been my friend, but why he did this to me I can't tell. I am shocked," Arati said on December 21.
The Cord MP was admitted at Nairobi Hospital. It is said his finger might be amputated, but doctors are trying their best to save it.
"Doctors said they will try to stitch it, but in the event it is not successful, I am worried I might lose the finger. The damage was extensive," Arati told The Nairobian from the hospital bed.
Arati said he has not been in personal conflicts with Ngunjiri, and that on the material day, he did not say anything in Parliament regarding the contentious Security Laws Bill to trigger the unprovoked attack.
Already, over 1, 000 members of Bahati Constituency University and Colleges Students Association have embarked on a process to recall Ngunjiri on grounds of alleged unruly conduct in Parliament.
The association's chairman, Ngatia King'ondu, said they have suspended him from being their patron following his attack on Arati. Ngunjiri however dismissed claims he assaulted the Dagoretti North MP.
In 2013, Ngunjiri was arraigned in a Nakuru court for allegedly assaulting a traffic policewoman, Maria Mutheo, who on August 15. He denied the charges when he appeared before magistrate Rita Amwayi.
Related Topics