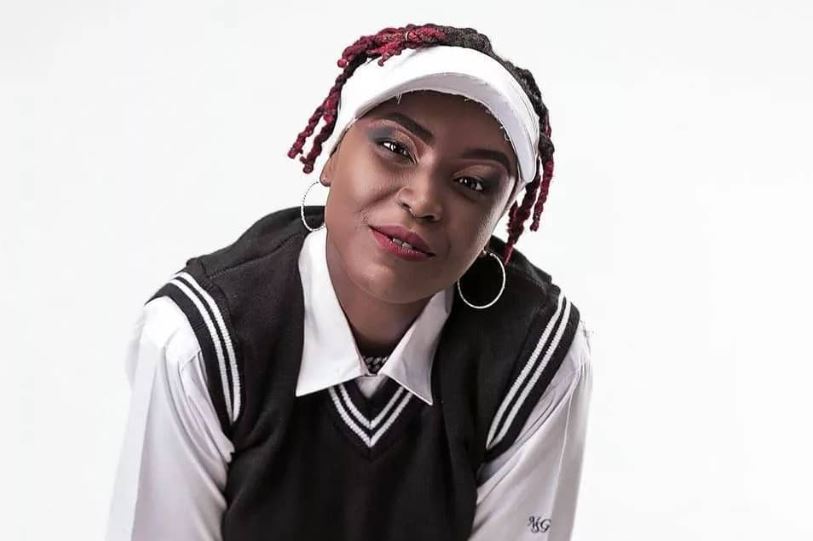 At 17, Kanambo Dede is rising to be one of the best rappers in the industry. She became an internet sensation last year following a viral rap video.
She has just released her second hit, One Day, a hard-hitting rap track recorded at Kaka Empire. One Day is a narration of Kanambo Dede's sheer determination and self-belief to rise from a humble upbringing to the dream life of a music superstar.
The song comes out only two months after the star released her first official video, Walahi, in which she laid bare her struggles after she ran away from home, only to get pregnant with a man she hardly knew.
And in her first exclusive interview with Pulse, Kanambo put it all in black and white - painting the true picture of what many girls go through growing up.
Raised by her mother in Kasarani, Nairobi, she always dreamed of growing up to make a decent living that would help uplift her younger sister and single parent. Her dream is still alive, hence the title of One Day, whose emotional lyrics are simply that.
"I am a simple girl with big dreams. I am a young mother and an artiste, who wants to inspire others and help them overcome issues such as those I have gone through. I have been brought up by a mum who has always struggled to get casual jobs, whose income has always been what supported the family," says Kanambo.
"I have one sister who is in primary school. We live from hand to mouth. We hardly get the rent paid on time. I vowed to myself that one day when I grow up, I will live a wealthy and worthy life."
On this day, she is accompanied by her manager Kasa Boss, the man behind the recording of the viral rap video that shot her into the limelight. With them is Kathambi Mirero, the head of communications at Kaka Empire, where Kanambo is signed.
During the interview, the two occasionally interject. They know how sensitive the issue of her early pregnancy affected her and they would not like Kanambo to respond to divulge more than she is comfortable with.
We notice she does not like to talk about the father of her child. They parted ways, something that is captured in her confessions in Walahi. She also does not like being questioned about her father, whom she says has been absent.
"I do not know much about the father of my baby. The fact is that I ran away from home after we had some disagreement with mum. Together with a friend, we started living in Kayole. This is where I met this guy. One thing led to another, and I got pregnant.
"Mind you, I had now dropped out of Form One. That was in 2019. As the pregnancy grew I discovered the guy was not helping me. I could hardly afford my meals; after seven tough months, I went back home," says Kanambo.
"When I look at the situation at home, I strive to make things better for my family and I. I do not want to burden them. At the time, I regretted becoming pregnant while so young. I felt bad that I was leaving school and going home to the same sorry situation. I had messed up my life."
The artiste praises her mother for accepting her back and nursing her baby. Even after losing her job at the second-hand clothes stall where she was discovered by her manager, Dede never gave up.
"I accept myself the way I am. People were surprised I could become an artiste. I left the kibanda after I lost my job. Everyone is surprised I can sing. This is a talent I have always had," says Dede.
Hers is a story of perseverance and resilience. It is a story many young mothers in the showbiz industry hardly share.
Others like Karun, formally of Camp Mulla, and singer Vivian Kenya might not have been as young as this, but they also got children just as their careers were looking up.
Then there's new rapping sensation Mkali Wao from Nakuru.
A few kilometres away from the capital city, in Nakuru, is Veryl Mkali Wao. The then 18-year-old girl, fresh from high school also found herself in almost the same predicament.
"When it happened, I was not into music and I had just completed Form Four. I was thrown into a state of confusion, I did not know what to do," she says.
"My baby daddy took off immediately he knew I was pregnant, claiming he was not responsible. I managed to stay strong thanks to my parents who were supportive all along, even though they were initially upset."
This could be, but mainly remains speculation, why Veryl decided to do a 14-track album titled 'Shadow of Death'. The album is a social commentary on the challenges of being a female emcee in Kenya.
The album embodies emotions and concepts that bring out the entire picture of Veryl's musical journey, including her triumph and struggles.
Then there is Shekinah Karen, who comes off as a feisty femcee and tough as nails. But behind the tough demeanour is an untold story.
Although she admits her babies have been her pillar and source of blessings, she regrets peer pressure resulted in her being a mother at an early age.
"Lots of favours have come my way as a result of my two daughters. I would not be where I am were it not for them and God," she says.
Shekinah was catapulted to stardom when she featured and was among the finalists of 'Odinare rap Challenge' and eventually featured in Khaligraph Jones' Khali Cartel 4.
Fresh from primary school, at the age of 15 she found out she was pregnant.
"I was a child and my baby daddy was only 17. He had run away from his parents' house since he had dropped out of school. I did not know about safe sex, so one thing led to another," she says.
With no source of income, Shekinah was left to fend for herself. "Ikabidi mimi ndio nipambane na hali yangu na mtoto wangu," she says.
She was supposed to start her secondary school education, but this never happened - she was now a mother.
Two years later, her then-boyfriend got a job and with some money streaming in he allegedly started seeing other girls.
In revenge, Shekinah hatched a not so clever plan as payback. "I decided to cheat back in revenge, and this is how I got pregnant with my second baby," she says.