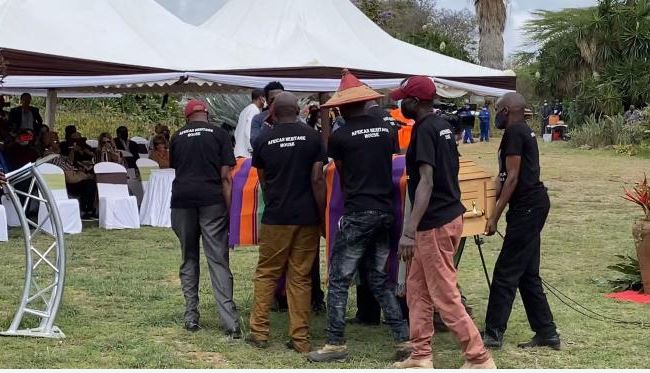 Hundreds of friends, artistes and government officials thronged the African Heritage House to give the renowned world collector and art promoter Alan Donovan a befitting send-off yesterday.
Led by the Sports, Heritage and Arts CS Dr Amina Mohammed, the mourners mostly donning black dress code paid glowing tributes to a man who was born in Colorado 83 years ago but who found joy and peace in promoting African heritage and African stories here in Kenya.
Dr Amina recalled that she met Alan earlier on in her formative stages as a diplomat in Geneva Switzerland.
"I am the one who helped have the SGR move away from the African Heritage land and spare the house intended demolition," said Amina.
She praised the work of Alan and hoped those who have remained behind will keep his work alive, recalling how every dress she wore from African Heritage was such a showstopper wherever she went.
Ojay Hakim spoke passionately about his 15 years of experience working with Alan Donovan remembering him as a caring and humble individual.
Ojay, who saw the African Heritage House come from scratch joined the company as an intern and later on became the creative manager at their downtown premises and since 1988 recalls how Alan was immersed in expressions of African music, food, design, clothes and interior design.
Model Khadija Adams said Alan discovered her and encouraged her to model telling her how beautiful she was.
"Today I wear what Alan designed for me in his remembrance," she said.
But the people that felt so much attachment to Alan were the Jabali Africa brothers of Joseck and Justine Asikoye who owe their success to Alan Donovan.
They first met Alan at Paa Ya Paa Cultural Centre and immediately struck a relationship that would last for years.
"He gave a gig every Saturday and Sunday and we became a permanent feature at the African Heritage Ltd on Kenyatta Avenue. In 1995 he took us on a European tour and instead of coming back to Kenya he took onward to the US for another tour," said Asikoye who recalls the man believed in their art.
He expressed his doubts if they would return to Kenya soon since they were good and the American people would certainly fall in love with their music.
Today Jabali is permanently based in the US and has just won an Emmy nomination for their song on the Black Lives Matter.
"Alan's death to me is a big blow especially to African culture and preserving African heritage. The question is, are we going to fit in in his shoes and keep the work going. Alan made you love Africa and made you love who you are," said Asikoye who together with his brother Justin performed at the funeral yesterday.
Also performing was Nyatiti man Kake Wakake who played numerous numbers including Lowo in his mother tongue Dholuo.
The song is a dirge cursing the soil for consuming the lives of very many good people from our midst.
"Mayoo, Mayoo, dala koro dong' gunda. Lowo okawo Alan Donovan Yawa. Lowo , Lowo, Lowo jajuok. Lowo okawo osiepa mane ageno," so went the lyrics.
Wakake just got Alan's old Nyatiti got fixed a fortnight ago and the latte just promised to have Wakake a nice costume for his future performances on stage.
"Now I am here performing in his last event on earth without the clothes he had promised. Death is such a sting," said Wakake.
Alumni of the African Heritage include Ayub ogada, Gido Kibukosya, Jack Odongo, Supermodel Iman Khadija Adams, Emma Too, Catherine Karl, Lois Mutua and Agnes Alando.
Alan had numerous programmes that helped hundreds of artistes realise their dreams including organising beauty pageants, fashion shows, music tours, and promoting artistes.
Alan died before completing his pet project of establishing a fund that would continue helping older artistes.
Whilst Alan is most closely associated with African Heritage, he was responsible for curating the ground floor of the National archives and the Nairobi Gallery.
He tried to turn a portion of Nairobi cCity Park into a sculpture garden where the works of four of Murumbi's favourite sculptors were on permanent display.
Before coming to Kenya Alan had worked in Nigeria as a State Department officer where he served as a relief worker in 1957.
He quit in 1968 and got involved with artistes there, including Muraina Oyelami of Oshogbo.
After the death of Kenya's Vice President and his wife Sheila in 1990 and 2000 respectively, he ran the African Heritage Ltd on his own and in 2003 the company folded up.
He registered the African Heritage House that he ran till his death.
He is survived by his sister Marylin Cornish of Colorado.