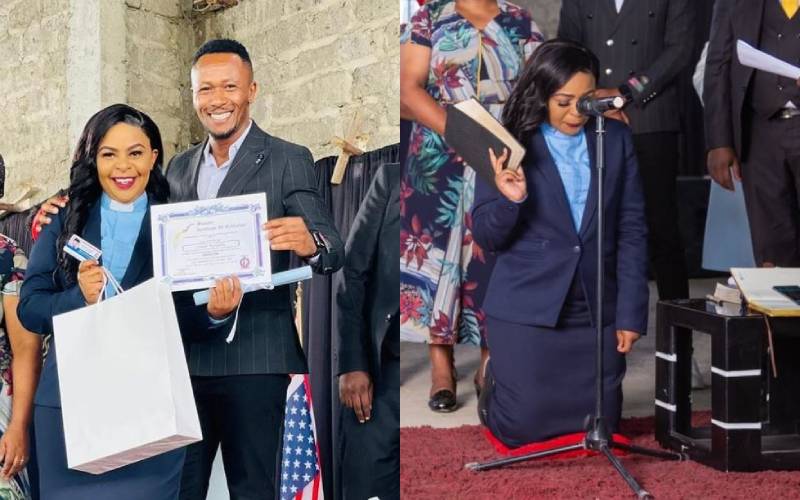 Gospel singer Linnet Munyali Muraya, popularly known as Size 8, is officially a pastor.
The Mateke singer was ordained as a pastor on Sunday, December 12, at JCC Thika under her mentors Pastor Kelvin Ephraim and Pastor Jackie Kelvin.
In her message on Instagram, Size 8 Reborn, as she refers to herself, said it was by God's grace that she became saved and ditched secular music for gospel.
The singer even recalled how people doubted her salvation after giving her life to Christ eight years ago, but says she is happy with the woman she has become.
"I am overwhelmed by the doing of God through Jesus Christ in me. When I got born again many wrote me off and said I won't even last a week in salvation; eight years later now see God... His grace saved me from the secular world of music through Jesus Christ. His power through His spirit changed me to who I am today," wrote Size 8.
The singer's husband, Samuel Muraya, aka DJ Moh, who stood by her side throughout the ceremony, said he was proud of his wife and vowed to support her work in the ministry.
"Babe @size8reborn - I will support you in your ministry - I admire your love for God. Today is your day to be ordained as a pastor. Proud of you," he wrote.
Other celebrities, including Milly WaJesus, Kabi WaJesus, DK Kwenye Beat, and Lady Bee, were present at the ceremony.
In a previous post, Size 8 said her life was like a movie after getting saved, given the things she went through before the ordination.
"My life is like a movie - from the secular world to an ordained servant of God. GODS GRACE IS Real. I got born again in 2013, I started the Gospel music journey, five years later, and in 2018 I went to Bible school and graduated. Now eight years later, I am going to be ordained," she said.
Speaking to Standard Entertainment in a previous interview about her decision to get saved, Size 8 said despite her fame in the secular industry, she had no peace of mind and wanted to transform her life and career.
"I have been born again for quite some time and my songs were in conflict with my faith. As much as I was making big cash and commanding a massive fan base, my heart was not at peace," she said.
The pastor said that she was so committed to her cause that she even had to go back to her mother's residence to seek counsel.
"The whole booty-shaking thing is now a thing of the past. I am doing everything for Jesus my Lord," she said, adding that she no longer wants to sing songs to entertain people but rather bring souls to Christ.
Related Topics