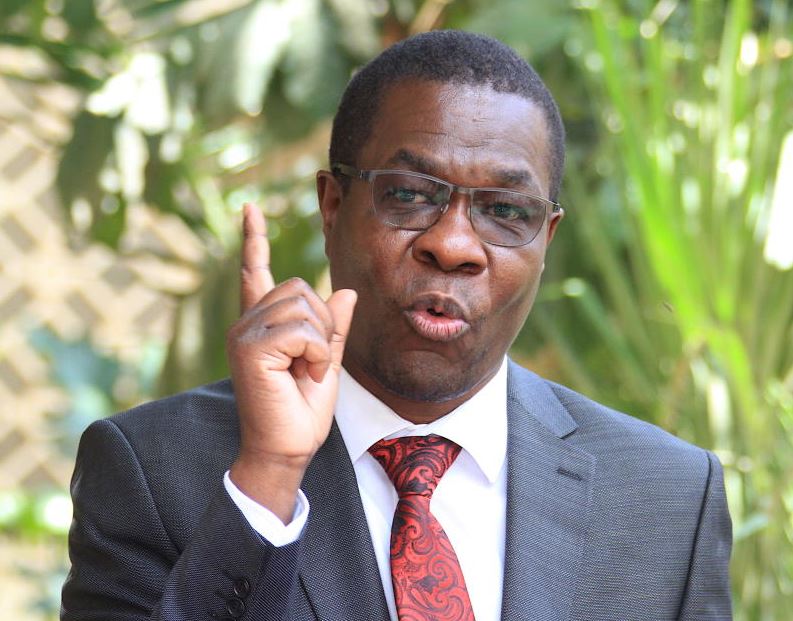 As personable and easy to talk to as Ugunja MP Opiyo Wandayi is, he is also measured in what he says. He is a fairly private person, he tells me. I think it is because he is a politician, but he says he does not consider himself a career politician.
He was active in politics in his university days and for a good while after, even getting jailed for five months as a perceived aggressor after the 1997 Saba Saba (July 7) and Nane Nane (August 8) protests in the fight for multi-party democracy.
He was more of an activist, he says.
If he could have the chance to have a drink with anyone, he tells me, that person would be Burkina Faso's ex-president Thomas Sankara, the revolutionary who has been referred to as Africa's Che Guevara.
"That is a person that I would have wanted to share a table with because of his progressive thoughts. Revolutionary thinking," he says.
"I have read about him many times. I love revolutionary literature. Che Guevara, Thomas Sankara, Nelson Mandela – they really inspire me."
It is easy to see why they inspire him. He never shied away from speaking his mind.
In his first term, he earned himself a full year's suspension from Parliament, the longest ever in the history of the Commonwealth, for attempting to disrupt the State of the Nation address together with his colleagues.
He ended up serving four months of that suspension before a court order earned him reprieve.
Out of place
That volatility and brashness does not come across at all during this interview. The proprietor of the restaurant we are in comes by our table and the lively banter they have is clearly that of old friends.
"You know, things have really changed!" she says.
"Back in the day, politicians just stayed in Parliament and had tea and lunch there. You would never see them in such places. But now even after they are elected, they still come to the old joints they used to go to before they were elected."
She says it alienated parliamentarians, who would find themselves lost and distant from old acquaintances once they were out of office. Wandayi agrees. It is something he avoids.
"I see that a number of my colleagues feel out of place when they leave Parliament. They take longer to come to terms with it," he says.
"I try to be as ordinary as possible. Once you get into leadership you do not need to alienate yourself from people; otherwise, you create a disconnect which can be fatal. One thing I am sure of is that even if I left Parliament tomorrow, I would adjust very quickly to life outside Parliament."
That may be because he has already had a successful stint in the corporate world.
Wandayi was in Parliament as the personal assistant to the late Deputy Speaker Joab Omino at the beginning of 1998, but in July that year, he left politics and joined British American Tobacco (BAT) Kenya as a field officer.
By the time he resigned in February 2013 to rejoin politics, he had risen through the ranks and was living as an expat in Kampala, where he had been sent on a two-year international assignment as the Leaf Business Sustainability Manager for Uganda and the Democratic Republic of Congo.
"When I was in BAT I worked largely with tobacco farmers. Basically ordinary people in the rural areas. I would visit them occasionally. That is what drove me to elective politics because from an elective position I would be able to influence policy and make a difference in the lives of the common person," he says.
Momentous decision
Quitting a great job to vie for the position of first MP for then newly created Ugunja Constituency (hived off Ugenya Constituency) was a momentous decision.
Almost as significant as when he contested for and won the position of chairman of the Public Accounts Committee when he came back to Parliament the second time.
"It was a tough contest because the position naturally attracts a lot of interest not only from within Parliament but also from without," he says.
He has held the position for about four years now, which he says probably makes him the longest-serving chair of the committee in the history of the Kenyan Parliament.
"People usually last for about two years," he says.
The best part about holding that office?
"From that position, you are able to have a total view of government expenditures, of how taxpayers' money is utilised by the government either through the ministries, State departments, commissions or independent offices. You then can shape the direction that such expenditures will take subsequently based on the report that is generated," he says.
All this might never have been if it had not been for his elder brother, Prof Okoth Wandayi, who lectures at the University of Nairobi.
The parliamentarian is the last born of 10 siblings. He lost his father as a toddler and therefore did not get to know him. So, his brother, who had succeeded academically, took the reins.
"He is the one who inspired me most. He would buy me textbooks those days in the village when no pupil had the luxury of owning a textbook. The support he provided us with enabled me and my other siblings to have a smooth life, at least in school. That has really been useful in shaping my career," he says.
The politician has his own family now. He met Sharon during his formative years at BAT, and they married when he was 27. They have four children aged between seven and 20. He won't go much further into his personal life, though.
"I have always wanted to keep my family out of the limelight. In my political life, my family has always remained in the background and it has worked well for me," he says.
Wandayi is now much less vocal about his opposition, and his ideological views have also changed.
"Whereas initially, I leaned more towards the left ideologically…" he pauses, musing about it before continuing, "… I still do, even though I am now oscillating at the centre."
He says he still believes that capitalism is not bad, as long it has a human face.
"What I mean here is that I do not really agree with the culture of primitive accumulation of wealth. I also do not despise wealth, but not its primitive accumulation," he says.
"I believe we can still have a situation where people can make wealth for themselves and yet work jointly towards creating safety nets to cushion the common man. That is assuming that the governance system in place is accountable and therefore from the taxes of the people it can provide social services to everyone. That is my philosophy."
Related Topics