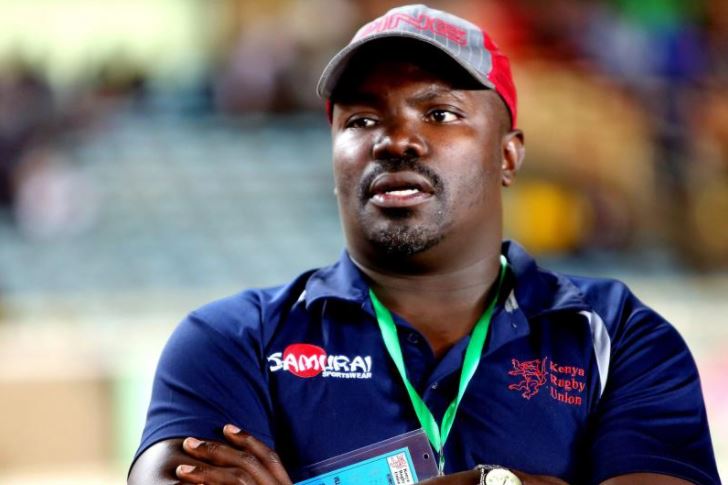 Human beings are glued in a common silent accord against death. When Benjamin Ayimba Otieno breathed his last on Friday last week, the whistles in the field went silent, the stands in the stadium were noiseless, the rugby fraternity heads hunched down in sorrow, and the country was engulfed in grief.
Ayimba's death pricked us all, the heartache master did a number on us. We all shared the pain of his immediate family and closest friends. One day death will die! The oval ball tactician and a back-row specialist was a man cut from a different cloth. He stitched his team with confidence and grit. He sutured his players with hard work and resilience and when he triumphed he sealed the victory with drinks and celebration.
Ayimba was a legend to Kenya's rugby fans, a myth to the outside world who saw his team as an underdog and a human to those he interacted with outside the confines of the rugby field.
The former Kenya Sevens and15's captain's legend grew into international reverence in 2016 when he masterminded Kenya's Main Cup triumph at Singapore Sevens.
Shujaa pulled off a shocking 30-7 victory over Olympic champions Fiji to clinch their first-ever World Sevens Series title on Ayimba's second stint as the national team coach.
But nothing shows the character of a man better than when he tastes defeats. In loss, Ayimba was calm and in victories, he was calmest. He knew the tragic end of erecting a monument over his victories and he never spent considerable time chewing the cud of defeat.
"Benja was the calmest when we lost a match, he would go through our mistakes with us and not once from his talk did we feel a defeatist mindset settling in; our morale even after losing was always sky high, that was Ayimba for you," says Curtis Olago, former rugby player and current Kenya Under 20 rugby coach.
We revere men who built themselves from scratch, the Maseno alumni went through fire and he came out refined as gold.
As Nietsche rightly put it, "When a person goes through fire for his teaching - what doth that prove! It is more, verily, when out of one's burning cometh one's teaching."
Ayimba played for Impala as a rookie (back row) in 1995 after completing his schooling and went on to captain the Red Shirts to two Kenya Cups, Enterprise Cups and Floodlit tournaments in 2000 and 2001.
He also inspired the team to three National Sevens Circuit titles between 1999 and 2001. He then moved to record Kenyan Champions Nondescripts in 2002 before joining English side Cornish Pirates the following year.
Before venturing into coaching, Ayimba had featured for Shujaa in 1998, 2002 and 2006 Commonwealth Games as well as the 2001 and 2005 Rugby World Cup Sevens tournaments in Argentina and Hong Kong.
He then had a short coach/player role for the Simbas, before serving as Shujaa coach between 2006 and 2011 after succeeding Impala's Bill Githinji.
It is Ayimba's style of nurturing young talents that will outlive his legacy. He was an artist, he moulded boys to men, rookies to stars and he inspired teenagers to love The Gilbert Match Ball.
"I am what I am today because of Coach Benja, he picked me for the national team in 2006 when I was just learning my ways into rugby," says current Kenya Seven's skipper Andrew Amonde.
"He wished us luck and encouraged me to do my best when I got my call up to represent the country in the Rugby 15's aside, he was my biggest cheerleader and mentor," says Geoffrey Ominde, current Kenya 15's player.
As the nation and sporting world comes to terms with Ayimba's demise, no single sendoff will befit a man who single-handedly booked Kenya's place in the global map of excellence in Rugby.
Indeed, as the German philosopher and critic Friedrich Nietzsche observed, "Everyone regardeth dying as a great matter: but as yet death is not a festival. Not yet have people learned to inaugurate the finest festivals." Rest well, Coach Benja!