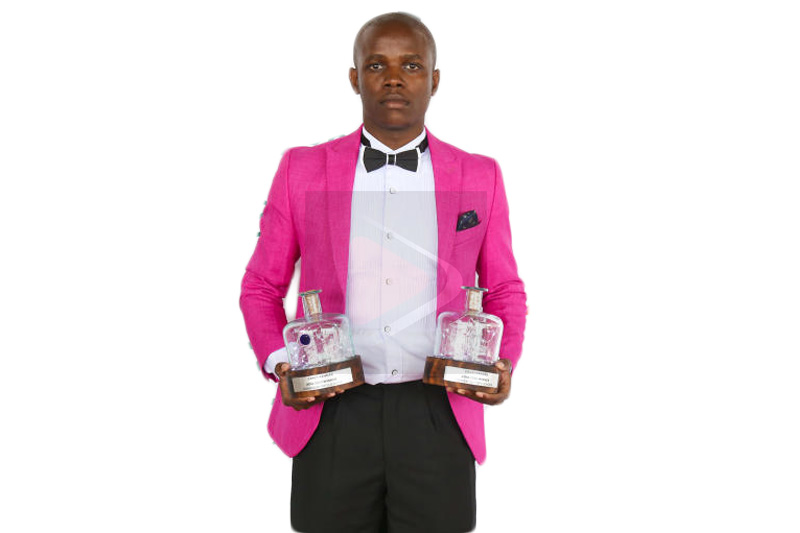 Crazy Kennar, born Kennedy Odhiambo, refers to himself as 'The Content Cartel.' He is definitely at the top of his game having recently been named Comedian Influencer of the Year and Go Beyond Influencer of the Year by Africa Digital Leadership.
Fans know little about this eccentric comedian, but as we find out in his exclusive interview, he's not in it for the money or the fame, but to be his true self.
Kennedy Odhiambo is an Actuarial Science student in JKUAT. And yes, we are talking about the same guy who made the video of Khaligraph Jones' freestyle "Send fare" and destroyed rapper Octopizzo in a mere 35 second skit. Crazy Kennar's comic efforts have always been quite genius and oftentimes exceptionally madcap, whether it is the guerilla comedy of relatable day-to-day lives of Kenyans, or his sponsored content that feels anything but. He started comedy when he joined campus in first year with his close friend Stanley Omondi.
"I was looking for an acting platform in campus," he says.
Finding none they decided to pioneer their own thing.
"We did vines and other comedy skits where the main component was running around. Delivery of comedy back then was all about literally running around," he adds in a chuckle.
That was back in 2017 when comedy on Instagram was still in its infancy. With support from campus students and lots of shares, one video went completely viral in his second year and changed the game for him. But the road to that moment had been marred with challenges and lessons.
"We would shoot one video for six hours. We were three at the time yet a one minute video took all day to shoot. The problem was we had just started, but wanted to be pros. We wanted to take overhead shots, establishment shots, have a detailed storyline etc. Other times we did not have a clear script and by the time we shoot the joke was gone," says Crazy Kennar.
But those challenges were just the tip of the iceberg.
"After editing the video you find it is 700mb and you know your phone is 1GB, so you automatically know you cannot upload. Till now, I have videos I have never uploaded," he adds, but acknowledges that even through the hardship, they found it quite fun.
Like many other comedians, he had always had a passion for acting, but what sets him apart is his clear-cut preference for content creation, of whichever kind.
READ ALSO: Maina Ndegwa- Student tickling Kenyans with hilarious memes of key figures
"I was never a comedian. I was a narrator in drama productions in school. The narratives used to be funny at times, but I never really saw myself as a comedian," he confesses.
Though he has done this work for close to four years now, Crazy Kennar's workflow has not experienced much transformation. He starts with coming up with an idea for a video, a small feat for this crazy comedian.
"Ideas are everywhere. We make observations in our daily lives then create videos around it. Like how we realized Juja is dusty, we plan to shoot that video today."
And just like that the two minute videos you see on your Instagram are born. The content Cartel, as he calls it, is made up of a team of six who work in the Tales of Crazy Kennar Productions. Along with him is actor Steven, Cynthia (Shee), Yvonne and Bushra who are actresses and Stanley who is the production manager.
"We all live around the same area so when we need to shoot it's easy to trace each other. We also have working days and a central house that we use as an office."
Despite what it seems from the videos, the crew is serious about their work and committed to a tee. They churn out as many as 10 videos a day and work around the clock to make people laugh. They even worked on a short comedy film called 'Bushritar' and are currently working on Season 2. The videos are edited by Crazy Kennar himself, an art he taught himself on YouTube following challenges outsourcing to other people.
"I have a time limit on my work and following people to do their part is exhausting, especially now when I am working with brands," he says.
Influencer marketing has been gaining steam in Kenya in recent years and more so in 2020 with the pandemic changing the way we use the internet. Brands that were previously only advertising in traditional media changed tact to focus instead on social media marketing. For Crazy Kennar, he was perfectly poised to get a piece of the pie.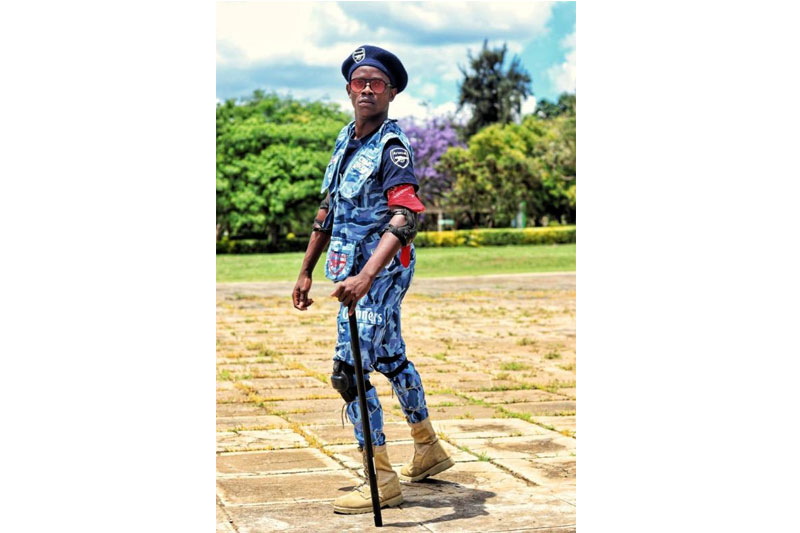 "I have worked with several brands like Tusker, DStv, Game Supermarket, Chrome Gin and Airtel, among many others some as a brand ambassador and others as an advertiser," he says, adding that the pandemic was a blessing in disguise.
"In the next five years, everything will be online including news and advertising. And I believe we are the next millionaires," he says.
His secret to being able to roll out good content consistently while securing big business deals is delegating as much as possible.
"You need a manager to focus. To be productive you need someone else to attend the business meetings and set up interviews while you shoot the videos," he says. Even his Instagram is taken care of by his manager, unfortunately for the hopeful singles flooding his DMs.
"As an artist you can't eat alone. You have to specialise and let other people do their work. That's why I never lack content. I am always producing work."
But content creation is only but one chapter of what he deems as his public service. He is also an advocate for good mental health which is why he makes it a huge mission to make people laugh. Actress Shee says they have always taken issues like depression seriously but especially in recent months. "We had a loyal fan who committed suicide because he had mental issues and it felt so personal, that is why we started this," says Shee.
That is why they started a campaign around it.
"I am running 'Stand against Depression', which is an initiative to encourage people to speak out and share their stories. We are working on making it a real movement," says Crazy Kennar. Although he has not experienced depression himself, he empathizers with the victims and is elated when fans comment how his videos uplifted them. For him balancing every aspect of life is key in taking care of your mental health.
He has been quite successful so far juggling creating content on the internet and doing a tough course.
"With four classes a week, which are two hours each, I do work in between. Even during exam time, shooting never takes a break. Doing what you love makes it easier to make sacrifices," he says, "In my free time I watch SCI-FI movies like Avengers or Transformers. I enjoy movies that look far removed from reality. That's because I like looking forward to the future. Watching people doing everyday activities doesn't really excite me I would much rather get entertained with something foreign to me."
The biggest question is whether he will stick around long after becoming famous and snatching up all the brand deals to which he answers a resounding yes. He has been approached to be a presenter before but shares no interest in going the normal route of many Kenyan creators. Instead, he wants to create employment for himself and empower other youths to do the same.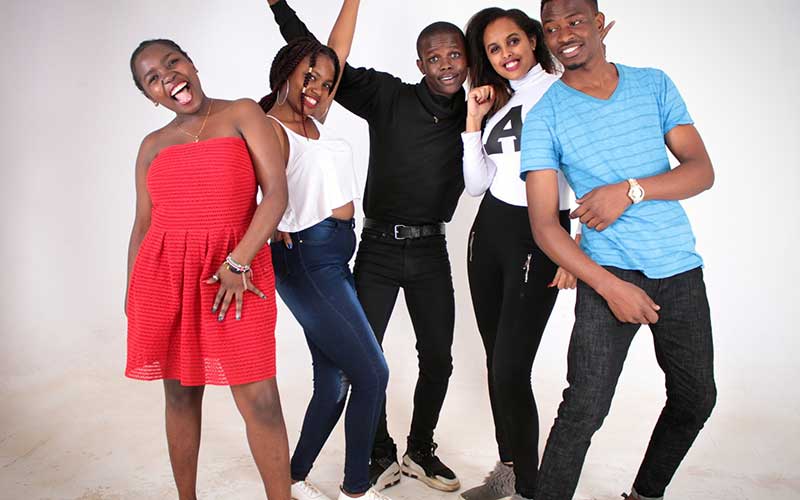 "I had a job creating content for radio and it was okay, but I wanted more. It is not about the money. I did content for two years on YouTube not getting a single cent, but we still did it consistently. I remember we would even pay to hire locations knowing well we would get no money from the resulting video. The experience helped me learn that I enjoy being my own boss," he says. His aversion to mainstream media is no just about working for the man or being called an 'upcoming comedian' which he dislikes, but his qualms is mainly with blogs as he feels they do not propel the industry by posting relevant industry issues.
"Why should you post about someone's sex scandal after they drop an album they have worked hard on and not speak about this work?" he questions.
READ ALSO: Mark 'Mwas' Mwangi- Rising comedian cracking ribs with high school skits
The whole group is in agreement that Kenyans and especially Kenyan media are their own worst enemy.
"Any moment Diamond lands in Tanzania, he is flooded by news channels and blogs and whatever he does all Tanzanians are bound to hear of it. But with Kenyan artists, they are snubbed in favour of clout chasers like Shakilla. So there is really little support in our own industry," posits Stanley Omondi.
Another challenge in the industry is most comedians do not take it as a serious work. They are only there for the recognition ad money after which they disappear. For him, even taking comments personally would make him unprofessional.
"I read my comments. I get bad comments sometimes, but I take it in stride. Someone is driving from work, he is tired, he has not been paid and you are here advertising a betting company. Of course he will be angry. But it's normal. Tomorrow he will be the same person saying I'm a genius," he adds playfully.
Having made a name for himself in the comedy circles, getting awards and venturing where other content creators have never before, Crazy Kennar knows that he is hurtling towards immortality and he doesn't take it lightly.
"I plan to graduate from my degree and fully immerse myself into my work. We will take it to the next level with a number of projects," he says. "There are a lot of things in the horizon that I am not ready to divulge yet but expect great things."
Related Topics