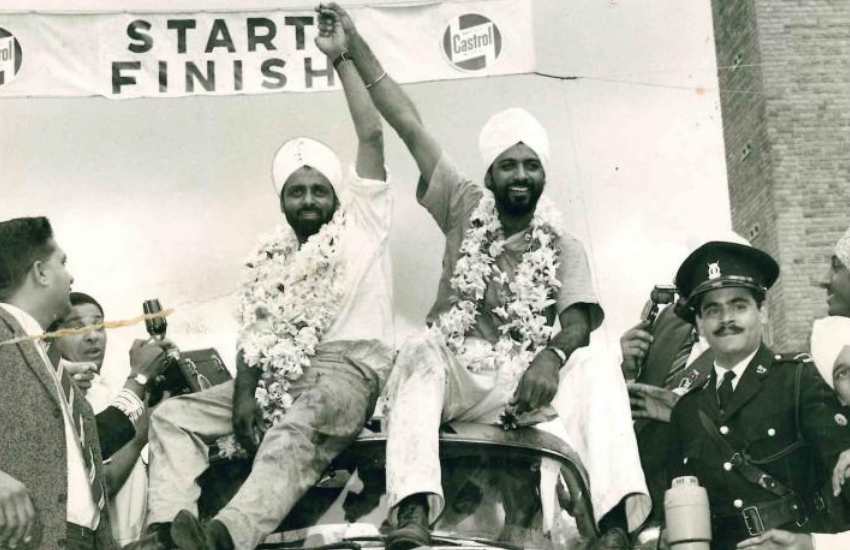 Kenya boasts of famous Kalasingas like the late Safari Rally icon, Joginder Singh, often co-driven by his brother, Jaswant Singh. They were known as the 'Flying Sikhs.'
Joginder Singh's love for rallying leads us to another area the turban sporting Sikhs are famed for: crankshaft grinding and other engineering related hands-on businesses, as Gurmukh Singh notes in his 2003 book, Global Indians: The Rise of Sikhs Abroad, where we're informed that the Kalasingas came down these shores in the 1890s as labourers during the construction of the Uganda Railway and as cops for the Imperial British East Africa Company, the caretakers of Kenya on behalf of the British Crown. In fact, Kapur Singh became the first Indian Inspector of Police in 1895.
Read Also: Why Indians can't stand the 'shame' of being broke or poor
Sikhs mostly come from Punjab, Northern India. Their Sikh religion was founded by Guru Nanak in the 15th century. Adherents of Sikhism are identified by among others these five Ks: Kesh (uncut hair), Kara (a steel bracelet), Kanga (a wooden comb), Kaccha (cotton underwear) and Kirpan (steel sword). Unlike Hinduism, Sikhs have no caste system.
Some Sikhs got into our politics, like Makhan Singh, the father of trade unions in Kenya, who was jailed in Lokitaung Prison at Kapenguria three years before Mzee Jomo Kenyatta made it famous after being condemned to colonial posho for nine years from 1953 alongside Fred Kubai, Kung'u Karumba, Paul Ngei, Achieng Oneko and Bildad Kaggia.
Businessman Alderman Mohan Singh rose to Deputy Mayor of Nairobi - the first non-odiero - in 1957 when Israeli, Somen, became the first Jewish Mayor of Nairobi. Mohan Singh succumbed to a heart attack at Nairobi's Aga Khan Hospital in 1966 at 48. Then there is Justice Chanan Singh, who chaired the Law Society of Kenya for a year to 1959, before becoming Kenya's first Kalasinga Chief Justice. Another Sikh, Pritam Singh, served as Registrar of the High Court in 1978. It was Pritam Sigh who swore in Daniel Moi as President. He is now retired.
In hospitality, G.S. 'Channi' Vohra (alongside John Ngata Kariuki's family) invested in the Sarova Group - Kenya's top-five largest hotel chain, now run by his son, Sandy Vohra. We almost forgot Avtar Sigh Sohal, another Kalasinga who captained the Kenyan hockey team to four Olympic games from the 1960 Rome Games to the 1972 Munich Olympics, besides serving as coach in the 1984 Los Angeles Games. Oh, and the Guru Nanak Rally is a Sikh effort as well.
Read Also: Why we Indian women would rather wear ugly Sh200 shoes and over Sh10,000 jewellery
But did you know how Sikhs got the name Kalasinga? Well, Gurmukh Singh in The Rise of Sikhs Abroad informs us on good authority that one Kala Singh, an adventurous spirited construction businessman traversed the colony after coming to Kenya from Punjab, India, in the 1890s and founded Munshiram Kala Singh & Company. He was a familiar face in Maasailand where his kilemba and thick beard made him a curiosity of sorts. Kenyans could not pronounce, Kala Singh, as two different names. They combined them to 'Kalasingha' and 'Kalasinga' as it's spelt today stuck to the Sikh community!