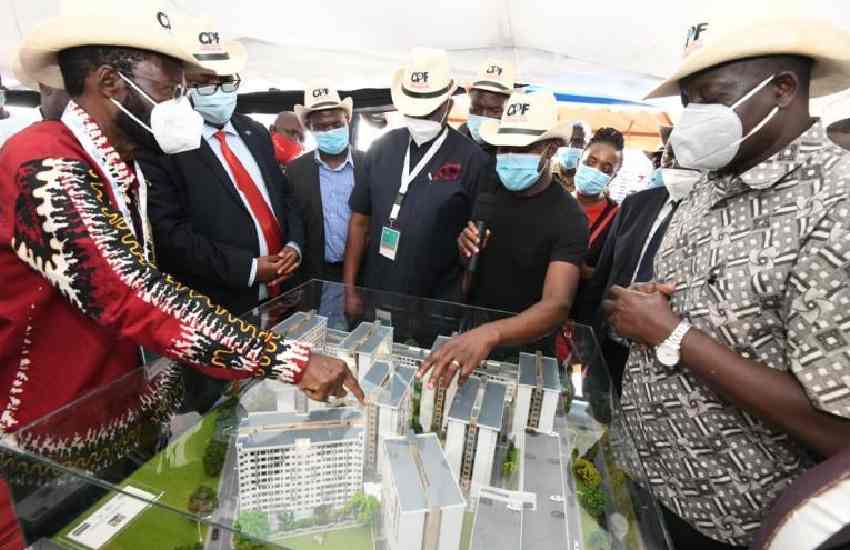 The 63-year-old Anderson Ofafa Estate in Kisumu will undergo a Sh3 billion facelift thanks to the County Pension Fund and Laptrust Fund.  The county authorities have embarked on a two-year low-cost housing project to give the estate a new look befitting Kisumu city status. On Wednesday, Governor Anyang' Nyong'o laid the foundation stone for the houses of retirees from the defunct Kisumu Municipality.
Some tenants have lived in the houses for more than 20 years and were paying as low as Sh4,000 for a one-bedroom or two-bedroom house. But now, the houses, which they have lived in for years, are set for an upgrade with a vision to make them homeowners in the noble low-cost affordable housing project mooted by President Uhuru Kenyatta. Kenya's Affordable Housing Programme (AHP) was launched in December 2017 by President Kenyatta as one of the national government's four pillars of growth.
Read Also:Kisumu's new posh estates for the rich
The Kisumu Housing Project comes at a time when the city's bulging population is continuing to pile pressure on housing demand amid an acute shortage of low-cost houses. Currently, demand for housing, according to the County Lands and Housing Executive Dickson Obungu is 250,000 annually against a supply of 50,000 as the city grows.
Currently, the proportion of the urban population in Kisumu has risen from 482,327 in 1979 to 664,086 in 1989 to 804,289 in 2009 968,909 persons with 474,687 males and 494,222 females. The county's population stands at 1,155,574 as per last year's census. Acting city manager Abala Wanga envisages Kisumu population will double in next 20 years.
Nyong'o said the growing population has necessitated fresh spatial planning. "So we have to look at the distribution of people and activities in urban areas and towns to improve their housing, economic and social environments," Prof Nyong'o said. Laptrust CEO Hosea Kili released a cheque of Sh76,000 each and an additional Sh100,000 to facilitate the relocation of the affected 1,200 families.
The Andersen Ofafa Estate was home to 246 families staying in 39 blocks. Each family was paid a year's rent based on a mutual agreement with CPF and LapTrust.  The former tenants will be given priority on buying the new modern housing units. According to the project's architect Peter Wasilwa, each of the one-bedroom houses will be offered to the former tenants at an affordable cost of Sh1.5 million. The two-bedroom houses will go for Sh2.5 million, while a three-bedroom house cost Sh3.5 million. Non-tenants will part with Sh1 million more for the units.
Read Also: Does your account read Sh100 million? This is where the rich live in Kisumu, Mombasa, Eldoret
The tenants will have 10 years to offset Sh1.5 million for the one-bedroom houses, paying Sh12,500 monthly. Kisumu is the third-largest city in Kenya after Nairobi and Mombasa and is in Lake Victoria Basin Commission headquarters for East African countries.