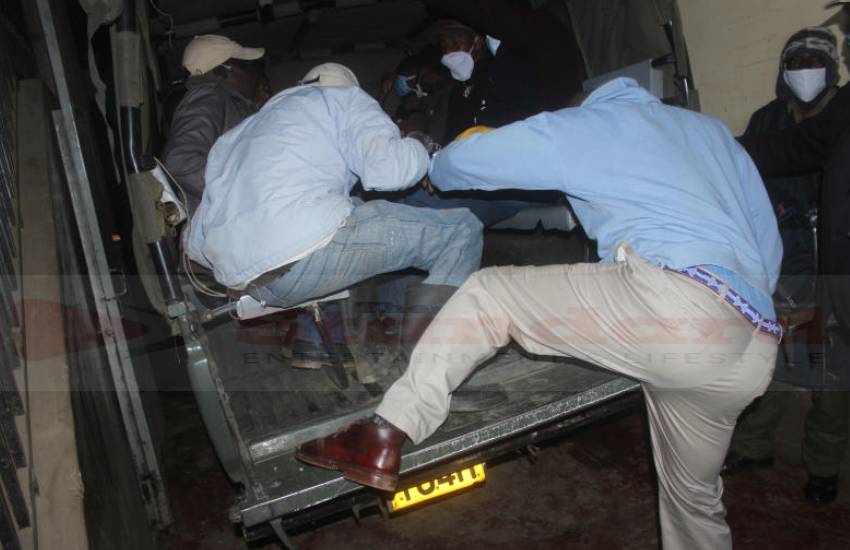 On Friday, at exactly 8:30pm, the lights at Whiskey River Lounge along Kiambu Road went off, as the security personnel walked from table to table urging revellers to take a hike. "But it's not 9 yet…" one of the tipsy ladies celebrating a birthday party asked, disappointed. "Makarao watakuja kuwashika," the burly security man, with a T-shirt written 'Wazito' explained.
The lady, in a group of about 10, hastily picked her coat and purse, and headed for the door. Earlier, at 8pm, deejay Joe Mfalme had played his last song, then took a break as his crew dismantled his hardware. By around 9pm, only the staff remained, working quickly to pile up the seats and clear tables ready for the next day.
That's the new norm for clubs not wanting to be on the wrong side of money-hungry and violent cops, as was the scene at Quiver Lounge, located on Thika Superhighway.
As the CCTV shared on social media showed, tens of revellers were captured running away as cops descended on the popular joint, clobbering patrons and staff and smashing bottles and glasses at the counter. Tear gas canisters were used, as were police batons.
Read Also:Curfew: 10 ways Kenyan daredevils are beating the system
Another video shared widely on Monday showed AP officers hovering on the till like thugs on a spree, while a civilian tried, amid a few hits by a baton, to keep them away.
In yet another video shared on social media, police Land Cruisers can be seen packed outside 1824, along Langata Road, on Friday night. The video shows a few people being led to the vehicles, with only the police able to state whether they were arrested or not. Later, it emerged that property of unknown value was destroyed, security personnel from the club injured and the gate at the main entrance brought down.
Patrons at Moran Lounge were also allegedly harassed last weekend, when cops accessed the premise before 9pm. It is alleged that they also arrested people hanging outside the place.
According to Inspector-General of Police Hillary Mutyambai, 840 people were arrested for flouting various public regulations, which include curfew hours, and face masks among others. The number of those arrested was between 800 and 1,000 people, depending on whom you asked, with those arrested expected to be arraigned. "This operation will continue in various parts of the country because we want everyone to be safe," he said.
The operation was not confined to Nairobi 
On Friday night last week, a total of 97 bars found operating past 9pm were closed in various parts of the country and their business licenses withdrawn.
In Mombasa, governor Ali Joho accompanied police officers as they carried out raids in different joints, as patrons scrambled at the sight of officers.
Two hundred revellers in Nakuru are said to have battled police for four hours on Saturday night as they resisted arrest. Eighty-six of the estimated 200 were eventually arrested, all from Sebs Nightclub and Restaurant where they were alleged to have continued drinking and dancing past the 10pm curfew.
"The suspects were all booked and the license of the club confiscated," Nakuru Town East sub-county Police Commander Elena Kabukuru said. According to an inside source, the police force created a special task force targeting entertainment spots and social gatherings. "It's a quick response unit under the regional and county commanders and their mission is to enforce Mutyambai's orders and ensure set regulations are followed under the president's directives," said our source.
Read Also:Vigilance in entertainment spots tightened as curfew kicks in - Nairobi
However, with the rising cases of the Covid-19, few arrests were made for only the 'stubborn' patrons. "We could not arrest everybody as the numbers would be too high in jail. The mission is to destroy property to ensure the proprietor learns a lesson and will not dare to flout the rules again. It's the only way to tame tough-headed club owners," added our source.
According to accounts from those who had previously been arrested, the cops were ruthless in demanding bribes, for those not enthusiastic to see the inside of cells. "If arrested and you really begged to be released, they would not demand anything less than Sh10,000. They were absolutely ruthless," claimed a victim.
So unbiased were the arrests that in an audio recording in our possession, a woman suspected to be a politician is heard speaking, after allegedly being arrested at her Guava Tree Restaurant in Hurlingham. Nairobi Governor Mike Sonko is on record urging revellers to observe the guidelines as dire consequences awaited lawbreakers. "A lot of these operations will target the youth. Let them observe the set rules," he said.
The Pubs, Entertainment and Restaurants Association of Kenya (PERAK) were taken aback by the actions and stated, "what we have experienced in the past few days from some of the law enforcers is totally unacceptable". "We are extremely shocked by the footage we have watched from businesses and their staff," Alice Opee, the association's national chairperson.