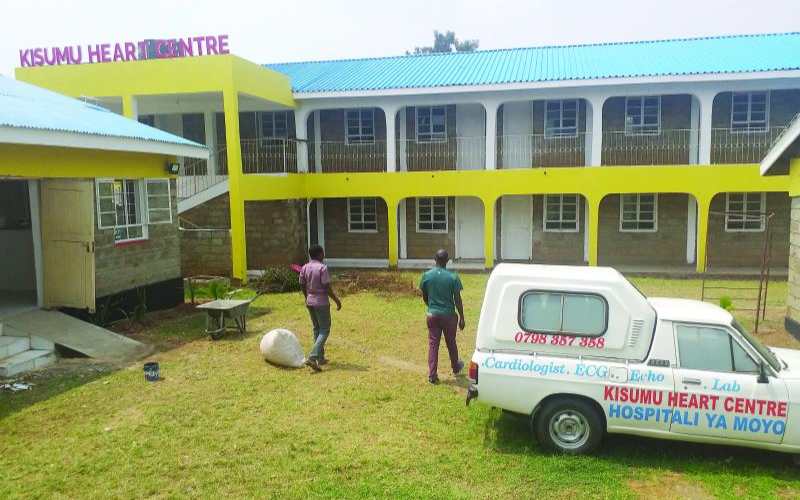 The Ministry of Education has launched investigations into circumstances under which an examination centre was turned into a hospital despite the school's registration still being valid. At least 54 Form Four students who had registered to sit Kenya Certificate of Secondary Education (KCSE) at the school are now staring at a bleak future following the closure of the community institution.
Another 50 students in Forms One, Two and Three have also been affected by the move. The students from Highway Secondary and their parents are in a dilemma after the school was turned into a health facility, with a big signage, Kisumu Heart Centre, on it.
The school is along the Kisumu-Kakamega road, near Kibuye Market. When The Standard tracked down some of the students to their homes, the learners said they were not aware of the changes, and were equally surprised. "I was heading to town when I saw the new signage on top of our classroom. I shared the same with my parents who called the principal to inquire about it," said Alfani Yusuf, a KCSE candidate.
According to Yusuf, when all students were sent home in March following the closure of all learning institutions due to the coronavirus, they were not aware of the impending shutdown.  "I have been trying to reach the teachers to know the fate of the candidates, in vain," said Sophia Mohammed, Yusuf's guardian.
Shamim Margret, also a Form Four student said she learnt of the changes through a friend. "After a friend told me, I didn't believe it until I saw it myself. I found a different guard and signage," she said. When reached for comment, Highway School Manager Ali Nasoor confirmed that the school had been closed down permanently because of financial strain.
Also read: Kenyans warned against forex trading
According to Nasoor, with the free education in public secondary schools, many students left the school, and they could not raise money to run it. "We owe teachers about Sh1.5 million, and suppliers another Sh3 million. The fees paid by the students was not enough to pay these bills," he said.
Renovations are being done to turn the school in to a hospital. Frank Sanyo, the hospital's administrator, confirmed they would move in after the renovations are done. Isaac Atebe, the County Director of Education, said he has dispatched a team from his office on a fact-finding mission. "The school has not been de-registered, so I don't know what transpired.
Also read: Sect whose members do not go to hospital
We have learnt of the developments, and we want to get all the facts right before we know which action to take," Atebe said.