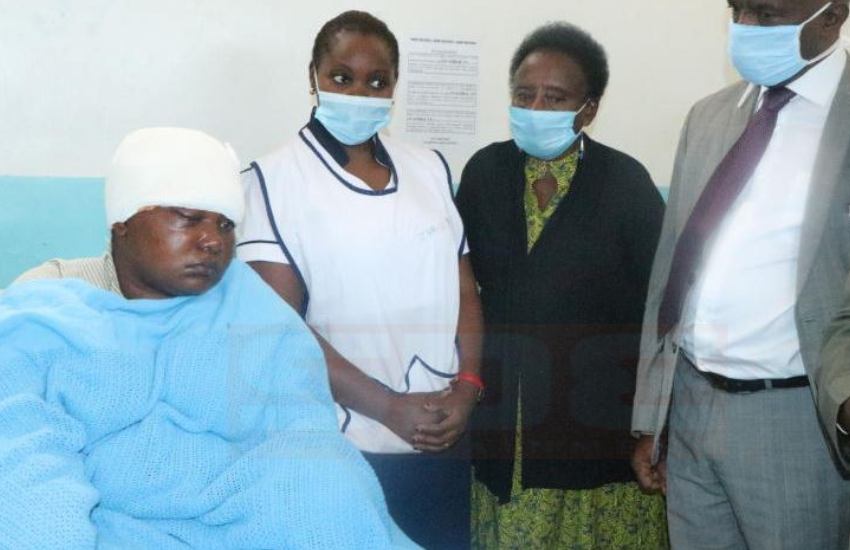 Purity Muthoki, whose hands were chopped off by her estranged husband, has revealed how her father betrayed her by insisting she remains in the abusive relationship.
Describing her marriage to Boniface Mutua as one long unending agony, Muthoki, 24, who is recuperating at Makueni County Referral Hospital, said she tried to endure in the abusive marriage for a period of three years, but it never worked.
"He used to beat me while we were staying in Mlolongo in a rented house and I decided to walk out of the marriage in March, but he followed me to our home," said Muthoki.
Read Also:Anguish - Mother of three loses hand after ex-lover chops it off in Nakuru
She blamed her father for forcing her into a bad marriage that denied her joy.
"I tried to stay in the marriage and he could fight me and I would escape to our home. He would follow me, negotiate with my father, we reconcile and I go back," said Muthoki.
She intimated her father has been in constant conversation with her ex-husband with the aim of making them reunite.
Mutua is reported to have arrived at Muthoki's home in Kwa Mavui village in Mbooni East, Makueni County, on Saturday at around 8pm. He met her father, held talks with him before Makau reached out to her saying they needed to talk and reach a truce.
"Mutua was in constant communication with my father. On Saturday when he came home it was my father who asked me to go out and talk to him. I told him I will not hold talks with my ex-husband because I had made up my mind to leave. Then at that point, my dad left," she said.
Read Also:Shock as man chops off wife's hands for overstaying at funeral
After Muthoki refused to meet her ex-husband, she retreated to her room as Mutua was directed to spend the night in a different room. A few hours later, the man climbed through the roof to her room. Mutua told his wife he had one mission - to kill her.
"He accessed my room through the ceiling and drew a machete. He told me he had come to kill me," she said.