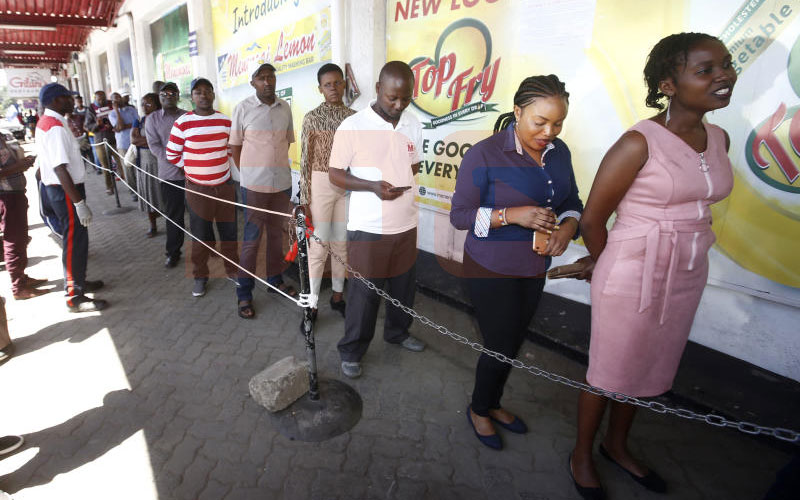 Sakayo Wambua's Sunday night stretched as he confronted head-on what has become a chilling reality of how the coronavirus is disrupting lives.
Just a week after heading out to Uganda on a work-related trip, he was returning home to a country in near lockdown after 15 cases of the deadly Covid-19 were confirmed.  
For a moment at the Jomo Kenyatta International Airport, he and an estimated 350 fellow passengers arriving from Entebbe and Seychelles were staring at the likelihood of spending the next two weeks in isolation at the four-star Four Points by Sheraton Hotel.
Asking prices
A night at the hotel, according to the officials, would cost them Sh10,000 (working out to Sh140,000 for two weeks) which might, however, be understated as the prevailing asking prices on booking platforms are nearly twice the stated amount.
READ ALSO: Doctor's advice on how to spot symptoms of coronavirus
Another group of arriving Kenyans and foreigners with residence permits that had been taken to Boma Inn protested that they could not afford Sh12,000 a day, which works out to Sh168,000 for the two weeks. They were later moved to Kenya School of Government.
Health Cabinet Secretary Mutahi Kagwe had indicated on Sunday that returning Kenyans would be allowed back home on condition that they meet the costs of being kept under quarantine for two weeks.
Among the visitors were various nationalities who had figured that they could still reach Kenya despite massive passenger flight cancellations from destinations that were already hard-hit by the coronavirus.
After more than three hours of haggling with the immigration and security officials, the travellers were allowed to go home, but with strict instructions to self-isolate for the night and present themselves at the Kenya Medical Training College campus within the precincts of Kenyatta National Hospital.
"It was very sad that I was not able to see my children even after getting home," Wambua said yesterday after the authorities confirmed that he would not be going back home after all. He was, however, able to see his wife from a distance when she woke up to open the door to their home when he arrived from the airport.
READ ALSO: Hypocrites- Janet Mbugua to churchgoers defying coronavirus directive
She would then proceed to join the children for the night in their bedroom, as part of the conditions of self-quarantine, while he went to his bed.
Early yesterday, and perhaps too afraid to expose the children to any danger, the church minister got up early, took to the shower before heading out to KMTC, as earlier advised.
All the while, he had become a stranger in his home, with his two children wondering how their father had suddenly lost interest in spending time with them on this unlikely twist of things.