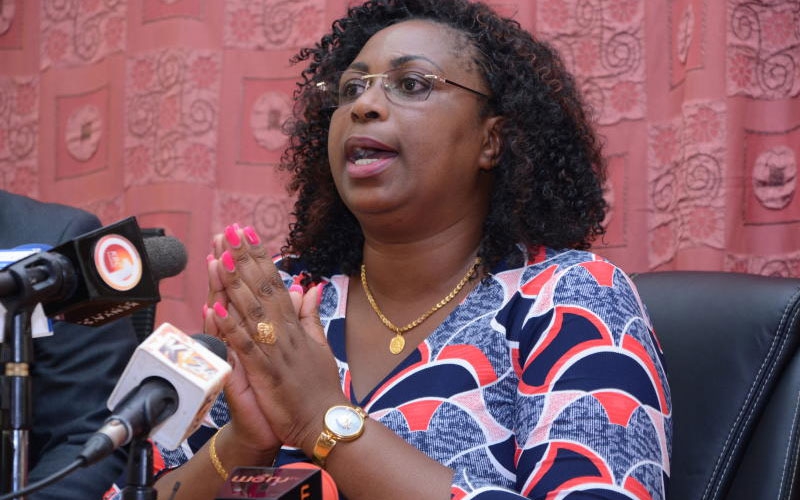 Outspoken Malindi MP Aisha Jumwa has been arrested after one person was shot dead as she allegedly stormed the home of an ODM party candidate on Tuesday.  She was apprehended alongside four other suspects are they are being held at KPA police station in Mombasa.
Jumwa was arrested on Wednesday at around 3 am after she locked out police who had camped outside her house for over four hours.  
According to the police, Jumwa stormed the home of ODM candidate Ruben Katana and his uncle was shot dead in the ensuing chaos. Katan was meeting poll agents when Aisha and her accomplices stormed the meeting.
End campaigns
Speaking before her arrest, Jumwa said that she went to Katana's home to protest the 'illegal' meeting since campaigns were concluded at 6 pm as per the IEBC laws.
"Campaigns ended on Monday at 6 pm as per the law and once I received reports that the ODM candidate was holding an illegal meeting, I decided to go and protest why police were not doing their duty," she said.
Jumwa also distanced herself from the shooting incident, saying that she does not own a firearm.
"I am not armed, I do not possess a gun or shown any interest to apply for a firearm licence. Therefore, the people who organised the illegal meeting should take responsibility for the death."
The Ganda Ward by-election is scheduled for Thursday. The seat fell vacant after Abdul Omar's election as MCA was nullified.
Jumwa had a bitter fallout with ODM after pledging support for Deputy President William Ruto's 2022 presidential bid.
Currently, I have been arrested at my residence in Kakuyuni and am being taken to unknown destination with high guarded security officers.#WeStandWithAishaJumwapic.twitter.com/jrApgg0zAI — Hon. Aisha Jumwa, Malindi MP. (@HonJumwa) October 16, 2019