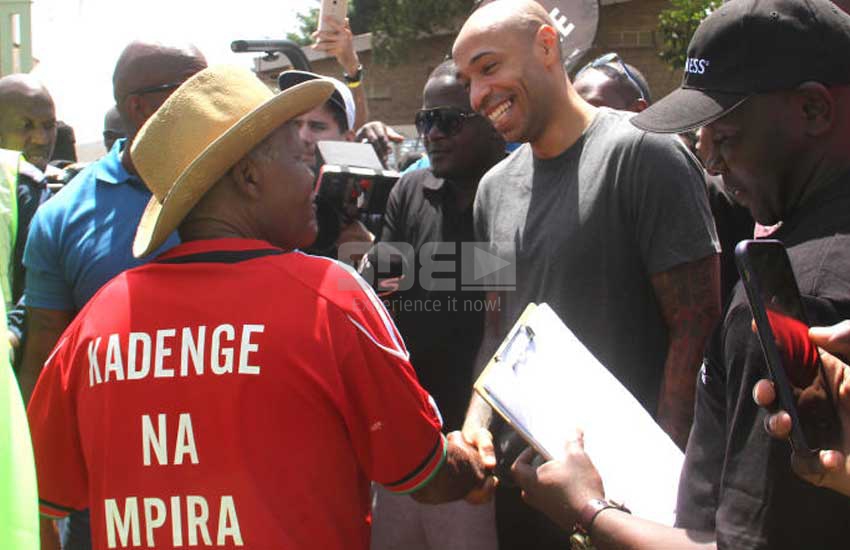 'Kadenge na mpira', the famous sports commentary, made by legendary broadcaster Leonard Mambo Mbotela popularised and made Joe Kadenge and his homespun talent, a household name.
Mbotela often said: "Kadenge anapiga keeper Siang'a chobo.....goooooal!"
Kadenge wore a Godfather hat, a fetish that is also soccer-related. This is what happened: He scored a goal against a visiting English team during a friendly match at the City Stadium and the then Mayor of Nairobi threw his 'Godfather' hat to the field in disgust! Since then, Kadenge vowed to sport the Godpapa hat, just like the mayor.
Birth of a star
But it was during the glorious Gossage Cup years that Kadenge became popular, beginning with his debut in Zanzibar in 1957, the year he also showcased his talent playing for Nakuru Combined during the Remington Cup.
The following year, Kadenge inspired Kenya's 2-0 Gossage Cup victory over Uganda, scoring one goal and assisting the other. Gossage Cup - a tourney between Kenya, Uganda, Tanzania and Zanzibar - began here in 1926.
It was sponsored by soap maker William Gossage, who was also Kenya's Commissioner for Community Development. Gossage was red carded in the early 1970s and gave way to the Cecafa Senior Challenge Cup - in which Kadenge inspired Kenya's inaugural victory.
Kadenge, who attended Musingu Intermediate School in 'Kachmega' went on  to display his magic with Nakuru All Stars, Maragoli FC and Abaluhyia FC now AFC Leopards - a club he helped win the 1966 Premier League.
Life as a pauper
The father of Oscar Kadenge and the late Francis (both footballers) was a striker for Harambee Stars for 14 years.
The football legend - who suffered a stroke in 2006 - retired from soccer in 1970. And it was not until 2002 that he was named Harambee Stars manager...a whole 32 years later! He had been operating a taxi until the stroke.
But being an icon and living like one are two different things: "People have been singing my name for decades, but I must admit that life has been very hard on me. Most people think I am rich, but they are wrong," he told The Standard in 2013.
Kenya has certainly produced many great footballers, including Mahmoud Abbas and Abbas Magongo 'Zamaleck,'. Others are Hussein Kheri, Austin Oduor,  Peter Dawo, Dennis Oliech, Victor Wanyama and McDonald Mariga... but it is Joe Kadenge who has remained 'immortal.'