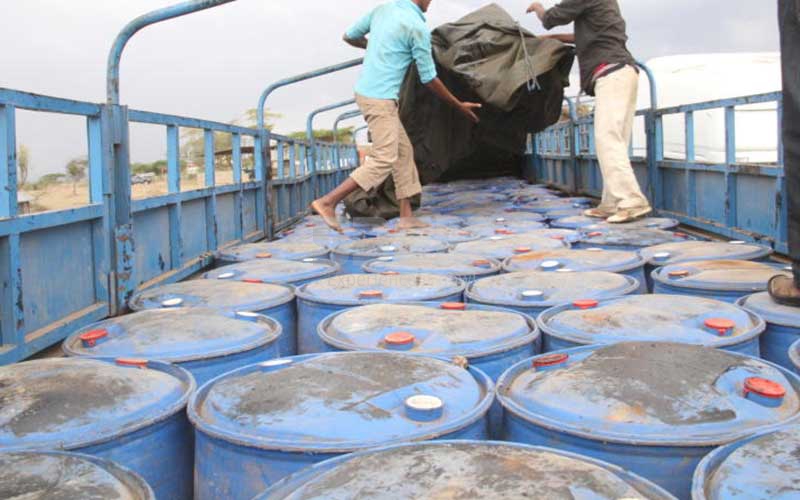 Kenya's illegal ethanol importation scam is turning to be a deadly business that enjoys protection from the high and mighty, multiple interviews with people involved have revealed.
So daring are the players in the scam that even some police are split, with a faction working for the well-heeled importers as it played out on Monday in Kitengela.
In the ugly clash, detectives from the Directorate of Criminal Investigations who had seized the contraband cargo faced off with regular police officers manning roadblocks determined to ensure its safe passage.
It has since been confirmed that another consignment of 200,000 litres is expected to cross into the country on Saturday at 3am at the Loitoktok border point, barring any major disruption following the conflict.
Several trucks are expected to ferry the cargo, with the importers almost assured that it will arrive at its final destination unperturbed.
READ ALSO: Drama as police disarm DCI detectives over contraband ethanol
Streamlining of operations at the Namanga crossing point has pushed most of the trade to Loitoktok, which is less manned, meaning there are fewer hands to grease.
The truck involved in the Monday incident crossed into Kenya at Namanga, most likely through an informal border point.
A source who has been involved in the ethanol importation saga for more than five years has confided in The Standard that the trade has thrived with the security forces turning a blind eye.
"This has been my source of livelihood since. I regularly earn Sh40,000 a week for every operation I am invited to," the source said.
Their role is minimal as they only need to show up after getting a signal from informers working with rogue police officers, whose only intent is to extort.
"I am required to masquerade as filming the confiscation of the contraband to increase the price paid by the truck drivers in hefty bribes," they added.
Filming the incidence is supposed to increase fear that the dark trade would be exposed to the world.
That would explain how the cargo, shipped in drums aboard huge trucks, has grown unabated, helped by the huge bribes paid from highly lucrative trade.
Such trucks would have multiple registration plates as the journey extends closer to Nairobi, the biggest market for the ethanol that is bought by some distillers.
Informal spirit manufacturers, who are often blamed for producing fakes of popular drinks, are a major market for the smugglers.
One such consignment was tracked by The Standard crew to a go-down on Mombasa Road, where it would be collected by smaller trucks and pick-ups for distribution.
Police who were informed of the racket were simply uncooperative and nearly hostile.
For the start, there is a huge taxation difference between Tanzania - Sh60 a litre - compared to the Sh200 levied by Kenya Revenue Authority for the same quantity of the commodity. Savings on a single 200-litre drum on taxes alone in Sh28,000.