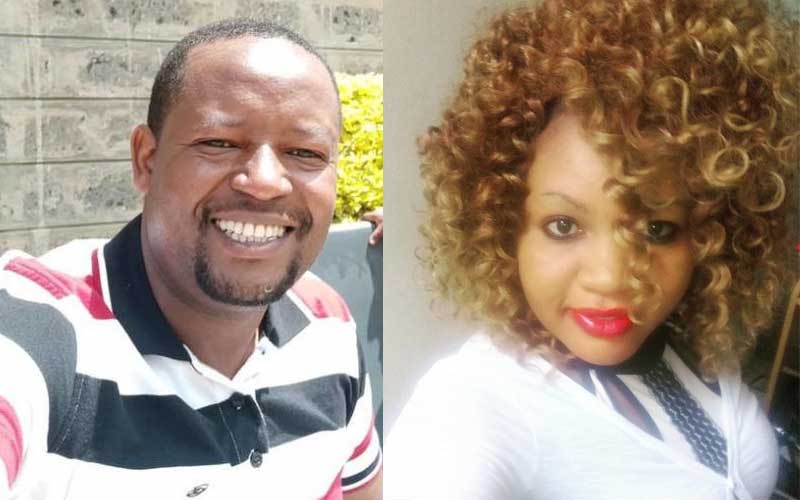 Faith Kyai, a voluptuous nurse of light complexion who works in Nairobi, has warned Yatta/Kwa Vonza MCA John Mutuku Kisangau alias Mbaki Mbaki, to stop calling or texting her at ungodly hours when she is with her husband.
From a leaked WhatsApp conversation, the two were at one time tight lovebirds before they went separate ways.
Apparently, the MCA who is also the Leader of Minority in the Kitui County Assembly, seems not to have had enough of the nurse and has been begging her to rekindle their love.
The relationship between Faith and the married MCA reportedly resulted in a baby boy, whom the village Mheshmiwa seems to treasure a lot, going by his messages to his baby mama.
ALSO READ: Nakuru politician, ex-driver and MCA in love triangle
The nurse who has since been married and got a second child has however had enough of Kisangau's pestering and wants him to zip up.
"I regret ever knowing u. I curse the day I opened my legs for u," Faith texted the MCA after his night-running calls.
She then went on to lament: "I hate you with a passion. How can you just decide to call me that late surely n u know am married?"
But Kisangau apologised, saying he was drunk at the time and was badly missing her.
"Am sorry was drunk...can we meet next week pls I need to see you swry," the MCA texted. This only infuriated the woman even more.
"Mutuku please leave me alone and for your information am pregnant expecting my second born. Maggy gave you a son so leave Faith alone," she retorted.
The news of the pregnancy seem to shock Kisangau. "What??? Pregnant??? Let's meet we need to talk kelitu naku (my girl)," he pleaded.
At some point, Faith advises Kisangau to warn his wife to stop insulting her through text messages over their alleged affair and threatened to tell her about their baby should she (MCA's wife) continue calling her nasty names.
"Tell ur silly wife to stop abusing me or else I will sue her. Calling me malaya ashawai niona Koinange nikijiuza," an angry Faith texted. This got the MCA by surprise.
"What??? When did that happen. Sorry sikujua hope you didn't tell her about our son," he wrote, to which Faith replied: "If she abuses me again I swear I will tell her...y can't you just leave me alone. Surely wendaa ata we (what is it that you really want from me)?"
The MCA promised to talk to his wife, while showering Faith with praises like, "Beb, mother of my cute son."
The Nairobian also chanced on a text exchange between the MCA's wife Maggy Milgo and Faith, in which she cautioned her to keep off her husband or face dire consequences. Faith however laughed off the threat and advised Maggy to tame her man.
"Stay away from my husband Faith please. I will deal with u and this time it will be bad," reads her message to Faith.
"Mmmmmmh really...Am sorry Maggy but I don't fight over men. Tell your man to behave himself," she hit back.
ALSO READ: Hot female worker infects MCAs with STI
When The Nairobian reached out to Kisangau, he acknowledged knowing Faith, but only as a 'neighbour' and denied having had an affair or a child with her.
"That is total propaganda. I have a wife and that is the true position. Forget that nonsense," Kisangau fumed and disconnected the call.
Shortly after, he called and through a conference call, brought in Faith, whom he berated, claiming she was the one who had tipped The Nairobian. The MCA said he was a longtime friend to Faith's parents.
Faith also denied having a son with the MCA, adding that she was a respectable and married woman.
The MCA's wife, Maggy, denied threatening Faith over the alleged affair with her husband.
"I have never had a conversation with anyone who is having an affair with my husband. If it is happening, then that is their affair and not mine," she said.
Would you like to get published on Standard Media websites? You can now email us breaking news, story ideas, human interest articles or interesting videos on: [email protected]
Related Topics