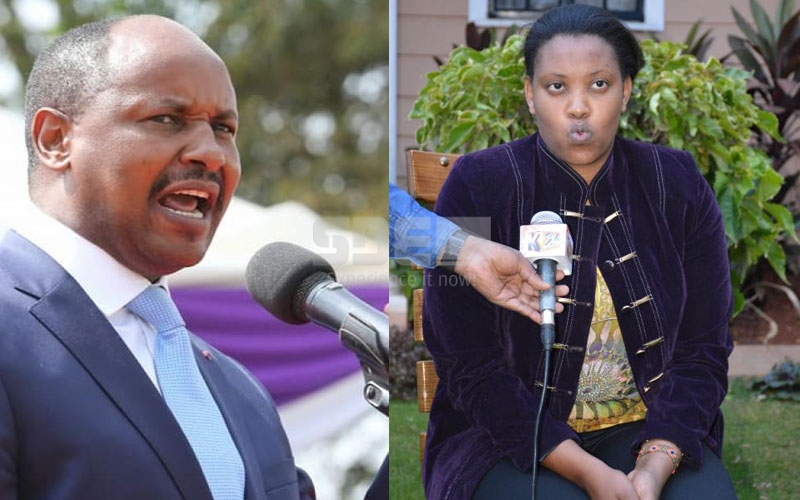 MP's wife had denied reports that her husband assaulted her
Police say they are investigating the matter
[email protected]
Emily Wanjiku, the wife of Githunguri MP Gabriel Kago, yesterday disowned reports that claimed she had been beaten.
Speaking to the press at their Kiambu town home, Ma Wanjiku, who was accompanied by her husband, termed the allegations as malicious and "aimed at tarnishing my name and that of my family".
"I want to register my disappointment about information that has been trending on social media touching on my personal and family life. The intention of those reports was to tarnish my name and that of other family members," she said.
Wanjiku said she was aware the reports had been circulated by bloggers, whom she did not name. She further claimed that the bloggers were on the payroll of her husband's political enemies who wanted to use the matter to advance their agenda.
"I want to tell those bloggers and politicians who are politicising the information to desist from doing so with immediate effect and to leave my family alone. They should leave my family affairs to myself, my children and my husband."
Mr Kago declined to speak to the press, saying he was not ready to discuss matters touching on his family in the media.
Last week, social media was abuzz with reports alleging that the MP had battered his wife on September 26.
Wanjiku was said to have reported the matter the following day at the Kiambu Police Station under OB number 05/27/09/18.
Wanjiku yesterday denied that there was an assault. She also denied reports that she was behind the circulation of the information on social media.
According to police reports, the MP's wife had reported that at around midnight on September 26, the couple had quarrelled and the argument escalated into a fight, leading her husband allegedly attacking her with an iron box.
Kiambu police boss Patrick Kiprop said assault claims had been received at the station. He added that the lawmaker had also reported that he was assaulted by his wife.
Kiambu DCIO Paul Wambugu said Mr Kago and his wife had both reported being assaulted. The MP's report was made under OB Number 45/27/09/18.
"This is a domestic issue but we are treating it as purely criminal since no one is supposed to assault any person. We will get to the bottom of the matter since both of them have injuries. We will then decide whether we will charge one or both of them," he said
Related Topics