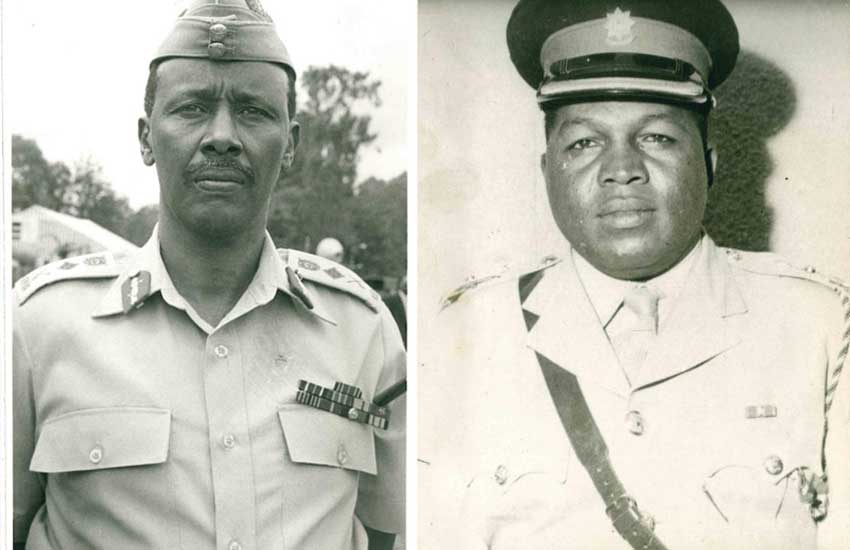 The Kenya Air Force soldiers who plotted the August 1, 1982 coup executed their plans while half high, but fully sober to the fact that the Kenya Army soldiers had not returned to their bases from military games in Lodwar.
They chose Sunday as there was minimal human traffic, hence minimal casualties. But alas! in 12 hours, over 100 soldiers and 200 civilians had died and economic losses pegged at Sh500 million.
Their military bravado determined the course of Kenya's history for 20 years after gunfire reverberated in Eastleigh and Embakasi airbases.
Veteran radioman Leonard Mambo Mbotela announced the start and end of the coup, Brigadier John Musomba (later Major-General and ambassador) personally returned retired President Moi safely to Nairobi from his hideout in Nakuru.
But here are the four soldiers who for ages remained faceless heroes after meeting at 2am to foil the coup when they comprised the entire operational command of Kenya's defence headquarters:
General Mahmoud Mohammed: He was Deputy Army Commander, but as an infantryman, he had no exceptional skills despite his 29 years' experience, nine of them as commander of the Kenya Rifles 1st Infantry Battalion.
However, a semi-literate Mohammed requested his boss, Lt Gen Jon Sawe to be Operation Commander to counter the coup. His infinite memory, understanding of human psychology and capacity to handle complex situations saw him rise to Major-General,  full General and Chief of General Staff.
Lt Gen John Sawe: He was Army Commander and Deputy Chief of the General Staff who chaired the meeting which gave Maj Gen Mohammed the green light to access Kahawa Garrison which was free of rebels and thus ideal for sourcing reinforcement, besides securing the Department of Defence - where the best available marksmen were stationed.  
He also ordered the blowing up of the communications facility at the Eastleigh Air Base and without communication, the coup collapsed.
Brig Bernard Kiilu: The Chief of Operations at Defence Headquarters was a British-trained officer with a fine intellectual mind and remarkable analytical skills.  As head of operations, he outlined the options, some of which were shot down by Mohammed.
Lt-General Humphrey Njoroge: Then a Major in charge of training at the Kenya Army headquarters and the most junior of the three.
He took notes of the meeting and accompanied Maj Gen Mohammed, giving alternatives when needed in crushing the coup.  He retired on July 27, 2004 after 38 years of military service.