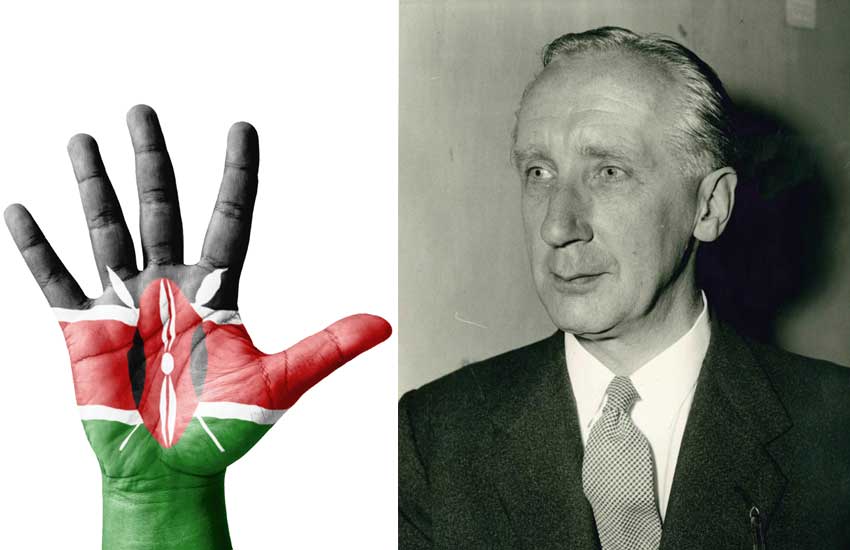 Graham Hyslop was the organist and choir master at the All Saints Cathedral in Nairobi and was selected to join the composers of the national anthem solely on the strength of his adeptness at infusing traditional Kenyan music with Christian choral music.
When Tom Mboya, Kenya's minister for Constitutional Affairs was tasked by President Mzee Jomo Kenyatta to form a team to compose an anthem, he did not hesitate to include Hyslop, who was not only Kenya's Inspector of Music and Drama for the Ministry of Education, but also his personal friend.
Hyslop had come to Kenya aged 26 in 1936, and went on to write books, including Musical Instruments of East Africa and Folk Music of East Africa, in between teaching music.
Plans to open the national anthem to public competition were shot down by Mboya, who headed the sub-committee on independence celebrations, citing time constraints...and an odiero might have won the competition anyway.
Mboya opted for music experts, with Hyslop picking the members. He went for Prof Washington Omondi, a music expert; Uganda-based Kenyan Prof George Senonga-Zake, a musicologist and later lecturer at Kenyatta University; Peter Kibukosya, a music teacher at Eregi Teachers College and after whom a primary school is named; and Thomas Kalume, a music teacher at St Paul's Theological College and later a politician.
The team met at Hyslop's offices at the ministry's headquarters at Gill House in  Nairobi. They were given seven weeks. Omondi was 22, but had graduated from Edinburg University.
 FA Thorntorn, the Kenya Police bandmaster and a director at the East Africa Conservatoire of Music, Nat Kofsky, were also enjoined in the team.
Having worked on many traditional Pokomo songs, Hyslop based Kenya's national anthem on a Pokomo lullaby.
The choirs of the All Saints and Alliance High School recorded the English version, while the Railway Training School did the Kiswahili one. The two anthems are not direct translations of each other, rather they are songs with the same tune and soul.
Since Hyslop was conducting the choir for whites at All Saints, he encouraged Senonga-Zake, who was teaching music at St Paul's Primary in Mbotela in Nairobi's Eastlands, to form one for blacks at St Stephen's Church in 1956.
Graham Hyslop died in 1978, the year Mzee Jomo Kenyatta died and St Stephen's Choir mesmerised Kenyans with uplifting compositions conducted by the late Darius Mbela, later PS and Wundanyi MP.