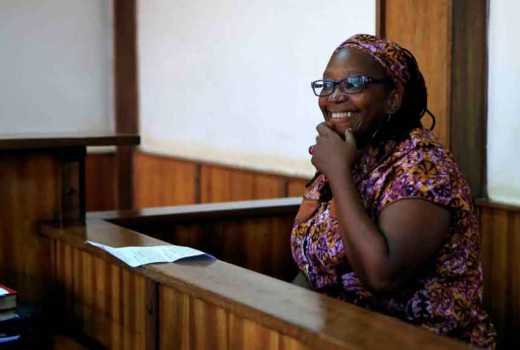 The nude protest…
In April 2016, on a balmy day in sunny Kampala, a protest was brewing in Makerere University, Uganda's largest university. At the centre of the storm was a woman. A diminutive woman likened by many to a fireball. Pursed lips, dreadlocks sporting and fearless, she was staging a half nude protest against Mahmood Mamdani, Director of Makerere Institute of Social Research after being locked out of her office for refusing to teach; a requirement outside of her contract.
Her protest was widely shared on social media, stirring nationwide commentaries. It also got her suspended from the university and her salary was reduced by half.
Prof Silvia Tamale, a renowned Uganda feminist and a law don at the university defended Stella's actions insisting that no law was broken. "Most people are shocked when they learn that there is absolutely no law in Uganda that prohibits public nudity. When Nyanzi stripped to her nickers, she did not breach any written law. She may have run the risk of crossing established social and religious norms, but she certainly committed no penal offence, " she said.
 Did Nyanzi regret her actions?
"Sincerely, I would undress again and shout obscenities at Mahmood Mamdani for abusing my labour rights for years while the impotent administration and management of Makerere University merely looked on and continued licking his wrinkled arse," she recently wrote, uncontrite.
During her six-month suspension from the university, she was on a fellowship in Stellenbosch University, South Africa. On her social media profile is a wonderful tongue-in-cheek sentence to describe her occupation. "Suspended Research Fellow at Makerere University."
Stella embodies the terms "outspoken" and "fearless". She is a Ugandan academic, mother, feminist, a forthright activist and a leading voice in the women's rights movement. She campaigns for the rights of lesbian, gay, bisexual, transgender and intersex peoples. "The thing with Stella is that she does not fear for herself, she will find it easier to die than to keep quiet with an idea that's bothering her mind. So for anybody who thinks that you can just keep her in jail, you are wasting your time," said Professor Ogenga Latigo, a former Ugandan Leader of Opposition in a news interview.
 Run-ins with the political class
Early last year, she fervently criticised the policies of the Education Minister, also the First Lady of Uganda Janet Museveni. Janet Museveni had  announced in parliament that the government lacked the funds to fulfil the president's election promise of providing sanitary pads to school girls.
Dr Nyanzi was livid, and stated: "What sort of malice plays in the heart of a woman who sleeps with a man who finds money for millions of bullets, billions of bribes and uncountable ballots to stuff into boxes but she cannot ask him to prioritise sanitary pads for poor schoolgirls? She is no Mama -- she is just Janet!"
The soft spoken first lady's response to the tirade was gracious enough.
"I have received reports about Dr Stella Nyanzi insulting me. I want to tell Ugandans that I forgive her," she said on her social media twitter handle.
Upon being summoned to the Criminal Investigations Department over her comments, Dr Nyanzi urged her followers to turn up at the headquarters with sanitary pads. Her efforts prompted an online crowd sourcing campaign titled #Pads4GirlsUG with a team of volunteers vowing to fulfil the president's broken promise.  Over a million re-useable pads were distributed by the end of 2017.
Travel ban
Shortly after a Facebook post in February 2017 where she stated her opinion in not-so-colourful terms about the president and the First Lady, her civil rights and liberties came under fire. As she tried to board a plane to Amsterdam for a conference less than a month later, she discovered that she had been banned from leaving Uganda.
What followed next was a series of events.
On 31 March, 2017, she was once again suspended from her research fellow position at Makerere University on grounds that she had insulted the Minister of Education.
 On 3 April, 2017, Dr Nyanzi reported via Facebook that armed men raided her home and intimidated her domestic employee and three children. Her sister was also subjected to intimidation in the form of armed men trailing her vehicle.
On the night of 7 April, 2017, as she left the Rotary Club in Kampala after giving a talk, Dr Nyanzi was arrested by plainclothes police officers and held in custody and charged in court three days later. It was stated that she engaged in "cyber harassment" and "offensive communication" contrary to the Computer Misuse Act of 2011. In addition to the charge, the State prosecutor submitted an application to commit Dr Nyanzi to a psychiatric hospital for two weeks so that doctors could further "determine" her mental health.
She later resisted an attempt to subject her to psychiatric assessment, requesting the presence of her personal doctor and at least a family member during any testing done to her.
She was denied bail and remanded. Twitter rallied behind her with indignant hash tag #pairofbuttocks until she was released more than a month later on 10 May, 2017.
But she had the last laugh.  In October 2017, the UN found the government of Uganda guilty of several counts of arbitrarily arresting and detaining Dr Nyanzi.
"I would totally repeat to shame Yoweri Museveni and write obscenities about his wife Janet Museveni for jointly failing to fulfill millions of promises that they made to Ugandans during the past three decades of their dictatorship over our country," she wrote.
Stella is also fairly popular for the erotic fiction that she writes and posts on her Facebook page.  She often uses this provocative and creative imagery to critique the government.
Personal life
While she still is suspended from Makerere University, Stella is still a vocal government critic and a fierce human rights activist. She is also a very busy mother of twin boys and a girl.   
Stella was once married to a Gambian named Ousman. They had a daughter in late 2004. While the two were living in London in 2005, she became pregnant again with their twin sons.
In one of her posts, she cheerfully writes in summary of 2017, "My daughter, Baraka completed her primary school education. My sons, Wasswa and Kato completed their first decade on earth. I made a decade with neither a husband nor a co-parent in the picture. Ebenezer!" She is also not planning on getting married again. "After 12 years of marriage to an absent husband, I have lost my faith in weddings," she said.
She also has a famous cousin, popular Ugandan musician Bebe Cool.