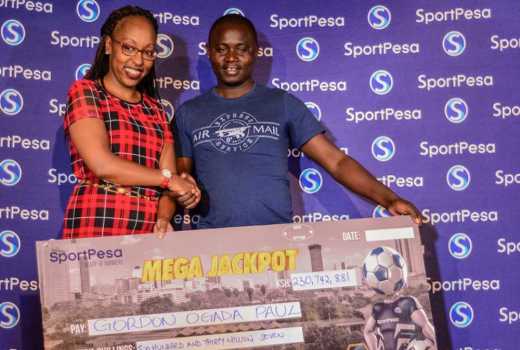 Kenya's sports betting companies announce winners of jackpots and jackpot bonuses also weekly.
Another man, a month ago, won Sh230 million! The second Kenyan to win such a hug some in a bet.
However, as the companies unveil the winners encouraging thousands others to bet, important news that is usually suppressed in the background is that of the biggest losers.
You see, sports betting has become a major 'economic activity' in the country and people place huge bets, a good number taking loans and 'planting seeds' in the game hoping to bag the millions, if not some thousands. But as designed, only a few win. 'For the Love of the Game' has gathered what happens when some gamblers lose as the winners ride the glory.
After losing Sh10,000 during the last English Premier League match by banking on an impotent Arsenal, one interviewee told me he switched off his phone and disappeared from home for two days.
He could not stand the sight of him knocking on the door and his wife seeing him empty-handed yet he had promised to come home with shopping and give her some chama (investment group) money. She traced him to a relative's house, with the bachelor cousin struggling to cover for him.
A first year student at a university in Nairobi, on the other hand, bet his Sh5,000 pocket money and after surviving at the mercy of his two friends for three days, he called his mother crying that his room had been broken into and all his money stolen. He asked her to transfer him from the university, but to mollify him, she sent him more cash.
Some of the people you see walking around town engrossed in a conversation with themselves are not mad, but they lost bets! A boda boda rider revealed how he found himself walking on the road shouting to himself and cursing the company that had 'devoured' his Sh10,000 yet he had not paid rent.
"I was so sure that my team during the recent confederation cup would win their match but they ended up losing. I lost the money that I had planned to use to pay rent and cater for my other basic needs," he said, noting he has taken time off betting.
Another interviewee tells how whenever he loses a bet, he finds sleeps the entire day as he tries to wash away the pain. Yet another tells of how he drowns his sorrows in the devil's drink. The winner of them all, however, is a man who lost Sh15,000 bet and poured his frustrations on his wife, choosing to have 'bedroom marathons' the entire weekend.
While the couple had sworn that they would not have another baby, as their acting last born was in Class Eight, the man could hear none of it, as his wife pleaded with him to use protection.It was only after she announced she was pregnant over a month later that the man realised his mistake. He then revealed to her that he had drowned his sorrows in sex after losing the money. Unfortunately, the damage was already done. In extreme cases, some people have committed suicide, like in aBomet case where a man hang himself for losing an entire loan he had taken from a Sacco on bets.
Loss of money on bets seem to elicit anger, which men look for whatever way to express.
Others sulk for days or become irritable and quarrel or even beat their wives or kids at the slightest of provocations.
Betting is as addictive as bhang, the more you bet, the deeper you sink in it. Bet wisely.