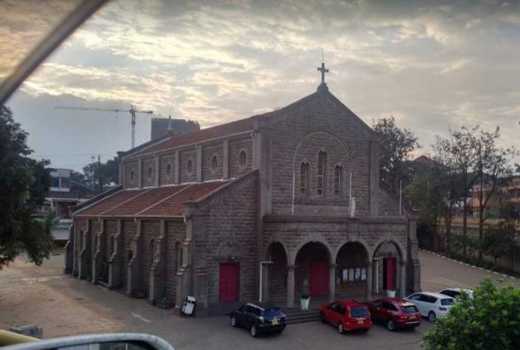 The renaming of Parklands Secondary School to Dr Ribeiro Parklands School in 2015 was to pay homage to an Indian Goan who not only donated the land on which it sits, but also as a salute to his community's contribution in Kenya.
Goans, unlike other Asians, did not come to Kenya to build the Uganda Railway. Most came as doctors, lawyers, accountants, clerks and businessmen, as Cyprian Fernandes informs us in his 2016 offering, Yesterday in Paradise. He reveals that others came as chefs, tailors, carpenters, mechanics and musicians.
Dr Rosendo Ayres Ribeiro, was the first private medical practitioner in 1899. He is famous for visiting patients atop a zebra, which was more disease resistant than the traditional horse. Dr Ribeiro  operated under a tent in the muddy tin shack that was Nairobi where he invented a malaria drug which was patented and sold to an international pharmaceutical.
Dr Ribeiro, the one-time Vice Consul of Portugal in Kenya, was also instrumental in rebuilding Bazaar Street (today's  Biashara Street) after it was burnt down following an outbreak of bubonic plaque in 1902.
Kenyan Goans were from Goa, which was a Portuguese province for 450 years until 1961 when it was annexed by India, where it's the smallest state.
Goa exhibits Portuguese cultural influence, the reason many Goans have deep Catholic roots.
Many were endowed with a relatively high level of education. This is why the British hired them as clerks.
Seeking more sophisticated labour for administrative and professional work, the Imperial British East Africa (IBEA) company, which was running Kenya on behalf of the British Empire, encouraged Goans to immigrate here towards the end of the 19th century.
Being Christians and many having Portuguese ancestry (and citizenship), Goans were accorded non-Indian status, which carried special immigration and even tax benefits.
They came in droves and among the famous were Pio Gama Pinto, Kenya's first victim of permanent political elimination in 1965,  Fitz de Souza, one of the battery of lawyers representing Mzee Jomo Kenyatta at the Kapenguria Trial and who later became Deputy Speaker, Seraphino Antao, an athlete who won  the Commonwealth  Games gold medal for  the 100 and 220 yards in 1962, Joe Rodriques the journalist who became managing editor of Nation newspaper and Henry Braganza,  the musician. Nairobi's Campos Ribeiro Avenue is named after another notable Goan, Julius Campos.
 Kenya's second Vice President, Joseph Murumbi had a Goan father. For being reliable,  hardworking and apolitical, many Goans also became integral cogs in the Colonial Civil Service like SR Rodrigues of the Treasury and Leandro de Mello of the Provincial Administration.
But despite their special status, Goans were considered a rung below  Europeans. Due to racial segregation in Kenya at the time, Goans built their own schools, clubs and churches. For instance, the Parklands Secondary School, Goan Gymkhana, the Goan Institute and St Francis Xavier Catholic Church at the junction of Parklands and Limuru Road.   
Indeed, this church, built in 1933 and funded largely by Goans, is a silent reminder of the racial temper then. Designed to a neo-gothic architectural style, its walls are made of butch stone buttressed at regular intervals externally beneath a Mangalore tiled roof featuring a high, vaulted ceiling.
Windows are glazed in steel casements supported in arched openings with rose windows to the higher elevations. The walls are rusticated to external elevations giving the visual impression of an impenetrable fortress. The statue of their patron saint Francis Xavier stands in the garden.
Today, St Francis Xavier Catholic Church-which had Goan priests for many years is open to all races.