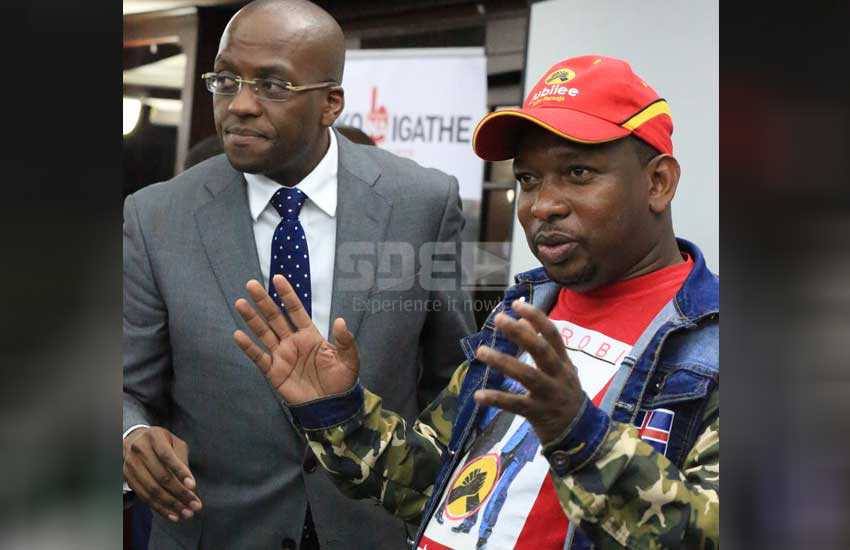 County leaders affiliated to Jubilee Party are pushing for dialogue between Sonko and Igathe
Jubilee Party leaders in the city county were on still on course in their quest
MCAs are confident a bid to reconcile the two leaders will bear fruit
Efforts are in top gear to try and reconcile Governor Mike Sonko and his deputy Polycarp Igathe, who resigned last week.
According to well-placed sources in the county assembly, part of the efforts involve getting Sonko and Mr Igathe to have face-to-face meeting.
"The deputy governor has tried to reach Sonko but hasn't been successful," said the source.
This comes barely days after the governor ruled out any chance of dialogue with his estranged deputy while addressing a meeting attended by Nairobi MCAs in Mombasa County.
And a source at City Hall, who sought anonymity, disclosed that Jubilee Party leaders in the city county were on still on course in their quest to mediate between the two.
But one Jubilee leader said he was not yet aware of the facts of the matter.
"I have just come back and will only comment once I know the facts," he said during a telephone conversation yesterday.
He also confirmed reports that the parting between Sonko and Igathe was attributed to tenders and control of City Hall.
Igathe's decision
He intimated that Igathe's decision to resign followed consultations with some Jubilee leaders in the city.
On Monday, Sonko, speaking for the first time since Igathe's resignation, remained non-committal on the matter.
He however indicated that he was capable of driving the county's agenda without his deputy.
The governor also dismissed as hearsay reports that his differences with Igathe were fuelled by factions fighting over tenders or control of the county.
Sonko however said he was open to dialogue with other city Jubilee leaders.