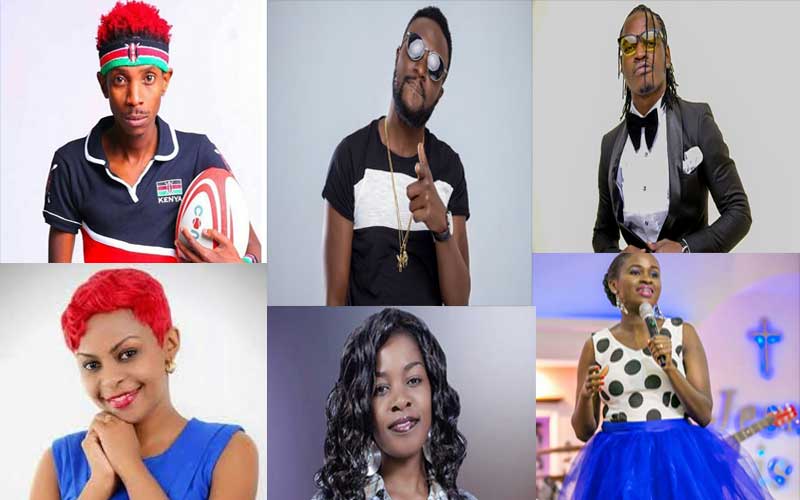 With Christmas just around the corner, everyone is wondering what their favorite celebrities have in store for the big day
Will they spend it with their families or their significant others?
We decided to compile a list of celebrities who have talked about their plans for the end of 2017
"For me it has been a great year yet again going by my achievements," says celebrated comedian Eric Omondi.
According to Omondi whose intention was to make his presence on Youtube big both locally and beyond, his dream came true in the sense that he managed to have five of his videos among the top ten trending videos in 2017.
"I am elated and plan on venturing into parody movies sometime next year," reveals the comedian who will be spending this Christmas upcountry with his family. Prior to this he will stage shows in Kilifi, Bungoma and Kisii over the weekend before taking a break on Christmas Day. 
Gospel singer Size 8 describes the year as a great one."I have God's grace and favour upon me. The fact that I have been able to release new songs besides venturing into television where I get to host and interview different gospel musicians and servants of God is a plus," says Size 8.
The singer, who will be spending time with her family, notes that she will be part of the musicians who will be performing during the much anticipated end of year concert in Nakuru.
"Personally, I intend to spend this Christmas with my family members unless I have a concert to do. But even after the show (if there will be one), I will be with them," she says.
Top artiste Naiboi, who is also the CEO of Pacho Entertainment says that 2017 has been a good one given the fact that he released four songs that became chartbusters. He also says he had a number of good shows, some of which were in Uganda.
"I feel humbled by the fact that I was able to successfully rebrand my name from Rapdamu to Naiboi. It is not easy to do so as many prominent personalities can tell you," he adds. The musician will be staging shows in Nyali, Meru and Embu throughout the weekend and all through up to Christmas Day.
Comedian Chipukeezy terms the year 2017 as one of the greatest in his life. According to him it is the year that enabled him lay his foundation in his comedy career besides growing as a person and an artiste.
"I believe I managed to achieve everything I planned regardless of a few scandalous moments, which I am trying to work on," says the artiste who will be spending Christmas with his mother.
Gospel queen Mercy Masika, who made major breakthrough in 2015 and 2016 with some of her biggest, inspirational and surprising hits among them Mwema besides becoming a household name, describes Christmas as the birthday of our Lord.
"Well, I am excited that Christmas is around the corner. For me it has always been a season of joy and peace and I will use the time to connect with those close to me; my family and the needy."
The singer says 2017 has been a challenging one. She, however, achieved her goals. She believes the best is yet to come. 
Singer Kendi who made a comeback into the music industry after a span of six years define the year as full of ups and downs.
"The fact that I had to put too much money into my grand launch for my comeback wasn't easy. Also the fact that I didn't get to achieve what I expected soon after the launch made me realise that music is like gambling," she says.
 "I have a single dropping this week," adds the musician who will be spending this Christmas and New Year's Day with her best friend and family in Diani. 
Multi-award winning gospel singer Daddy Owen echoes Kendi's sentiments. Describing the year as having been full of uncertainties owing to the political instability that affected his shows locally and abroad he says he hopes to achieve some of his goals in 2018.
"I didn't manage to give back to the gospel community by organising a gospel talent search, which I have been forced to reschedule to next year," he said.
Daddy Owen will be spending Christmas and New Year with his family back upcountry. He has been forced to cancel several shows during this festive season. "For me family must come first, especially during such special occasions."
 Groove Award 2017 Male Artiste of the year Eko Dydda describes the year as amazing.
"I can say that God has been faithful to me by making sure that He brought to accomplishment His promises upon my life and that of my family."
The musician, who says he has achieved making right his relationship with God including that of his family and fellow Kenyans, says he will be performing in Kariobangi South on Christmas Day before going back to spend time with his family.
Gloria Muliro, who describes the year as wonderful, intends to spend this day in the presence of God besides reuniting with her family members, describes Christmas as a time to reflect on the goodness of Christ regardless of the challenges we have faced as a country or at individual levels.
Timmy T Datt says the year has been a good one for him because he was able to release many songs, got several shows and good business deals.
"I think I have been able to achieve the best this year and I hope to attain bigger and better accomplishments in 2018."