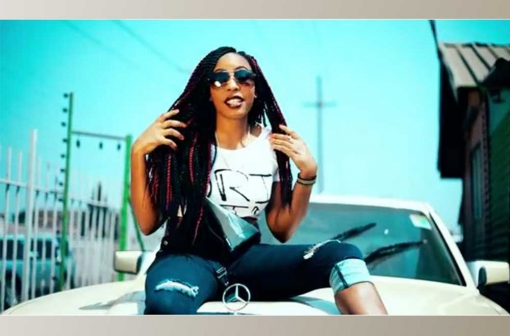 A year since she released her official debut single, 'Sina Shaka', 24-year-old singer Maryann Ng'an'ga aka Aryanna is yet to get a major breakthrough
The singer whose recent releases 'Nasonga' and 'Mama' also opens up about her growth
She talks about sexual harassment from men  before they can grant her favours or help her out
Pulse: How is your music journey so far?
Aryanna: The challenges have been enormous. This industry can be cruel to a female singer but I am holding on.
On many occasions, I have been lured into shady traps where men want me to drop my pants so as to get favours. This happens to many female artistes.
P: You are talking about sexual favours… these things still happen?
A: Yes. Hundreds of pretty girls; from models to singers and dancers have had to put up with pressure from studio owners who insist on sleeping with them before they record their music and get the songs out.
P: Are there any names you can name?
A: I am not here to name names and victimise anyone but this has happened to me on several occasions. As I was preparing to release my album Binadamu the guy who was working on it 'pulled' such a move and I had to walk away and find a new producer.
The previous guy made sexual advances on several occasions and I had to run away. This should not be misunderstood to mean that all men or producers are of that calibre. It's a case of some few rotten tomatoes in the basket.
P: Does your boyfriend know about all these?
A: For a number of reasons I don't like to talk about boyfriends and relationships due to the fact that there are a section of people who are known to meddle with your privacy once they know something private about you.
P: There is a perception that local female musicians have failed to live up to their expectations and for that matter, they just turn the blame on producers…
A: There is no denying that for a long time local female musicians have failed to meet their fans' expectations.
Besides, most of them have never been accorded the necessary support and instead have found themselves on the receiving end from the society besides being viewed as sex symbols and nothing more. Despite these challenges I am glad that today, things have changed for better with a number of them doing a good job.
P: Why would you insist on music if it does not pay?
A: Music has always been a big part of me and I can say it's a calling. I am optimistic that there is light at the end of the tunnel.
P: Who is helping you manage your music career now that it is hard to make it alone?
A: I can't say I have a team but I am taking one step at a time. I take every experience and moment as a learning process.
 Besides, I have a few friends who have been giving me advice and I wouldn't mind getting assistance from any genuine person or player in the industry to making it big?
P: Do you like have a strategy…or a road-map to the top?
A: I am a go-getter and I hardly give up a course I have already started. I trust that my talent will open doors for me. I am also trying to cut a niche for myself as this female artiste who offers something no one else is giving in the industry.
I plan on releasing more songs and pushing my brand through the media and any other outlet I can. I also want to work on collabos with established artistes to help me get my name out there.