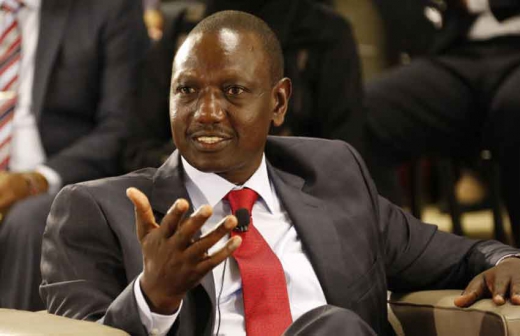 Ruto's office loses Sh800m in budget changes to fund poll
This is in a in a reorganisation of spending
A further Sh197 million has been deducted from State House Affairs
Part of the money the Treasury CS is hoping to raise includes Sh25 billion meant to bankroll free secondary school education.
Deputy President William Ruto's office has lost more than Sh800 million in a reorganisation of spending.
The DP's office is among those whose budgets have been slashed as National Treasury Cabinet Secretary Henry Rotich looks for money to finance the upcoming repeat presidential election.
Part of the savings will also be used to bankroll free secondary school education and mitigate the effects of drought that have affected several counties.
A supplementary budget Mr Rotich tabled in Parliament yesterday shows a reduction of Sh837 million from the DP's office. Another Sh554 million is expected to be raised by suspending some projects. 
A further Sh197 million has been deducted from State House Affairs in a reallocation intended to raise Sh25 billion for the free education and Sh10 billion for the poll.
Rotich is also expected to increase his borrowing to cover unforeseen expenses, further complicating the already precarious debt situation that Kenya has found herself in.
The overall effect of the revised budget is an increase of Sh22 billion to be raised from additional borrowing.
Adjustments on several votes was more than the ceiling of 10 per cent allowed in law, meaning Parliament will have to approve the budget.
"We are requesting special approval of expenditures that are beyond this threshold (10 per cent)," said Rotich.
Also to be affected is the Parliamentary Service Commission (PSC), which pays lawmakers and other employees of the Legislature.
The legislators, who will deliberate on the budget changes, are themselves among the biggest losers after the PSC allocation was slashed by Sh5.5 billion, nearly a third of its budget.
A recent review of MPs' pay by the Salaries and Remuneration Commission (SRC) could have informed the reduction of PSC's budget.
But the reduction is facing strong opposition, especially from the newly-elected representatives; some have openly threatened the shoot it down when it comes to the House.
The salaries commission recommended that MPs should be paid a gross salary of Sh621,250, down from Sh710,000, plus generous allowances.
Initial estimates had projected savings in the revised remuneration at Sh8.8 billion, which is much bigger than the budget cut of Sh5.5 billion.