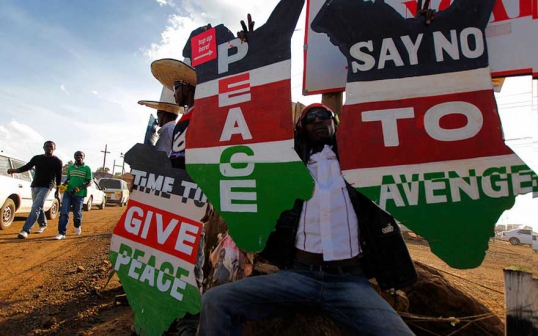 Throughout the history of mankind, artistes have used their talent to speak about societal issues and music has played a vital role in promoting peace, love and unity.
With political temperatures in the country rising, we have seen more peace concerts in which celebs are preaching the message of togetherness.
We even have had international artistes flying in to use the power of the microphone in promoting peace ahead of the forthcoming elections.
Joining the voices in championing for peace is rapper Khaligraph Jones who is urging Kenyans in particular the youth to stay away from any form of violence during the elections.
"If we see what goes on in war-torn countries, you will know the value of peace. I believe there is need to embrace peace, love and unity now than ever before.
His sentiments are echoed by rapper King Kaka. "Let the youth not be exploited by politicians only for them to end up being losers - as they suffer the wrath of law enforcers," he says adding that he never thought of a better way to unite the country except through music.
Octoppizo advice Kenyans to spread the peace gospel amongst themselves saying: "We need one another in order to succeed. No one can go it alone. The person you may be attacking today maybe your saviour tomorrow," he says citing an example of the 2007 post -election violence during which hundreds of innocent youth from Kibera lost their lives.
Singer Wahu thinks it is time the youth avoid drugs and anything else that may lead them into violence acts. "Politicians sometimes have their agenda and we as the youth should not follow them blindly," she says.
Femmi One says when we look across the world we see the reality of violence, the hurt and the suffering.
"This is the last thing we need in our country right now. The best part about it is that we can avoid it."
Celebrated gospel singer Mercy Masika opines that every human is the same at heart.
"This is the time to embrace peace by letting love lead and sons and daughters of God."
Nazizi feels it is time we use whatever we have to build bridges instead of destroying what our predecessors worked hard o build.
"It is important for us to realise that all eyes are on Kenya right now. When we allow ourselves to be used by politicians to indulge in destructive illegal acts that will end up affecting fellow Kenyans we will end up suffering the consequences as ordinary Kenyans while the elites always have a way of being together."
Nyashinski asks Kenyans to be like the wild animals that have the greatest ensemble ever and live together in harmony in nature.
"When you wake up in the morning somewhere in the Maasai Mara you hear a lion roaring, the hyena laughing and the birds chirping in sequential harmony. That is what Kenyans should embrace," he observes.
Timmy Datt says looking at refugees in various camps within the country including some of our own internally displaced persons, should be a lesson to Kenyans and a reason to spread the message of peace. "Divided we fall – united we stand."
The Kansoul trio of Mejja, Madtraxx and Kid Kora support the idea of preaching peace for social and political change.