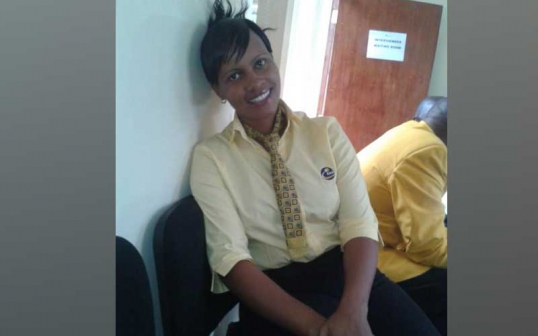 A security officer who sued Kenya Airports Authority (KAA) for sacking her for asking Education Cabinet Secretary Fred Matiang'i to queue for a security check is now demanding Sh40,987,039.
According to fresh documents filed at the Nyeri Labour Relations Court on July 5, Daisy Cherogony is claiming the money from KAA as compensation for alleged wrongful dismissal.
She had earlier sought Sh2.4 million for the same reason, arguing that she was not given a hearing prior to her dismissal.
In the new amended memorandum of claim, Ms Cherogony says she was employed by KAA on February 17, 2006, as a security warden in job grade 11.
"On January 19, I was promoted after an evaluation exercise as a senior warden grade S.4 with a starting salary of Sh23,367 and a house allowance of Sh14,018," said Cherogony. On August 31, 2015, she claimed, she was promoted again to the position of security supervisor grade S.5 with a basic salary of Sh68,767, a house allowance of Sh35,000 and a gross salary of Sh128,900.
Long queues
Cherogony said on April 5, 2017, there were long queues at Jomo Kenyatta International Airport (JKIA) and complaints from travellers when she reported to work.
"The situation became worse as it began raining and traffic increased, yet I had inadequate personnel to manage traffic at the screening point," she said.
Cherogony added that on April 6, 2017, she received a verbal request from the airport manager to write a statement and was later questioned about what had happened to Dr Matiang'i on April 5.
Cherogony maintained that she did not violate any of the KAA regulations and procedures and as such, her dismissal was unlawful.
She said the CS was accompanied by an airport police inspector and that his security team caused a disturbance as they tried to force their way through instead of waiting in the queue.
In her suit, she said she tried to calm the CS down but he informed Transport CS James Macharia about his trip.
"He (Matiang'i) did not want to follow the queue but wanted special treatment even though it was raining and people were complaining," she said.
As a result, she said, she could not allow the CS into the airport before he was cleared at the screening checkpoint.
Cherogony argued that according to the airport security manual, Cabinet secretaries do not qualify for preferential treatment unless they hold special passes. The case will be mentioned on September 19.