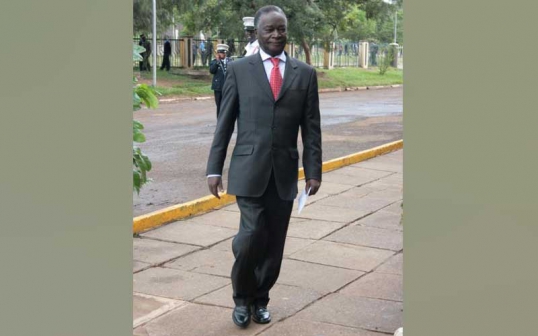 Nicholas Biwott lived a puzzling and secretive life that even his closest aides mistakenly thought of him as a Freemason. It is a belief that was shared by the wider public as association with the secret cult is linked with evil and unexplained wealth.
Nothing told about Biwott's mysterious ways than when his confidante retired President Daniel arap Moi publicly said he did not know the home of his right-hand man. It came as a shock especially because the two leaders enjoyed more than cordial personal relations and business associations. In contrast, Moi has always hosted friends — including the late Total Man — in his different homes.
But was he really a Freemason? A retired personal assistant had told Sunday Standard that Biwott was a senior official of the Freemasonry, basing his belief on their personal interactions. His belief was informed by the level of secrecy with which the Total Man conducted himself and the unexplained hours his boss would be away.
But as it would appear, the aide may have been wrong.
"We wish to confirm that the former Minister Nicholas Biwott was not a member and has never been a Freemason under the jurisdiction of District Grand Lodge of East Africa," said H J Nathkwani, the District Grand Secretary of the secretive society based at the Nyerere Road.
Freemasonry is a closed club of wealthy men who are wrongly linked to devil worship, a belief informed by its secrecy and rites.
Philanthropy, which is a central pillar in the society, is a thread seen in the generosity in Biwott's life, possibly further buttressing the misplaced belief.
At the peak of his political life, the fallen powerful man would attend up to 10 fundraising harambees in a single day, aside from spending thousands more in giving handouts to needy individuals — the source of the wealth notwithstanding.
Staunch christian
Mr Biwott is reported as a staunch Christian who subscribed to the African Inland Church (AIC). He even helped fund the construction of many sanctuaries.
His highly secretive life would follow him to death. Photos of his family and home appeared for the first time when President Uhuru Kenyatta visited to condole with Hannie, his Jewish Dutch wife and grown up children. Also present was Biwott's son-in-law and trusted ally Charles Field-Marsham.
Until today, the mother of his first-born child and the country's Investment Secretary Esther Koimett is unknown despite of the high profile she enjoys. Emmanuel Biwott, born of his second marriage with Tanzanian wife Kavista Lessie, is also unknown despite being the heir-apparent going by the African tradition as the only biological son.
Sources close to the family claim that the former politician had in recent months split his wealth among his heirs, "knowing all too well that his death was nigh". Mr Field-Marsham, the Canadian husband of daughter Rita, is the most prominent in Biwott's vast business empire.
It is not clear whether his wealth was the cause of his paranoia which would see him change cars several times along a journey. The persistent fear that someone was after his life only helped to pile mystery in the man who died Tuesday morning at the age of 77.
Long before his alleged involvement in the murder of former Foreign Affairs Minister Robert Ouko, his aide told us, Biwott was always the same mysterious man. John Troon, a senior Scotland yard investigator, linked the former powerful minister to Ouko's death. It is in the ensuing investigation that Biwott described himself in Parliament as a Total Man who was not scared to be questioned.
Biwott's passing on offers Kenyans an opportunity to pry into his puzzling life and the business empire he created, mostly at the peak of his political career as a Cabinet minister.
Biwott has lived as a wealthy man for most of his life. He was the Minister for Energy when, Kobil, a petroleum company he was associated with acquired the assets of Mobil which was leaving. His once close business associate Israeli Gad Zeevi was already running Kenol and the two firms would later be merged to form the biggest petroleum company in Kenya.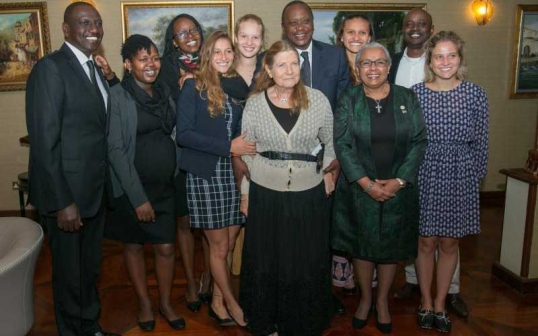 To illustrate how big the company had become, investment banks valued Kenolkobil at about Sh40 billion during a buyout negotiation that fell through four years ago. Kestrel Capital which was founded by Field-Marsham, and possibly part-owned by Biwott, was involved in the multi-billion-shilling transaction.
Venerated philanthropist
A fallout between the two business buddies would see Zeevi flee the country, leaving behind the iconic Yaya Centre that his HZ construction company was building. Insiders have told Sunday Standard that one of the two towers that make up the mega development was rendered inhabitable after Zeevi blocked all sewerage ducts and elevator hoist way after the unexplained fallout.
The facility is highly secured, making it impossible to independently confirm the claims. But the Yaya Centre story did not end there.
Named after Zeevi's mother, Yaya Centre was at the centre of controversy after its completion when the State wanted to repossess it over unpaid loans granted by the collapsed Trade Bank. Defence lawyers successfully argued that failure to settle the Sh600 million loan was not reason enough for the government to attach the property because it was not the collateral in the transaction.
HZ also built Nairobi Dam residential estate and shopping centre along Lang'ata Road, a project that has since been sold to the government before being handed over to local authorities workers' pension scheme, Laptrust. Critics say the sale price of the Dam Shopping Centre may have been exaggerated.
Across the road from the estate, Biwott runs the biggest private airline called Air Kenya. The airline operates a fleet of 12 aircraft, with two helicopters. Biwott is also linked to at least one tourist hotel at the coast.
In the construction sector, his company HYoung and HZ Construction are among the biggest indigenous contractors specifically in the lucrative road construction segment. Biwott is reported to have a major stake in Westmont Power — an independent electricity generating firm. He is also linked with an agricultural equipment seller known as Lima Limited.
An activist group claims that Biwott may have influenced the privatisation of Kenya Fluorspar Limited whose management was taken up by Field-Marsham. Kenya Natural Resources Alliance claims that the country did not get value for money from the privatised mining operations, yet annual revenues were as high as Sh4 billion in 2011.  
University don-turned-politician Prof Margaret Kamar is Biwott's third wife and is currently seeking election as Uasin Gishu Senator. She has however never been seen in public with her late husband.