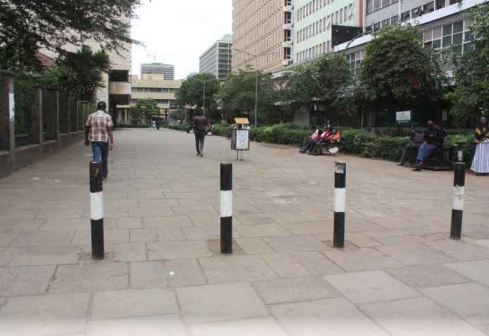 Josephine Kwamboka (not real name) still cannot believe how she was conned of Sh6,000 and almost lost another Sh26,000 on June 14. Ms Kwamboka was on her way to work on a Wednesday morning when she came across two women near Tuskys Pioneer Supermarket. They asked her to take part in a 'Safaricom' promotion that promised the chance to win a laptop or mobile phone.
She turned them down and went about her business. But before she could get to Co-Operative Bank a few metres ahead, two other women approached her with the same request, which she turned down. This happened a third time and she finally caved in to the pressure and decided to give the promotion a try.
"One of the women gave me a scratch card and asked me to scratch as she led me towards a vehicle that had a crowd participating in the promotion. Immediately after scratching, she announced that I had won a laptop and two phones, much to my surprise," said Kwamboka.
The woman then asked for her national identification card and the scratch card so they could process Kwamboka's information and give her the prize. But the giant mobile telephone service provider has, on several occasions through its social media accounts, denied any link to these 'promoters'.
Parked vehicle
"After consulting one of the women that was in the vehicle parked near Co-operative Bank, the woman came back and said I should give her Sh6,000 to process my request but I told her I didn't have any money. She suggested I should withdraw the money and I complied," said Kwamboka.
The next thing she remembers is finding herself at the nearby Co-operative Bank ATM where she withdrew the Sh6,000 and handed it to the woman.
"I think I lost my senses or they laced the card with something because I cannot vividly recall what happened that led to me withdrawing the cash," she said.
Having made a killing, the woman walked Kwamboka back to the vehicle under the pretence of giving her the laptop worth Sh78,000 and the phones she had supposedly won. On reaching the vehicle, she gave her a receipt for her payment and made her yet another offer. The receipt had the name of a communication agency.
"They told me that they would give me a laptop worth Sh78,000 and it was up to me to either take the prize or a cash equivalent. Elated, I opted to take the cash but what they did next made me realise I was being swindled," said Kwamboka.
Total amount
The woman attending to Kwamboka took her behind the car and asked for another Sh26,000, which was refundable, so she could receive a total amount of Sh104,000. Sensing something was wrong, Kwamboka demanded her Sh6,000 back but the women told her it was not refundable. She was asked to go to their main offices at Sarit Centre in Westlands if she had any complaints.
She reported the matter at Railway Police Station where police said they were aware of the tricksters but could not arrest them because that was not their 'zone'. They also said the con game had all the legal licences so there was nothing they could do.
They referred Kwamboka to Central Police Station.
Interestingly, before she walked out, another man came to report that he had been swindled of Sh36,000 and in return given a faulty laptop. After having a look at the laptop, they said it appeared to have been stolen from someone else.
Officers at Central Police Station also said there was nothing they could do without more evidence.
Kwamboka is now calling on the county government and the Kenya Police Headquarters to intervene and nab the tricksters before more people fall prey to their swindling ways.
"I wonder how these guys are still operating yet the Kenya Betting and Licensing Board confirmed that they have not licensed them. I suspect police are also involved and collect money from them because there is no justice for the victims," she said.
She said a similar group had also been conning people near Kenya National Archives.