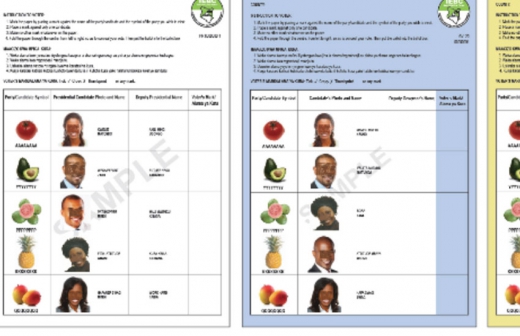 Kenya is paying more than twice the price paid by neighbours for a ballot paper, and many times the cost of printing currency notes.
At slightly over Sh20 per piece, on average, the Independent Electoral and Boundaries Commission (IEBC) could have granted hefty profits to Dubai's Al Ghurair Printing and Publishing Company.
Tanzania and Uganda spent less than Sh9.50 per ballot paper, on average.
IEBC contracted the printing firm to deliver 120 million ballot papers at a cost of Sh2.5 billion, which is in itself significantly lower than the Sh3 billion paid to the embattled British printer Smith & Ouzman nearly five years ago.
Chickengate Scandal
Investigations by The Standard reveal that Smith & Ouzman's tender, later christened 'Chickengate Scandal', was inflated by 38 per cent to accommodate kickbacks for IEBC officials, and that a fair price would have been Sh1.86 billion.
When contacted yesterday over the cost of the ballot papers, IEBC cited the long list of candidates on this year's ballot paper as a contributor to the significantly higher price it is paying when compared to its equivalent in East Africa.
"One of the cost drivers for the ballot paper is the level of security features incorporated," commission spokesman Andrew Limo said.
Such features, he said, include generic watermarks and capabilities that would make it impossible to photocopy – which is the same technology used in the printing of currency notes.
Currency notes however are printed on cotton fiber and linen, while ballot papers are printed on plain paper.
Mr Limo conceded that the overall cost of ballot papers has been falling and promised to provide more details today.

Al Ghurair has been selected to supply ballot papers through single-sourcing, the same way that Smith & Ouzman were awarded.
Unsuccessful bidders sought the cancellation of the award won by Al Ghurair last October, but the IEBC said it did not have sufficient time to restart a competitive bidding process as directed by the courts.
Tanzania's spending
According to our investigations, Tanzania spent significantly less as the unit price in its October 2015 general elections. The country paid Sh800 million for 84 million ballot papers at Sh9.50 a piece.
South African logistics firm, Uniprint, was awarded the tender to deliver the ballot papers used in the 2015 elections won by President Pombe Magufuli.
In Uganda, where polls were held last year, a consortium of four firms, including Paarl media of South Africa and Al Ghurair, were collectively awarded Sh1.3 billion (Uganda Sh45 billion) to print 16 million presidential poll ballot papers and nearly a similar number for other positions.
The exact number of ballot papers printed in Uganda was however not immediately available because expected voter turnout in the smaller authority polls is usually "slightly" smaller when compared to the Presidential and Parliamentary polls.
IEBC would want to avoid a repeat of the 2013 experience which was dogged by massive corruption and a management that pulled all stops to award the tender to the British printer.
British courts have since found guilty officials of Smith & Ouzman of bribery and slapped huge fines on them and sentenced the owners to jail terms.
Currency notes
What could come as a major surprise for the ordinary folk, printing Kenyan currency notes costs nearly a tenth of the price of a ballot paper.
De La Rue, the partly-government-owned security printer, has a long-running tender to print Kenyan currency notes, in a pricing schedule that has changed little over the last decade.
An agreement entered by the State indicates that the firm would charge Sh1,680 to print a 1000-note bundle in bulk.
It is more expensive to print lower-denomination notes, because they tend to change hands much faster, hence the need to be built tougher.
Security features on currency notes, which compare closely with the ballot paper as described by IEBC, include three-dimensional portraits that can be seen under light.